Executive Summary
Tiffany & Co (NYSE:TIF) is a holding company that operates through its subsidiary companies, the primary one being Tiffany and Company. Tiffany and Company is one of the most renowned jewelry and specialty retailer stores whose merchandise includes jewelry, timepieces, sterling silverware, china, crystal, stationery, fragrances, and additional accessories. The company is best known for their jewelry. The company was founded in 1837 and went public in May of 1987 for $1.92 per share adjusting for splits. The company is now headquartered in New York City and has 289 retailer locations, Internet and catalogue sales, as well as business-to-business and wholesale divisions.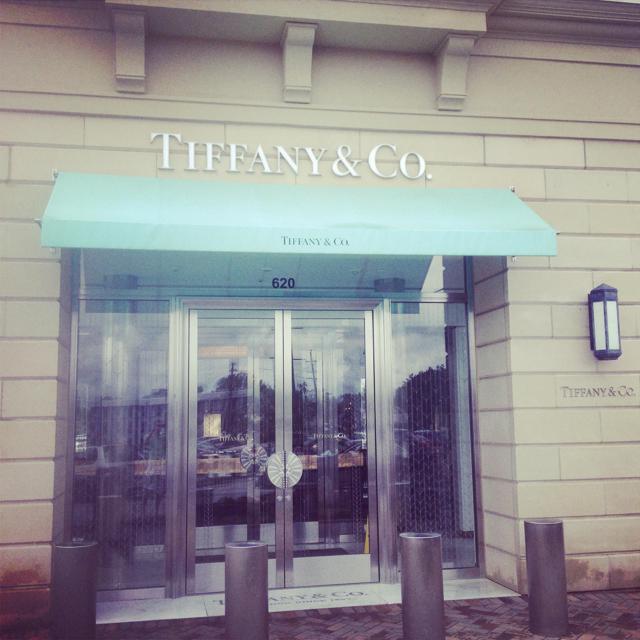 A Tiffany Store in Cleveland, Ohio. Photo Courtesy of AspiringFreedom.
The Pros For Tiffany
The fundamentals at Tiffany & Co continue to be strong. The sales have been on target and expansion into new areas has continued. Despite potential economic downturns and volatility, the luxury retailer continues to perform well. The company has outperformed the S&P since the 2008 financial crisis.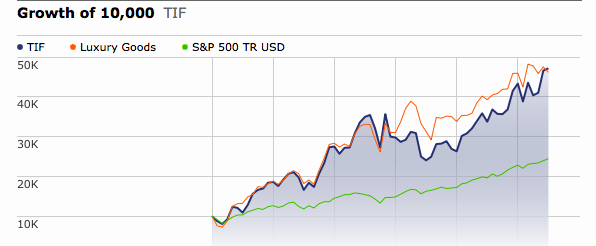 Chart Courtesy of Morningstar.
Long-term things seem to be looking positive for Tiffany & Co. Earnings have continued to climb and it seems likely that growth will continue. The company continues to expand into new markets overseas particularly into the luxury market of China where luxury goods are very popular. There are tremendous opportunities for expansion in overseas areas. Tiffany & Co is also remodeling their existing stores to maintain their image and continue client satisfaction. As an additional bonus, same store sales have continued to remain solid.
Margins continue to improve for Tiffany & Co. Tiffany has the power to raise prices but still maintain their loyal clientele and the power of the Tiffany brand. The industry in which Tiffany & Co operates is a high margin business to begin with, but having increased flexibility due to their brand loyalty and prestige serves as a major intangible asset for the company.
Potential Drawbacks
The biggest threat to Tiffany is potential economic volatility or downturns. Global economic conditions and low levels of consumer confidence can hurt the company's sales, particularly if the conditions sustain over a long period of time. Since many of Tiffany's products are considered discretionary spending, Tiffany can be particularly at risk. Consumer discretionary spending is usually the first area where consumers will cut spending in economic downturns. Although Tiffany operates in a luxury sub-market that may be not as affected by economic downturns, it still is a potential risk for the company. Fortunately, the economy has been improving in the past several years and signs point towards that trend continuing.
Looking at the performance of the stock over the long term you can see Tiffany & Co has performed fairly well. The chart earlier showed how Tiffany & Co has outperformed in recent years during the economic recovery, but the longer term chart below shows some of the potential risks. Despite a great management team, strong fundamentals, and an excellent brand you can see that over the long term Tiffany stock has tracked or barely outperformed the market. Although in recent years the story is much different, it is impossible to predict whether Tiffany & Co will continue to outperform the market by such a large margin.

Chart Courtesy of Morningstar
In terms of valuation, this could be a potential drawback to buying Tiffany stock at current levels. The stock currently trades at a price to earnings multiple of 59.5, which is much higher than the industry average of 21.3 and the S&P average of 18.6. Much of the reasoning behind this seemingly high P/E ratio is due to the "best of breed" mentality and prestige that corresponds with Tiffany & Co. When taking a look at Tiffany's growth, Tiffany currently has a PEG ratio of 1.7. This means that Tiffany is currently trading at a multiple nearly double its growth rate. Although this does not necessarily mean that Tiffany is overvalued, generally speaking a PEG of 2 or more means that it may be time to sell the stock and Tiffany is not far off.
The Bottom Line
In conclusion, Tiffany & Co has some strong potential going forward with continued strong sales, new areas of expansion, and increased margins. As with any company, there are risks involved as well that must be considered, the biggest being the economic risk. The company does offer some good potential growth opportunity over the next several years if the economy continues to improve, but there may be better options to consider that offer higher return potential.
Disclosure: The author has no positions in any stocks mentioned, and no plans to initiate any positions within the next 72 hours. The author wrote this article themselves, and it expresses their own opinions. The author is not receiving compensation for it (other than from Seeking Alpha). The author has no business relationship with any company whose stock is mentioned in this article.