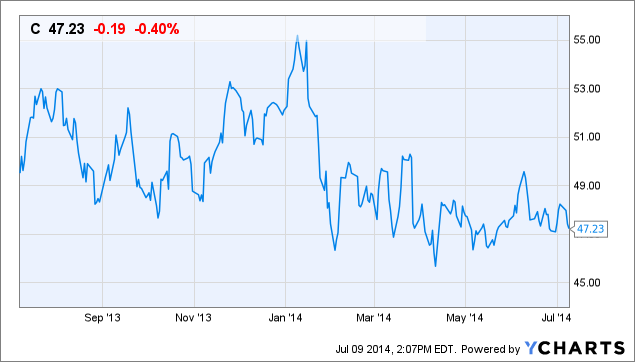 Background: Citigroup Inc., (NYSE:C) the leading global financial services company, has some two hundred million customer accounts and does business in more than hundred countries. The market cap is $143 billion and on any given day the company trades about 15.8 million shares.
52 Week Range: $45.18 to $55.28
Forward Price To Earnings Ratio: 8.8
Price To Book: 0.7
It's a big week for financials and investors aren't expecting an improvement in Citigroup's earnings. Analysts forecast per share results below last year in the same quarter. The earnings release is planned before the market opens on July 14, 2014.
Other financial companies reporting the same week include Bank of America (NYSE:BAC), Morgan Stanley (NYSE:MS), JPMorgan (NYSE:JPM), and U.S. Bancorp (NYSE:USB). Each bank will influence the others, so it's almost as if Citigroup is reporting five times in the same week, with one key primary report.
Wells Fargo & Company (NYSE:WFC) reports earnings on July 11, 2014. As I wrote, Wells Fargo & Company is one of my favorite banks. You want to pay attention to its results for clues in what to expect. Option premium for Wells Fargo is pricing in only a 3% post earnings price move. I also wrote an earnings primer on Bank of America that follows the same footsteps of Citigroup.
The average estimate is currently $1.08 a share, backsliding a massive 26 cents (19.4%) from $1.34 during the matching period in the previous year. Analysts' estimates this quarter range from 91 cents to a high of $1.30 per share.
Looking back on analyst accuracy, Citigroup fails to meet or beat on about 30% of its earnings within the last four years. Does that mean Citigroup isn't executing well, or analysts aren't predicting accurately? I will let you be the judge.
That said, over half the analysts covering Citigroup rate it as a buy or strong buy. 21 of the 29 analysts covering the company give a buy recommendation. 7 analysts rate it a hold, and 1 recommends selling. 7 analysts now rate Citigroup a strong buy down from 8 analysts a month ago, however, in the last two days, 2 analysts have boosted their opinion.
On July 8th, 2014 Keefe, Bruyette & Woods initiated coverage with a Market Perform rating and a price target of $52. Oppenheimer has an Outperform rating and increased its price target from $66 to $67 on July 7th, 2014. The next latest update comes from JPMorgan Chase & Co. on June 16th, 2014 with an Overweight rating and a price target increase from $10 to $58, although it appears that may have more to do with reverse stock splits than an actual opinion change.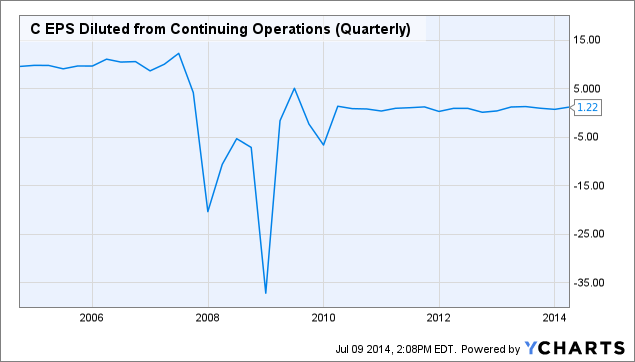 When we evaluate the options market, especially the contracts expiring immediately following the earnings release, we are in a position to achieve a more adequate comprehension of what other traders are expecting.
Option buyers and sellers are betting on a price change of $2.10 up or down in the stock price, or about a 4.4% change during the next 10 days. That's in line with Bank of America's expected move post earnings, but higher than Wells Fargo's 3% expected change.
| | | | | |
| --- | --- | --- | --- | --- |
|   | WFC | C | BAC | JPM |
| Strong Buy | 6 | 7 | 4 | 10 |
| Moderate Buy | 8 | 14 | 10 | 15 |
| Hold | 17 | 7 | 13 | 5 |
| Moderate Sell Ratings | 1 | 1 | 1 | 0 |
| Strong Sell Ratings | 0 | 0 | 2 | 1 |
| Avg Analyst Price Target | $52.74 | $58.21 | $17.19 | $64.15 |
| Revenue | $83.83 billion | $76.77 billion | $88.09 billion | $95.47 billion |
| Est Low EPS | 0.93 | 0.96 | 0.24 | 1.16 |
| Est High EPS | 1.06 | 1.30 | 0.36 | 1.59 |
| 1 Year Stock Price Change | 27.90% | -2.30% | 18.56% | 9.60% |
Another way to word it is that investors need to plan on the shares trading down to $45.49, or as high as $49.51, while remaining within a single standard deviation percentage. If you're not already fully prepared for at least that much volatility (and there's no assurance it won't travel beyond the expected range), you want to make the necessary adjustments before the last minute.
After last quarter's results, the shares increased a modest 4.4%, or $1.99 from the close before the earnings release to the closing after. The closing trade before the release was $45.68, and ended at $47.67 the following day.
Looking back from the closing price before last quarter's results, until now, the shares increased a small 4%, or $1.82. The close before the announcement was $45.68, and currently about $47.67 as of this writing.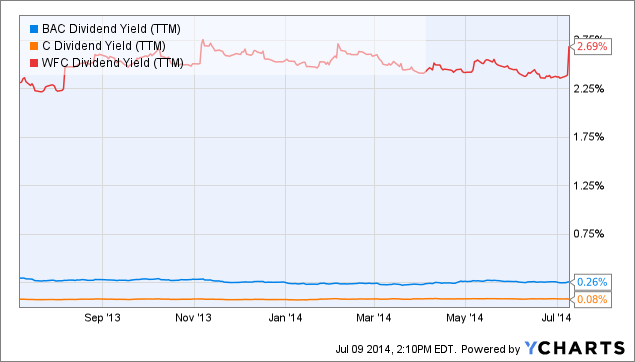 Citigroup currently has an annualized dividend of 4 cents, the same as Bank of America, yielding 0.1%. It's not as good as Bank of America's because the Bank of America's share price is lower to give an effective yield of .3%.
It's not enough reason to buy it, but it's a bonus if you're already in and or want to buy shares. Wells Fargo, on the other hand, pays a 2.6% dividend yield. Between the three banks, I have to give a higher expectation of profit to Wells Fargo.
With the Federal government calling so many shots and dumping hobbling regulations and red tape, it may be a while before Citigroup or Bank of America's dividend is raised to a meaningful and material level.
To end on a more positive note, the last reported short interest is paltry and without reason to consider it a meaningful influence at only 1.2% of the average trading float.
Short sellers are the smart money on Wall Street. If they don't find a bear thesis, it's a good sign the shares won't obviously fall soon.
Disclosure: The author has no positions in any stocks mentioned, and no plans to initiate any positions within the next 72 hours. The author wrote this article themselves, and it expresses their own opinions. The author is not receiving compensation for it (other than from Seeking Alpha). The author has no business relationship with any company whose stock is mentioned in this article.