[Originally published 4/8/2014.]
The number of S&P 500 dividend payers reached its highest point since Sep. 1998. As of March 2014, 421 S&P 500 companies are now paying dividends, compared to 423 in Sep. 1998.[1]
Big names increased dividends in the first quarter such as Exxon Mobile (NYSE:XOM), Wal-Mart (NYSE:WMT), JPMorgan (NYSE:JPM), Procter & Gamble (NYSE:PG), Bank of America (NYSE:BAC), Coca-Cola (NYSE:KO), and Qualcomm (NASDAQ:QCOM). A striking 146 companies (35% of payers) announced dividend increases compared to 94 in the Q4 of 2013, a quarter over quarter increase of 55%. In Q1, S&P 500 dividend growth (4.0%) doubled that of price (1.3%). Since 2000, dividend growth has consistently outperformed price growth with a staggering 124% ($16.29 to $36.53) cumulative return compared to 33% ($1394.46 to $1852.39) for price.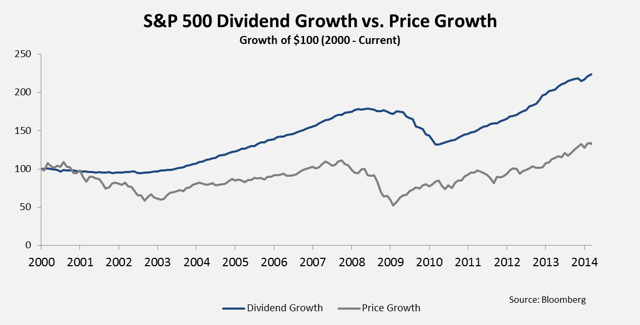 Click to enlarge
What does this mean for dividend investors? While risk-averse investors seek the performance and stability of dividends, they are instead exposed to price changes based on market speculations. Investors trying to capture the fundamental performance of proven companies may see their returns diminish because of this disconnect between dividends and price.
---
[1] (According to data compile by Howard Silverblatt in his S&P 500 MarketAttributes: March 2014).
Source: S&P Capital IQ, Reality Shares Research