The market dip late this past spring created a few great opportunities for value investors. Back in May and June, I took advantage of the Euro crisis to initiate positions in Banco Santander (STD) and Barclays (NYSE:BCS); both well-run banks with healthy capital ratios and highly diversified operations. As the oil scare intensified this past summer, I also pushed into Plains Exploration (NYSE:PXP), and Suncor (NYSE:SU), on top of buying some long-dated BP (NYSE:BP) calls. As I witnessed a precipitous drop in Chinese equities, I tried to find a way to take advantage of that, as well. Only my plans hit a bit of a snag. As I was researching Chinese equities, I found myself repeatedly hitting a giant brick wall of accounting irregularities.
During the Value Investing Congress earlier this year, China's largest hedge fund manager, Lei Zhang, stated that about '200 of the 350 Chinese companies traded in the U.S. are frauds or have significant problems.' From my own research, this may not be much of an exaggeration. While many Americans are captivated by the idea of 'endless growth opportunities' in China, the fact of the matter is that many of these companies will merely destroy your capital in the long-term.
As an investor, I'd like to have some faith in financial statements of the companies I am researching. Unfortunately, many of the American CPA firms conducting audits of these Chinese firms also leave a lot to be desired; I discovered major problems with some of them; and many had numerous deficiencies uncovered during PCAOB [Public Company Accounting Oversight Board] inspections.
It was not a complete failure, however. In spite of "the wall", I did manage to find one company with a strong balance sheet, great management, and a good deal of potential. While this was far from a "steal of the century" type find, I viewed it as an excellent "speculative value" play. That company is Shanghai-based The9 Ltd (NASDAQ:NCTY).
Business Description
The9 is an online game operator and developer. The 9's primary source of revenues and profitability for several years came from operating World of Warcraft ["WoW"] for internet cafes in China. The9's massive profits from operating WoW can be seen in the table below:
Click to enlarge: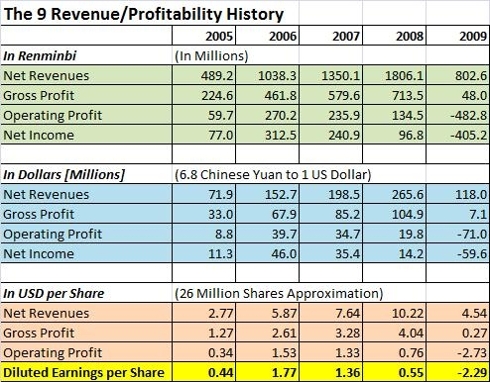 Note that the first set of figures is in renminbi, the second set in U.S. Dollars (based on a 6.8 to 1 exchange rate throughout the period for simplicity sake), and the third set of numbers is per share figures in U.S. Dollars (based on a constant 26 million shares). From the last column, we can see that earnings per share were in the $1 - $2 range; a very impressive run for The9.
Unfortunately in 2009, The9 lost the rights to host WoW in China to a competitor, Netease.com (NASDAQ:NTES). As a result The9's revenues plummeted. This meant that the stock price tumbled, as well; falling from around $26 in July '09, all the way down to $4 in June '10.
While buying into a gaming company that lost its source of livelihood might not be very appealing to many investors, it's a combination of price, strategy, and management quality that make The9 an intriguing investment to me.
It's the Cash, Stupid!
To understand what makes The9 a good investment opportunity, one has to ignore current revenues and profits for a moment and glance over at its balance sheet.
Click to enlarge: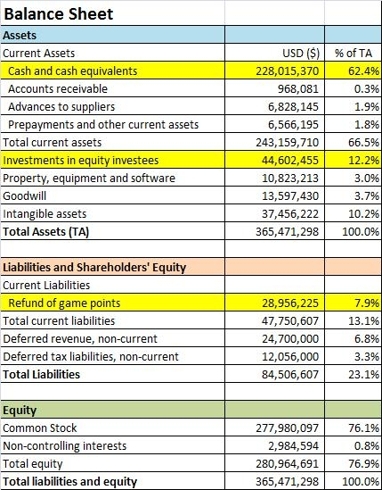 The major thing that sticks out is that The9 is sitting on a hoard of cash! The stock is currently trading around $5, yet The9 has over $9 in net cash per share. I've also highlighted two other items: Equity investments (12..2% of total assets) and "Refund of game points" (7.9%); the latter because I'm unsure how much of those refunds the company will actually have to 'pay out.'

The chart below gives a basic run-down of the above info, in per share numbers:

Of course, having a lot of cash on hand is certainly no guarantee of a good investment. There are countless numbers of examples of companies that have found every way imaginable to squander investor cash. At the same time, when I see a company selling at a 40% - 50% discount to its net cash value, that catches my eye. It may not guarantee success, but it does mean there is a larger margin for error than there might otherwise be.
Moreover, if the company can use that cash effectively, the return for investors will be supercharged. This is simple math. Let's take a very basic example. I pay $5 for a company with $10 cash and no liabilities. The company takes that $10 and invests it, earning a 10% return. The company's net assets are now worth $11 and I effectively made a 120% return, once the market finally catches on.
If The9's cash stash catches my eye, it's management's moves that ultimately convinced me to stick my foot in the water on this.
The Post-WoW Strategy
The9 has made a few interesting moves over the past several months. Once it lost the rights to host WoW, it started developing games in-house. One of its first games included, World of Fighter, a fighting game similar to Street Fighter and Mortal Kombat. World of Fighter was a modest success; not enough to return The9 to profitability, but enough to show that The9's in-house development capabilities might have potential.
In March of this year, The9 acquired a majority-stake in U.S.-based Red 5 Studios. Red 5 is a relatively new game development company, with a staff that includes many former Blizzard and WoW developers. Red 5's first title, Firefall, will be released in late '11.
What makes the Red 5 acquisition intriguing to me more than anything is CEO Mark Kern's vision for the company. Kern has focused on building a community at Red 5 and has focused exclusively on online gaming. This is a model that is particularly well-suited for the Chinese market, which is more oriented towards online gaming than the U.S. It is also worthwhile to read many of the interviews with people involved at Red 5. In addition to the interview with Mark Kern, I would recommend checking out Ed Stark and Dave Williams' interview, as well. From these sources, you can get some perspective on Red 5's long-term ambitions.
Red 5 and The9's interests align very well, and Red 5 has the vision and the staff to potentially do some great things in the gaming world; so there is some potential in this alliance. This is not the only investment The9 has made. The9 has also made a minority investment in U.S.-based Aurora Feint, a developer on mobile games.
The basic theme here is that The9 has a ton of cash and it is making some interesting moves that have a lot of long-term potential. It may or may not pay off, but given the stock price's sizable discount to net tangible assets and net cash, it makes me much more inclined to jump aboard; which is precisely what I did when NCTY dipped below $4.30. Under $6, it is still attractive.
Earnings and Cash Flows
While the basic thrust of my investment thesis focuses on price, assets, management quality, and investment potential, I do think it's worthwhile to take a quick glance at earnings and cash flows, all the same. The table below displays earnings over the most recent two quarters: (Click to enlarge)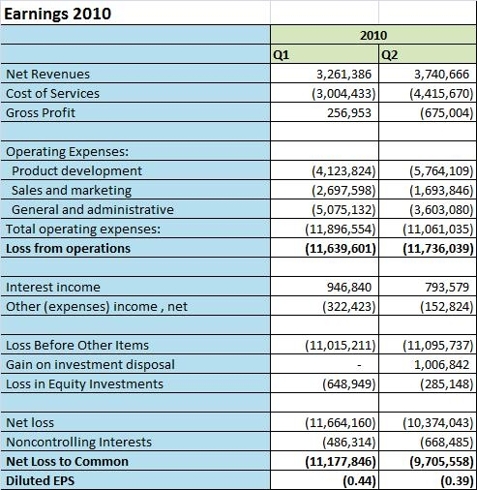 One thing to note: Revenues have been increasing over the past few quarters. This is a positive sign, but not terribly meaningful just yet. The9 is still a very long way from covering its operating expenses. However, it should be noted that the income statement might be overstating The9's cash burn rate. The 2009 Statement of Cash Flows below shows that there are numerous large non-cash items included in earnings: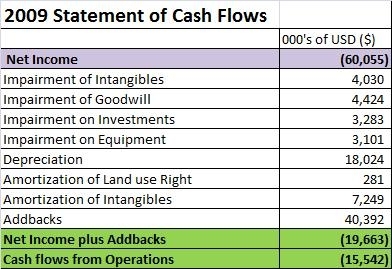 From a cash flow perspective, The9 lost much less last year than it did from an earnings perspective. It's unclear how much of this holds up currently, but given the high depreciation charges, I would imagine that this is the case right now, as well. So the most important takeaway might be that The9 is losing money, but it's not losing as much money as it may appear at first glance.
Macroeconomics
While my investment in The9 has more to do with the price and quality of the company, I do think it's always important to understand the overarching macroeconomic currents, particularly with China. Many Chinese exporters have razor thin profit margins right now. This is in spite of heavy subsidies (in the form of currency controls) by the Chinese government. This situation should create a lot of fear for Chinese investors, because it should suggest that much of this export growth is unsustainable.
Due to the currency issues, I am extremely skeptical of investing in Chinese companies that heavily rely on external markets such as the U.S. and Europe for growth. At the same time, I believe that international currency reform could potentially become a reality in the next few years. It's no sure thing, but China is attracting a great deal of resistance from the U.S. and Europe over its currency policies
If currency reform or government actions cause the Yuan to finally appreciate, this will benefit Chinese consumer companies greatly. It will also benefit those who hold large amounts of Chinese currency. So, even though I am skeptical of investing in Chinese exporters, I believe that macroeconomic currents could potentially be more favorable to Chinese consumer companies, such as The9.
Additional Risks
It is definitely worth noting some additional risks here. The Chinese gaming market is fraught with even more risks than the U.S. For those who lived in America in the early '90s, you might remember the ruckus over the game Night Trap. It seems kind of silly now, because Night Trap is extraordinarily tame compared to many of the games that have followed it over the past two decades; but it attracted enough media attention so that Congressmen like Joe Lieberman and Herb Kohl felt the need to hold state-sponsored denunciation sessions in Congress.
For a moment, imagine that you live in a nation with a gaming market similar to that; except, also imagine that in this nation, the government isn't completely impotent like it is in the U.S. Now, my friends, you have China. Gaming companies definitely face regulatory risks from the PRC. On the other hand, this may be no more than a generation gap that will erode over time. It is worth factoring this into our outlook, in any case.
As alluded to in my opening paragraphs, there are also a lot of inherent risks with Chinese companies traded on U.S. exchanges. Many of them are outright frauds or have major issues. There is no guarantee that The9 would not fall into the same category. However, I see no evidence that this is the case for The9. I did not detect any major accounting red flags or auditor issues. The9 might, by necessity, have a greater need for a strong reputation so that American collaborators are willing to work more closely with it. So even while I am hypersensitive to issues with many Chinese companies, I feel more comfortable with The9 than with the vast majority of others I have researched. But I've never claimed to be right 100% of the time.
Conclusions
My basic premise is that while things currently look bad for The9, it has, in a sense, become a giant publicly-traded "private equity" firm focused on the online gaming industry. It operates in a high-risk market, but it is also high-reward. The9's profits from having exclusive rights to host WoW were enormous for several years. If The9 is able to develop in-house games or obtain games from one of its partners, it could provide the company with a sizable revenue stream, and at least, re-capture some of the old earnings magic.

International currency reform would be an added (albeit, unlikely) bonus for The9. In that sense, The9 can act as a stealth bet on Yuan appreciation. Regardless, I do believe that China will at least halt its attempts to artificially undervalue the Yuan further; and it's likely that we will see minor Yuan appreciation over the next few years.That should be a minor plus in The9's favor.
Due to the high risks and speculative nature of this investment, I plan on keeping it as a very small percentage of my overall portfolio. I originally bought into this at the $4.10 - $4.30 range, nearly a 55% discount to net tangible assets. I think it's worthwhile under $6, as well. At the current price of $5.25, it still sells at a 40% discount to net cash value. Given all the currents surrounding NCTY, it's definitely an interesting speculative value play.

Disclosure: Disclosure: Author is long NCTY. Author is long stocks mentioned in introduction: STD, BCS, PXP, SU, BP calls.