Contrarian investing goes against major market trends and looks to identify stocks that have fallen out of favor with investors and as a result have performed poorly compared to the market. While contrarian investing isn't for everyone, it's worth analyzing with the market continually hitting all-time highs. With the Dow Jones surpassing 17,000 for the first time ever, investors may want to cash out some profits and consider investing in market laggards that have some downside protection and tremendous upside. Contrarian investing epitomizes Warren Buffet's famous quote, "Be fearful when others are greedy, and be greedy when others are fearful".
Hercules Offshore (NASDAQ:HERO)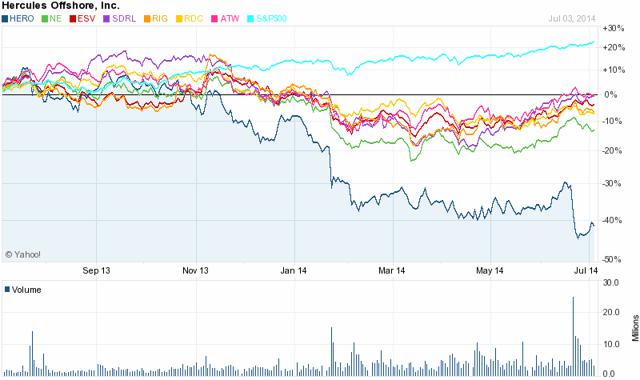 Click to enlarge
Hercules Offshore has been the worst performing offshore driller over the past year, which is saying a lot as the industry as a whole has suffered tremendously. However, Hercules Offshore has bottomed around $4.00/share and has seen strong insider buying at these levels. The company has successfully diversified its fleet to include 27 jack-ups and 23 liftboats, operating in 9 countries on 4 continents. Despite analysts' warnings of lower dayrates, due to newbuilds coming online in 2014 and 2015, Hercules Offshore has done a great job of achieving higher dayrates since 2012 in the Gulf of Mexico.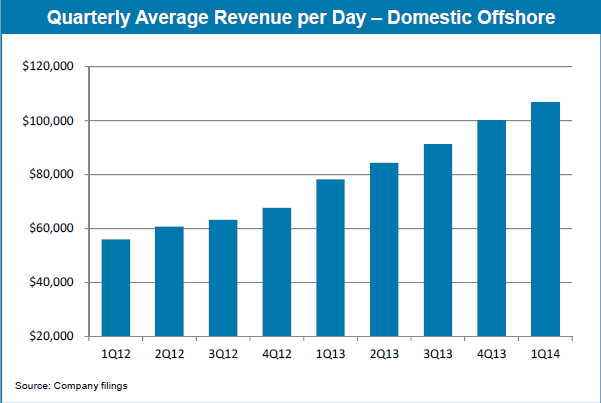 Source: GHS 100 Energy Conference Presentation
This domestic strength in the Gulf of Mexico - GOM is expected to continue. The latest GOM lease sale in March 2014 saw much more action than it did in the previous year. In total 131 blocks received bids compared to 85 in March 2013 and the sum of high bids increased by over 100% to $55.5 million. There are a number of companies with aggressive growth plans in the GOM and this latest lease sale shows the growing confidence.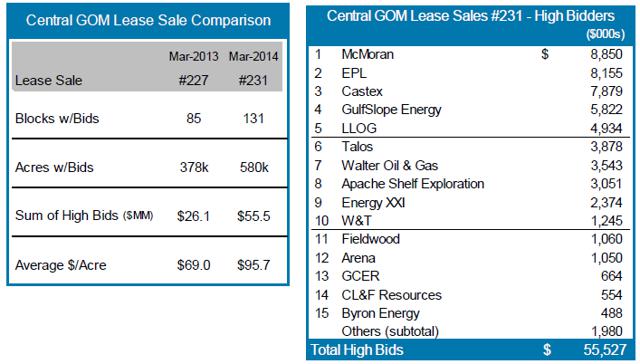 Click to enlarge
Source: GHS 100 Energy Conference Presentation
Hercules Offshore has also had success expanding their fleet to international markets. Most recently the company was awarded a 5 year contract with Maersk Oil for a dayrate of $224,000-$226,000. While this contract won't start until mid-2016, it gives the company financial flexibility going forward and confidence it can win competitive contracts in new markets. The Hercules 261 and 262 will begin escalating 5 year contracts with Saudi Aramco in the second half of 2014. In 4Q2014, these contracts will increase 62% and 48%, respectively. These new long-term international contracts have helped push the backlog to over $1.4 billion.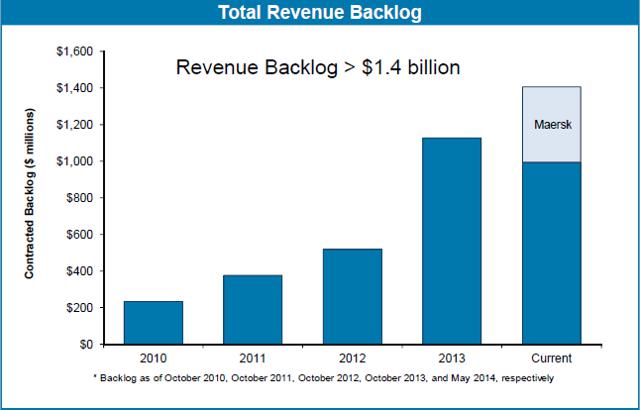 Click to enlarge
Source: GHS 100 Energy Conference Presentation
Another positive sign for the stock has been the strong insider buying over the past several months, while the stock price bottomed out. Since the end of March 2014, insiders have purchased over $1.3 million in shares. These insiders have aggressively purchased on any pull back in stock price. One of the best signs for a turnaround in stock price is when insiders are buying at 52 week lows.
| | | | | |
| --- | --- | --- | --- | --- |
| Date | Insider | Shares | Purchase Price | Value |
| 6/30/2014 | Steven Webster | 100,000 | $ 4.03 | $ 403,000 |
| 6/27/2014 | Steven Webster | 50,000 | $ 4.00 | $ 200,000 |
| 6/24/2014 | Thomas Bates | 20,000 | $ 3.93 | $ 78,600 |
| 6/24/2014 | John Rynd (NYSE:CEO) | 36,000 | $ 4.01 | $ 144,360 |
| 6/23/2014 | Steven Webster | 50,000 | $ 4.06 | $ 203,000 |
| 4/28/2014 | Steven Webster | 25,000 | $ 4.35 | $ 108,750 |
| 3/31/2014 | Steven Webster | 50,000 | $ 4.56 | $ 228,000 |
Source: Yahoo Finance Insider Activity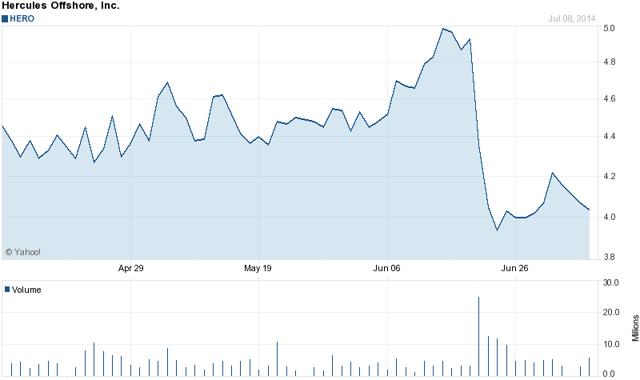 Click to enlarge
It appeared the stock had regained some momentum going into early June, but a cancellation of a 2+ year contract with CABGOC in Angola brought out the bears. The Hercules 267 lost its contract and is currently idle in Gabon. Goldman Sachs then piled on to the bad news and downgraded the stock from neutral to sell. While this does hurt the near-term financials, the sell-off was overdone. The stock dropped approximately 25% in three days to a 52 weak low of $3.90/share. However, it was also during this time that 3 separate insiders purchased large amounts of shares. Management clearly thinks the worst is behind them. Losing the Hercules 267 contract was a blow, but the rig should be able to find work in the area, as West Africa has been one of the few strong spots in the offshore drilling industry.
I liked the stock at $4.50 and I love it at $4.00/share. There are few stocks that have the upside potential of Hercules Offshore in today's inflated market. The toughest battle is picking stocks is finding the right price to purchase a stock. Hercules is at 52 week lows, has heavy insider purchasing activity and has seen strength in the majority its markets.
Potbelly Corp (NASDAQ:PBPB)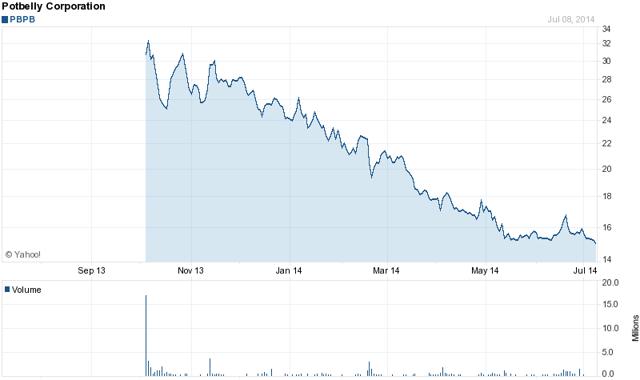 Click to enlarge
Potbelly's was a victim of too much hype during its IPO and has suffered an agonizing fall over the past 9 months. Investors thought the company could pull off another run similar to Chipotle (NYSE:CMG), but quickly realized the expansion potential and earnings growth wasn't there. Since the IPO, the stock price has been more than cut in half making a solid entry point for patient investors. On July 9, 2014 the company forecasted weaker than expected revenue and profit for the second quarter and an estimated 1.6% drop in same store sales. The company now expects 2Q2014 EPS of $0.06 on $83.6 million in revenue. This is compared to analyst expectations of second quarter EPS of $0.12 on $86.7 million in revenue. As a result the stock dropped 17% to $12.15 in after-hours trading. While there still may be some downside left, this strong pullback represents a great entry point for patient long-term investors.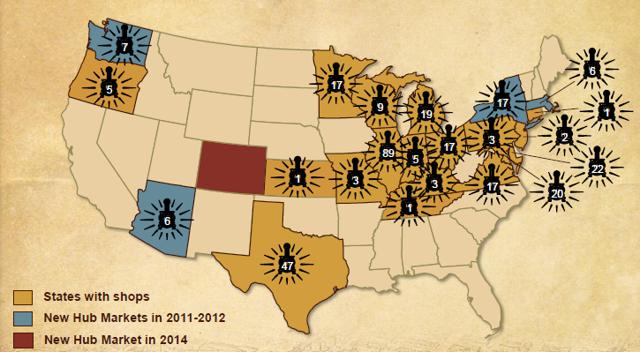 Click to enlarge
Source: Potbelly Investor Presentation June 11, 2014
The key for the company and the reason for my optimism are the untapped areas where the company can find success. While Potbelly Corp found tremendous success in the Chicago market, the company is just beginning to establish a presence in major hubs, including New York, Denver, Seattle and Tucson. During the first quarter, the company opened 11 new stores. During the second quarter, the company started its next major expansion hub in Denver, Colorado and also opened its first shop in Tucson, Arizona. Both cities are great opportunities for the company to establish strong roots in large, previously untapped cities. The company also plans to open 4 shops in Fargo, North Dakota during the second half of the year. In total, the company opened up 7 new shops during the second quarter and in the process opened new market hubs for later expansion.
To meet the goal of opening 40-48 new stores during the fiscal year, the company plans to open 20-28 stores during the second half of the year. This expansion of 40-48 shops in 1 year is a total store increase of over 10%. This 10% store growth combined with low single digit comparable store growth, should lead to fiscal year revenue growth of around 12-15%. This number is anything but earth shattering, but it sets the company up nicely to continue its expansion into new profitable markets.
| | | | | | |
| --- | --- | --- | --- | --- | --- |
| | EV/Revenue | EV/EBITDA | Price/Sales | FY 2015 PE | PEG Ratio (5yr expected) |
| Potbelly* | 1.05 | 10.02 | 1.25 | 32.4 | 1.89 |
| Chipotle | 5.17 | 26.8 | 5.38 | 37.7 | 2.16 |
| Panera (NASDAQ:PNRA) | 1.63 | 9.58 | 1.67 | 19.5 | 1.29 |
| Noodles and Co. (NASDAQ:NDLS) | 2.78 | 23.54 | 2.76 | 52.1 | 2.48 |
| Wendy's (NYSE:WEN) | 1.72 | 12.16 | 1.27 | 20.65 | 1.77 |
Source: Yahoo Financials *estimated after 15% after hours drop
At share price around $12-$13/share, Potbelly's is cheap compared to several competitors. While the latest downward revision in quarterly numbers hurts current investors, it presents an opportunity for contrarian investors looking for a cheap stock that the entire market is running away from. Management will be pressured to increase revenue and margins. While revenue will see a slight uptick on store expansion alone, margins may be addressed through moderate price adjustments to its menu. Current regular sandwiches are priced at $4.70 and "bigs" are $5.70. A simple 5-8% increase in price would help margins enormously and still keep prices low enough to avoid customer push back.
This latest drop in share price is an opportunity for investors to buy when there's blood in the street. No one likes this stock right now, which makes it a perfect pick for the contrarian investor. What's often overlooked in these short-term downward revisions is it sets up the stock to go against weak comparable numbers the following year. By next year, the company will have added nearly 30 additional stores and will be going against extremely weak first and second quarter numbers. Investors must be able to stomach the ups and downs of a stock that has been kicked to the curb by Wall Street, but Potbelly's may end up surprising some people over the next 18 months.
Conclusion
When a stock falls out of favor on Wall Street, the fall from grace can be painful. This presents an opportunity for investors to get in on the ground floor when no one else is willing to give the stock a chance. While stocks hitting 52 week lows are often thought of as having too much risk, I'd argue in many cases they are far less risky than stocks that have gone through the roof and are based on market momentum. Making money in the market is as simple as buying low and selling high. So why buy into stocks at all time highs? I'm not advocating contrarian stocks as a majority of a portfolio, but rather a small speculative play that has potential for tremendous long-term gains.
Disclosure: The author has no positions in any stocks mentioned, and no plans to initiate any positions within the next 72 hours. The author wrote this article themselves, and it expresses their own opinions. The author is not receiving compensation for it (other than from Seeking Alpha). The author has no business relationship with any company whose stock is mentioned in this article.