HCP, Inc. is a real estate investment trust (REIT) that invests in healthcare real estate in the United States. The company is looking across borders recently, but even if it makes a few investments, it will remain predominantly a U.S.-centric company. HCP allocated its capital towards five sectors within healthcare: senior housing, post-acute/skilled nursing, life science, medical office and hospitals.
Recently, HCP's share price pulled back, which makes it an interesting prospect for investors who are after the stability offered by REITs. Since firing its CEO in October 2013, the company is one of the worst-performing healthcare REITs and is lagging the Vanguard REIT Index (NYSEARCA:VNQ) by a significant margin, although it certainly isn't alone. Lead director Michael McKee publicly stated the CEO was fired because of his leadership style. Apparently HCP has had four different chief financial officers and three general counsels since 2003, when Flaherty started.
Price development since the CEO was let go of: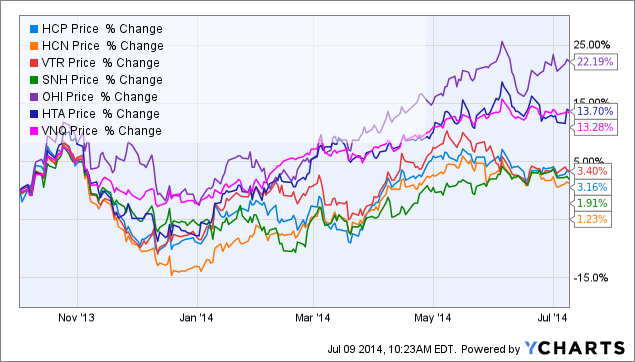 VNQ is the Vanguard REIT Index, and the other tickers included represent competitors in the healthcare sector: Health Care REIT (NYSE:HCN), Ventas (NYSE:VTR), Senior Housing Properties Trust (NYSE:SNH), Omega Healthcare Investors (NYSE:OHI) and Healthcare Trust of America (NYSE:HTA).
Positives
Healthcare tailwinds - The company will benefit from current and future industry tailwinds, like a growing and aging population. Regulatory changes that grow the healthcare system can also work to the company's advantage. Older people generally need more healthcare, and when the system is designed to serve more people, the system needs more facilities, increasing the opportunity in front of HCP.
Stable income - Healthcare real estate income is quite stable. Healthcare is not a very cyclical sector, and there are not typically many booms and busts in healthcare real estate. Less volatility is generally considered a great characteristic, and even more so in REITs, where investors are often seeking income.
Change of leadership - HCP changed CEOs in 2013 after 10 years the board was no longer sufficiently impressed with its CEO's leadership style, or maybe he fired one employee too many. The move certainly raised eyebrows, as HCP performed quite well under Flaherty's leadership. The stock underperformed after he left, and that is a positive, because I think the decline may be overdone in this case.
The board appointed what appears to be a very able successor, and the REIT structure doesn't allow for a CEO to destroy shareholder value like a regular company's structure, so the risk of bringing in a new CEO (not to mention she has been on the board for 5 years) seems very low. Before assuming the role of CEO at HCP, Lauralee E. Martin was at Jones Lang LaSalle (NYSE:JLL), and contributed to (CFO 2002-2013, COO 2005-2013, Board member 2005-2013, CEO part of 2013) the track record below: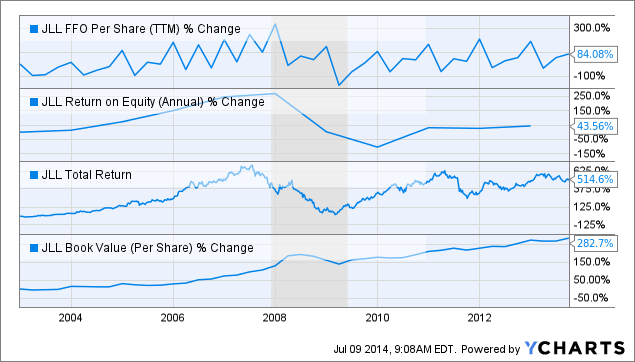 JLL FFO Per Share (TTM) data by YCharts
Triple net leases - HCP is very big on the triple net lease. This a type of lease where the tenant agrees to pay all real estate taxes, insurance, and maintenance on the property, in addition to any standard fees, like rent, energy, and water bills. If a company is able to get its tenants to agree to triple net, that is quite advantageous, because it removes some of the volatility and it makes it harder for the tenant to move out. You can imagine being reluctant to move if you just spent a bundle on maintenance. HCP managed to get the majority of its tenants to agree to triple net leases.
Sustainability leader - The company is having some success on the sustainability front. Although not a crucial factor to many investors, it's always good to see a company do well on sustainability metrics. The company received sector leader awards, a Toby award, ranked top 10% on the climate disclosure leader 2013 ranking, and is in the top 20% of the Dow Jones Sustainability Index.
Long-term leases - HCP generally has agreements with its tenants for very long-term leases of 12-15 years or even longer. The lease amounts increase with inflation or more. Although, in the case where rent increases by more than inflation for many years, there will be a point where tenants are likely to seek a way out.
Negatives
The REIT sector - I generally concentrate my research on the riskier side of the spectrum, as opposed to spending my time looking at relatively safe holdings like REITs. I still can't help but notice that the structure is very, very popular. That does not sit well with me. In general, I'm very suspicious of overvaluation when looking at one of these. I actually think HCP is attractively valued because of its specific characteristics, but I could be wrong.
Healthcare policy - It's so obvious healthcare is going to expand that this may actually work against the company. The realization that something needs to be done to stop healthcare expenses from continuing to rise at current speeds is starting to take hold. When policy makers start to implement measures to cut costs or customers are no longer able to keep up with rising expenses, then the market's expansionary course will reverse. This will not necessary backfire on HCP, because cost-cutting can most likely be achieved more easily in areas other than by cutting back on rent expenses, but it's something to be aware of. The trend in spending is not necessarily always up.
Segment concentration - Concentration can be both a boon and a risk. It allows to specialize and achieve cost leadership or product leadership benefits, but it also means running the risk of that specific sector within healthcare being targeted by reforms, which means you could lose a bundle. One segment where HCP is big is senior housing. This segment accounted for approximately 36%, 33%, and 30% of total revenues for the years ended December 31, 2013, 2012, and 2011. If senior housing would see an upset, that would pose a significant problem to HCP. This also translates into high customer concentration, because HCP is also very much exposed to the whims of HCR ManorCare and a few other large customers. Its best 5 customers bring in well over half of its revenue.
Tenant flexibility - When a tenant wants to get out of a contract, landlords try to get another tenant to occupy the building, whether it's an office building or housing real estate. Housing is probably the most flexible in this respect, although shopping real estate can be easily adapted as well. Healthcare facilities can pose a big problem. They are not very easily converted to office space, and depending on the exact nature of the facility, can have quite specific layouts. Converting healthcare facilities to office space also means that less income is gained from the property and investments are wasted.
Life Science Facilities - One great thing about healthcare tenants is that they tend to have money and pay on time. Unfortunately, there is a segment that is at times an exception to this rule: the life sciences. Tenants in this space are not always profitable, and sometimes don't even have products out that are approved by the FDA, yet. The risk profile of such a tenant is not as good as that of your average healthcare tenant. Unfortunately, HCP has a few of these tenants, although it's not a dominant segment within its business.
Bottom line
What makes HCP attractive, in my eyes, is that its management achieved quite attractive returns on equity over the past few years, while it recently became a lot more affordable on an EV/CFO basis. This is clearly visible in the chart below. It shows HCP's and its important competitors' RoE track record over the past 5 years, and their EV/CFO ratio over that same period.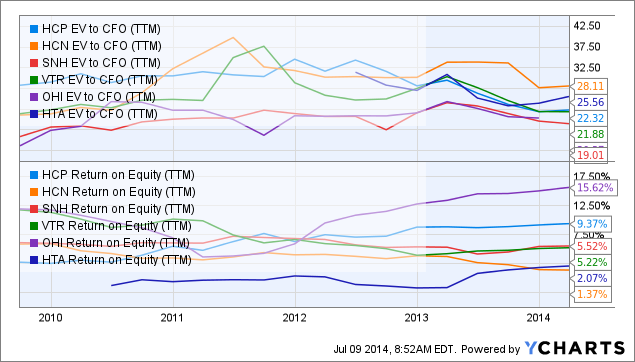 HCP offers the relative safety of a healthcare specialized REIT at a decent but not spectacular price. A somewhat rare bird in this yield-hungry environment where REITs are highly sought after. I think the shares are still somewhat pricey, but won't argue with buyers looking for returns at the lower end of the spectrum accompanied by lower risk.
Disclosure: The author has no positions in any stocks mentioned, and no plans to initiate any positions within the next 72 hours. The author wrote this article themselves, and it expresses their own opinions. The author is not receiving compensation for it (other than from Seeking Alpha). The author has no business relationship with any company whose stock is mentioned in this article.