Bellwether global chemical producer Saudi Basic Industries Corp. (SABIC.SASEIDX), the Middle East's largest listed company, reported third-quarter net profit which jumped 46% year-on-year to 5.33 billion Saudi riyals (SAR) ($1.45 billion). The results beat the Street's expectations due to higher production and sales. The petrochemical giant said the results were driven by a mix of higher output and sales, and improved prices for most petrochemical and plastics products.
SABIC's bottom line beat the market's estimates (SAR4.6 billion & ENBD Asset Management, SAR4.9 billion) on improvement in the margins (gross margins in Q3 at 33%, Q2 at 30%). Third-quarter profit as compared to the previous quarter was also boosted by the performance of foreign subsidiaries, which offset weakness in China-directed chemical products. Saudi-based petrochemical makers including SABIC are benefiting from improved global economic conditions, which in turn have boosted demand for petrochemical products and plastics, used in consumer goods and industries such as the automotive industry.
SABIC is also benefiting from the low cost of feed stock at home such as natural gas- widely used in the production of chemicals in the region. This gives the company a competitive edge over many producers elsewhere that use naphtha, a crude derivative whose price has gone up in line with oil prices. What could it mean for U.S. Chemical companies like Dow Chemical (NYSE:DOW), BASF (OTCQX:BASFY) and EI DuPont de Nemours (NYSE:DD). Four key takeaways are:
Chemical sales in the U.S. & Euro area were much stronger compared to sales in China in third quarter

Companies with higher exposure to India may suffer in revenues as well as prices and may post a negative earning surprise

Sales of specialty chemicals were stronger than commodity chemicals in terms of volumes & pricing

The companies with higher revenue exposure towards U.S. & EU markets are likely to post a positive earning surprise (DOW, BASF, Dupont) (Dow reports third quarter earnings on October 28, 2010)
Commodity Chemicals Price Outlook
Going forward, a better pricing regime may be expected because of the effect of Naphtha's price increase in Q3-Q4 2010. China-directed commodity chemical sales will be marginally better compared to Q2 & Q3 2010. However, differences in U.S./Europe fob prices and China fob prices may persist for some time. This may also result in margin improvements.
Commodity Chemicals Volume Outlook
Commodity chemicals are the main feed stock for most of current range of consumer products. Two major end uses of commodity chemicals in the U.S. are in the auto and housing sectors. China is the main market for commodity chemicals which are used in the manufacture of almost all of China's exports - from toys to white goods.
After some mid-year jitters, new export orders for Chinese manufacturers reversed in Q3 2010. Further stock of finished goods and raw materials in China are lower. Inventory re-stocking typically can take 3-6 months. Besides, delivery delay time for U.S. importers of Ëthylene, which is a benchmark for most commodity chemicals, has steadily crept up in last three months (currently 21 days). We expect this momentum to grow further, which should be positive for commodity chemicals volumes and prices.
Chemical stocks re – rating potential
Volatility for most chemical stocks is trending down as annualized ninety days volatility is below 360 days volatility. This has resulted in a positive stock price momentum. The risk of investing in these cyclical stocks relative to 10-year corporate bonds is declining. Stocks earnings multiples should trend toward their long term mean and may overshoot it.
Chemical stocks earning's growth expectations
Consensus estimates for U.S./EU chemical producers range from 8% (Dupont) to 41% (Dow), with BASF, Eastman Chemicals (NYSE:EMN) and Air Liquide (OTCPK:AIQUY) in the middle. If SABIC's Q3 2010 earnings is any guide of market conditions, 2011 earning estimates will be upgraded and the stock prices may react to earning upgrades.
Click to enlarge: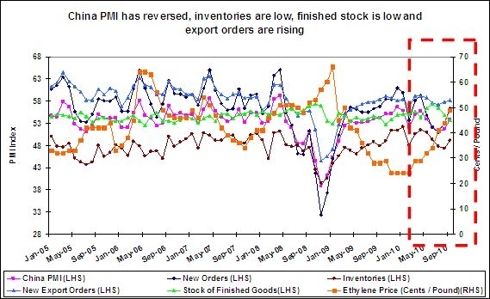 Click to enlarge