We were treated to comments from members of each of these central banks this weekend, which confirm that the Fed really has its finger on the trigger while Europe remains stuck in outdated economic debates.
QE2 near in the United States:
If you reach the conclusion that we are in a liquidity trap, or even near a perilous liquidity trap, more accommodation is not data-dependent or a close call.
- Charles Evans, Chicago FED.
Citing the central bank's legal mandates of price stability and maximum sustainable employment, he warned that the shortfalls on both of these factors
are too large to shrug off, and there is currently no policy conflict between improving employment and inflation outcomes.
When a central bank
is missing both components of its dual mandate by a large margin, there is justification for targeting a higher price-level path in an effective, disciplined and limited fashion. If the slope of the price path…is 2% and inflation has been under running the path for some time, monetary policy would strive to catch up to the path: Inflation would be higher than 2% for a time until the path was reattained.
Not only did he confirm the Fed's desire to bring about a QE2 as soon as possible, but he supported Mr Dudley's position in favour of 'Price Level Targeting'.
Eric Rosengren, Boston Fed:
Insuring against the risk of deflation may be much cheaper than waiting until it has occurred and then trying to address it.

A gradual response may not be as effective as a more active response to arrest deflationary pressures before they become embedded in thinking that can affect household and business spending.

The scale of the program should be sensitive to the prevailing conditions, and the size of the program would need to vary to accomplish a particular interest rate outcome.
In short, he does not want the Fed to repeat Japan's errors of procrastination and favours a strong initial push with a substantial initial amount. A strong affirmation of the Fed's determination with no set time limit, while recognising that everything depends on macroeconomic conditions (and thus in either direction).
On top of that, the latest data has bolstered the arguments of supporters of a QE2 within the Fed. We had very poor Industrial Production (-0.2% vs +0.2% expected) and Utilization Capacity figures in the States Monday (74.7: 5.9 below 1972-2009 average). And The Fed published a very mixed, if not downright poor, view of SMBs' credit access in the U.S.
75% of applicants received only 'some' or 'none' of the credit they wanted.
All this should further steepen the U.S. interest rates curve, especially our favorite, the 10/30, although it has already climbed to an historic record 142 bps with the risk/reward ratio becoming less attractive at those levels.
Since we issued our latest recommendation (TC of 05/10: 'Price Level Targeting in the US? Steepening of curve?'), that trade has already gained 15 bps. However, we are entering such 'Terra Incognita' that it seems to be me impossible to provide more precise targets.
Europe paddling in a sea of babble
In the wake of Mr Weber's martial declaration last Tuesday (TC of 13/10: Thanks Mr Weber! Bear flattener'), Mr Trichet finally called an end to all recreation period:
There is only one single currency; there is one Governing Council, only one monetary policy decision, and one president, who is also the Porte-parole of the Governing Council.
With those words, he warned Weber to respect the Council's decisions (and its discipline), while flat out contradicting the German candidate to succeed him as ECB President, by favoring the continuation of the ECB's peripheral nation debt purchase programme (SMP), if need be, by backing the possibility of prolonging the EFSF, which makes the Buba chief break out hives. And in a far more surprising note, Juergen Stark, also came out in favour of the SMP's continuation "as long as necessary".
Ditto from Ewald Nowotny, who summed up the SMP situation pretty well:
It makes sense to use it as a safety belt, I would not throw it away too early.
But the rising babble does not stop there, with various eurozone leaders presenting contrasting views in the context of a "strong euro". Finnish Finance Minister Katainen said that the "ECB is in charge of the euro, not the finance ministers."
Not only is that statement constitutionally inexact, as we have relentlessly pointed out in these lines (see very instructive OFCE report: 'La politique de change de la Zone Euro ou le Hold-up tranquille de la BCE'), but he was immediately contradicted by European Economic and Monetary Affairs Commissioner, Mr Rehn. Rehn confirmed that EU finance ministers were indeed going to discuss the exchange-rate levels at their Luxembourg meeting Tuesday!
In any case, Mr Nowotny confirmed:
The ECB has no exchange rate goal; therefore there also isn't any intention to intervene.
So I guess we should just let the Americans, Chinese and Japanese set the euro's exchange rate vis-à-vis other currencies. After all, that sort of approach dovetails perfectly with the "creative destruction" of the Austrian school, which views rising unemployment as a more favorable adjustment variable than currency debasement!
The ECB continues to cling to the world's most monetarist policies, as it continues to navigate (as expected) short-term rate upward with the Euribor moving to 1% this morning on its way to 1.25%, which amounts to the usual spread with the current refi rate (1%). As such, Euribor and Schatz levels continues to vulnerable to the slightest sign of "normalization"! We are thus sticking with our bear flattening bias for Europe, including our Schatz puts vs Bund puts positions, the difference in value making it possible to stay ahead of the curve and keep the premium!
The "Foreclosure Mess"
We discussed this topic last week, which now appears to be taking on steam in the United States where all the players of the great subprimes debacle are beginning to be affected, albeit in different ways. Banks are under enormous public pressure, as you saw from last Friday's incredible videos (Video 1, Video 2), but they are now facing scrutiny from regulators.
The Federal Housing Finance Agency, which monitors Fannie Mae (OTCQB:FNMA) and Freddie Mac (OTCQB:FMCC), has just sent subpoenas to 64 financial institutions in an effort to determine to what extent they should assume responsibility for losses racked up by the two, now quasi-nationalised, mortgage agencies. Many mortgages were apparently poorly documented and thus invalid, bringing to light a structural legal problem relating to securitization. This issue is very complex. I recommend a report written this past weekend by my friend, John Mauldin, The Subprime Debacle: Act 2. Although we do not always agree, particularly on the question of the eurozone's future, his assessment of American problems is regularly spot on.
And for a more precise view of the imbroglio in question, as seen from inside a bank, check out this highly instructive report, Repurchase and Rescission Process Overview, recently published by Wells Fargo and its concerned staff.
Here is a bonus graph, below, which puts the spotlight on the losers -- i.e. the banks who may have to buy back the mortgages which they had previously succeeded in unloading via securitization-- and the winners, like the monoline insurers, who will be able to demand huge refunds from these same banks!
Foreclosure Mess: Winners & Losers
As always, investors vote with their feet… In just three trading days, Ambac (ABK) has surged 37% while Bank Of America (Countrywide) (BAC) has plunged 11.4% !
Click to enlarge: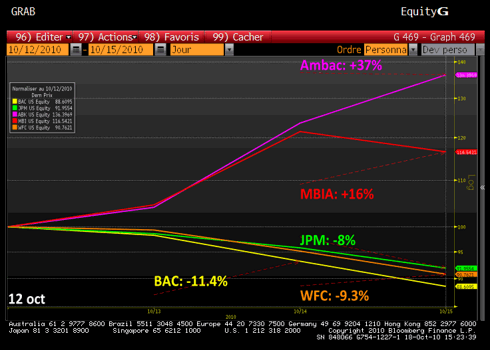 This huge turnabout, which may further weaken the U.S. real estate market, (that hardly needs the punishment) is the sole variable that argues for more caution toward risky assets. It may warrant profit-taking on bullish Eurostoxx 50 positions, below, which have nonetheless worked out perfectly until now.
Asset allocation biases and advised option strategies
Bund, Bobl, Shatz: See below…Bear Steepening, Schatz vs 10-year Bund.

Long December Schatz puts vs short Bund puts, premium received and net delta short.
2800/2900 on the Eurostoxx 50
The Eurostoxx call ladders are working perfectly, given the hike in the spot price and the passage of time.
Call spreads and outright call purchases on the Eurostoxx on October and December, hoping for a little velocity and affordable implied volatility.

Disclosure: Long 20 years OAT and 30 years BTP Zero Coupons, EDF Corp 5 Years 4.5%, Grece 2 Y and 10 Y bonds, Long Eurostoxx50 ETF