Pandora (NYSE:P) launched its initial public offering during the summer of 2011, at a price point of $16. The company has since acquired significant market capitalization of $5.309 billion, and now boasts a stock value of ~$26. Pandora brought with it a truly unique listening experience, fit with hefty algorithms designed to find out, and cater to, any user's preferences. But as it is with any other market, competitors will come in: the biggest threat to Pandora right now is Spotify, a private company from Sweden. Is the streaming music market big enough for these two players?
Pandora's Fundamentals
A quick glance at the trailing twelve months (an average of the last 4 quarters) shows us what's going on with Pandora's revenue. It's healthy, with ~55% growth quarter to quarter.

Click to enlarge
Source: YCharts
Pandora is still not fully settled into itself, so we can't judge it as a mature company. The firm has negative net income, which means that it still loses money after paying taxes and interest.

Click to enlarge
Source: YCharts
The fact that the company is still losing money would be problematic if Pandora had a lot of debt, but it doesn't. The company has an outstanding $155.59M of liabilities - with the revenue that it has, these debts aren't really a worry.
Market and Competition
As mentioned earlier, Pandora has a powerful direct competitor named Spotify. Anyone who owns Pandora stock or is interested in owning Pandora stock should use the service and acquaint themselves with it. Spotify has a database of songs held in the cloud that allow a user to generate playlists and listen to songs that they pick explicitly. Pandora has a radio function that caters to your music tastes. The problem is that Spotify also has the same function. Anecdotally, the service works great. The private nature of Spotify inhibits us from learning about its operations in-depth, but there are statistics detailing how many users use each service.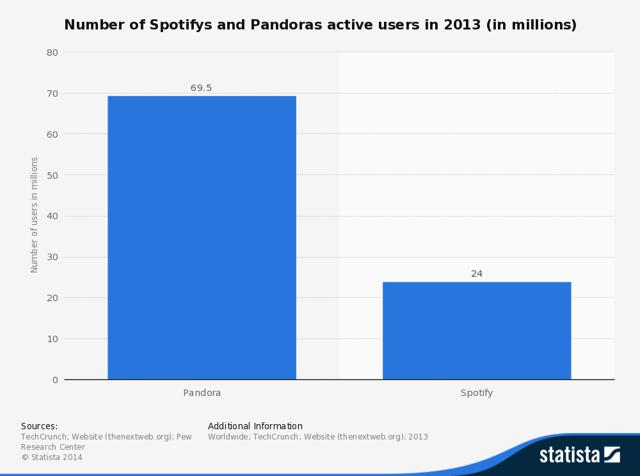 Click to enlarge
Source: Statista
Right now, Pandora is the winner. Another graph gives us insight into the growth of Spotify's user base: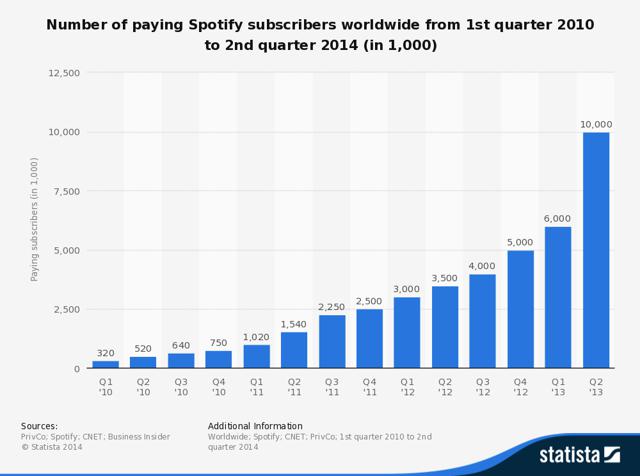 Click to enlarge
Source: Statista
Spotify has rapidly accelerating user acquisition and a pay-by-month business model. Spotify's business model involves two "premium" services: one of them costs $5 a month, the other costs $10 a month. Taking the average of the two and multiplying by the number of users as of Q2 2013, we have $75,000,000 of revenue a month, which would mean $900M on the year. Since that was the 2nd quarter of 2013, the number is definitely higher by now. This makes Spotify a serious competitor to Pandora, which had $194.31 in revenue last quarter.
That being said, the digital music market is growing.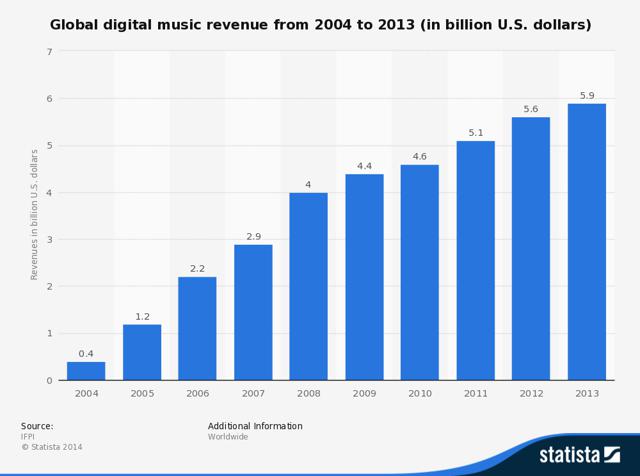 Click to enlarge
Source: Statista
Expect these numbers to keep going up as more people become acquainted with the internet and using it for their music.
Conclusion
Pandora is operating in a bull market, and it's the biggest player. It has very little debt and good revenue, with hearty revenue growth on top of it. It's safe to say that the company will do well in the medium term. As I mentioned earlier, however, Spotify is a powerful and well-designed service that could eventually take away a healthy portion of Pandora's user base - although it appears that the market is more than large enough to hold them both. Pandora seems like a buy in the short-term, but worth investigating further as the market continues to develop.
Disclosure: The author has no positions in any stocks mentioned, and no plans to initiate any positions within the next 72 hours. The author wrote this article themselves, and it expresses their own opinions. The author is not receiving compensation for it (other than from Seeking Alpha). The author has no business relationship with any company whose stock is mentioned in this article.