Insurance holding company Unitrin (UTR) is an attractive value play in the P&C insurance field, with strong prospects of increasing earnings and dividend payouts. At recent prices around 24.50, the company trades at a Price/Tangible Book of .85 and a TTM P/E of 7.1. Analysis reveals that management is winding down or fixing two under-performing segments, a process that can be expected to lead to improving earnings over the next year. The dividend yields 3.6% at today's price and the company has been buying back shares at below tangible book.
I got the idea from one of my broker's (Schwab) website: they have an alphabetical rating system, it gives financials as a group an underperform, all financial subsectors other than insurance are D or F, insurance gets a C, many insurers get good grades, UTR is among them and gets an A. Their rating system relies on numerous variables and is a black box as far as I'm concerned. However, it does have a strong momentum component which is helpful to me. Many value stocks lack momentum and if I can find a value stock that scores high on their system the odds of success are improved. It's a way of getting at value plus momentum.
Overview
The company's self-description, from a recent press release:
Unitrin is a diversified insurance holding company, with subsidiaries that principally provide life, auto, homeowners and other insurance products for individuals and small businesses.

Unitrin's principal businesses are:

-- Kemper, which provides auto, homeowners and other insurance products to individuals through a network of independent agents,

-- Unitrin Direct, which markets auto and homeowners insurance to consumers via direct mail, the Internet and employer-sponsored employee benefit programs and other affinity relationships,

-- Unitrin Specialty, which provides auto insurance through a network of independent agents and brokers to individuals and small businesses which have had difficulty procuring insurance through traditional channels, usually due to adverse driving records or claim or credit histories, and

-- Career Agency, which specializes in the sale of life insurance products to persons of modest incomes through a network of employee agents.
Not listed, the company is winding down Fireside Bank, an automobile finance subsidiary. Their exit plan is performing above expectations, and is expected to result in the return of 250 million (4.03 per share) to the parent. Unitrin Direct has been unprofitable until recently: however, corrective action is in process. The other segments are profitable. Investment results have been uneven given the financial crisis: the company did some de-risking during the crisis but may seek higher returns as their capital is restored.
Segment results
click to enlarge images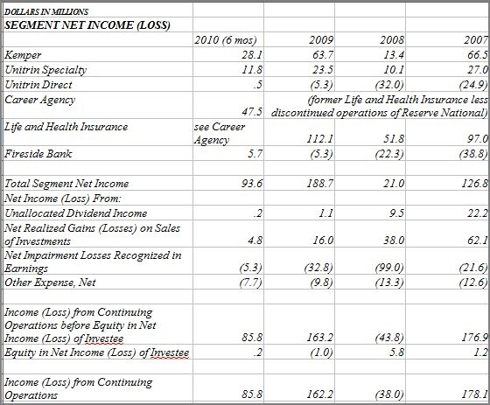 It is important to note the progress being made in turning around the results for Unitrin Direct. After going through rate increases and raising underwriting standards, the company is in a position to look forward to increased profitable production from this segment.
The Fireside Bank is being wound down, and in the first half of 2010 is showing a small profit.
Combined ratios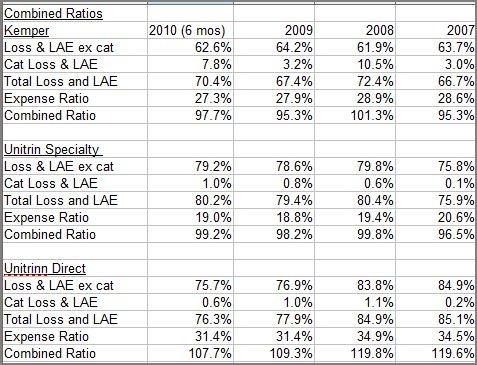 Kemper and Unitrin Specialty are relatively consistent and profitable. Unitrin Direct is improving but still has a way to go.
Valuation
Using tangible book, 28.33 X 1.2 = 34. Considering trends in the business segments, going forward UTR should be able to earn 2.75 per share. Applying a P/E of 12.5 gives a target of 34. I'm investing on the basis shares will get to 34 within the next year.
Dividend
The dividend currently stands at .22 quarterly. It was .47 during 2008, but was reduced as a cash conservation measure, to .20 during 2009 and now .22 for 2010. The payout ratio averaged about 50% before the financial crisis, and if the company achieves earnings of 2.75 per share it appears a further dividend increase would be possible.
Catalyst
Like any value situation, a catalyst is needed. Noting that the third quarter didn't have very heavy hurricane action and that Unitrin Direct has been has been contributing rather than being a drag, the next few quarters may show sufficient earnings improvements to create some upward momentum. A dividend increase, should one occur, would most likely be declared in Feb 2011, and would be a plus.
The successful winding down of Fireside Bank will result in the return of capital to the parent, which will be available to do acquisitions, fund growth, increase the dividend, or buy back shares.
The P&C industry is slow growing. There are numerous larger players who have excess capital. It is not difficult to imagine UTR becoming a target for acquisition.
Liquidity
The company has bonds worth 200 million maturing in November. In the 2009 10-K they stated the intention of paying them off at maturity from existing resources, and the last two 10-Q's have included the assertion that they continue to believe they have the resources to do so. A recent presentation included statements to the effect that if rates were favorable they might issue bonds again.
Bonds maturing in 2017 are actively traded to yield somewhere over 5% and under 6%, consistent with Baa credit. Fitch apparently feels they should roll the November expiration, citing reduced financial flexibility.
The company has said the action reduces leverage and increases flexibility. I would prefer they borrowed the money, to have it around, just in case. Failure to borrow money when it should be available at good rates may mean they have no current plans of doing anything aggressive by way of capital deployment.
Resignation of CFO
The company announced the resignation of its long term CFO as follows:
Unitrin's Chief Executive Officer, Don Southwell, commented that "Eric Draut has been an outstanding member of Unitrin's senior leadership team since the Company's spin-off from Teledyne in 1990, and his previous positions have included Controller and Treasurer. During his 13 year tenure as Chief Financial Officer, Eric led the spin-off of Curtiss-Wright Corporation to Unitrin's shareholders, the sale of Unitrin's holdings in Litton Industries, Inc. to Northrop Grumman Corporation, and numerous acquisitions, divestitures and financings. He has also been instrumental in the ongoing wind-down of Fireside Bank. We will miss his intelligence, energy and dedication and wish Eric well in his future endeavors."
The departing officer was praised for his performance in the mergers, acquisitions and divestiture arena. I don't think his departure should constitute a reservation. Perhaps his skill set will be less important to the company going forward.
Options Strategy
A version of the bullish reversal strategy makes sense to me here:
Sell to open 10 UTR Feb 2011 22.5 puts @ 1.05/1.50
Buy to open 10 UTR Feb 2011 25.0 calls @ 1.55/1.85
Sell to open 10 UTR Feb 2011 30.0 calls @ .30/.50
Options are thinly traded and spreads are wide. I got impatient and paid a net debit of .25. The intention would be to raise enough by selling the puts to fund the vertical call spread.
If shares trade between 22.5 and 25.0 at expiration, all options will expire worthless and the investor's loss is limited to the net debit, $250 in my case. The position earns a profit over 25.25, maxing out at 4,750 if shares are over 30.0 at expiration.
If assigned on the 22.5 puts, the investor has bought the shares at 80% of tangible book value, and has a dividend yield of 3.9% to console him while he waits for prices to recover.
Risk/reward here is attractive, tangible book value provides margin of security, so the investor has little to lose in the worst case scenario and stands to pocket a hefty profit if shares appreciate even to 1X tangible book.
Disclosure: Net long UTR as described in the article