Advanced Micro Devices (NYSE:AMD) is one of the strongest candidates for a turnaround, and the stock has shown moderate growth (over 4%) during the last twelve months, with considerable volatility. However, while looking at turnaround plays, it is important to pay less attention to the short-term price movements and focus on the strategy laid out by the management. In terms of strategy, we believe AMD is doing well by focusing on high-growth and high-margin areas. In our previous articles, we have covered the company's GPU segment in detail and also discussed the company's margins in the segment. In this article, we will discuss progress in its APU segment and how it will benefit the company when the PC market is declining. Furthermore, we will look into the sales trends of gaming consoles which use AMD chipsets and see what the gaming console segment will bring to the table for AMD.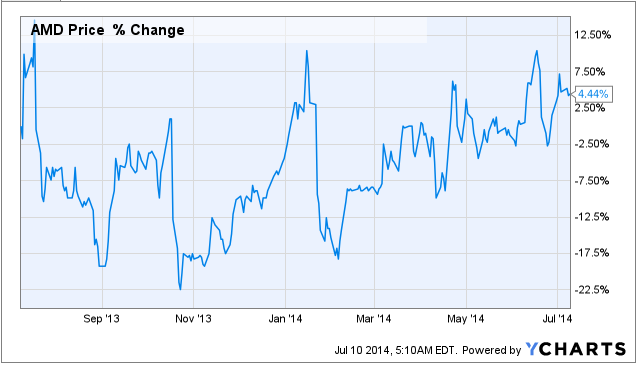 Progress in the APU Segment
AMD recently added a new APU system on its 4th-generation A-Series Advanced Processing Unit portfolio. The new system is named the A10-7800 APU, which is available only in Japan currently and will be made available for sale in the rest of the world by the end of this month. Let us first look into its technological details.
Based on the company's 28nm Kaveri architecture, the A10-7800 is a system on a chip which features heterogeneous system architecture (HSA) and GCN-based Graphics. This APU consists of eight Graphics Processing Units and four Central Processing Units. It also has support for UltraHD resolutions for the new 4k gaming. The company moved into Heterogeneous System Architecture early last year, with Kaveri being its first HSA-based processor. This line of processors directly competes with the Core I3 Haswell series of Intel (NASDAQ:INTC). For a milder, office-based experience, the company also announced the AMD A4-7300 and AMD A6-7400K APUs for consumers who want to modify their applications.
AMD's Advantage
The A-series APU is likely to be relatively successful, even with a declining PC market. This is because it combines multicore CPU with the strong graphics of AMD Radeon. In APUs, 47% of the system is inclined towards graphics, while the rest is for CPU processing. Comparing it with Intel's Haswell chips, which only has 31% of the system towards graphics, AMD clearly has an upper hand. Moreover, the technology used in Kaveri in order to power the graphics is the same as Sony's (NYSE:SNE) PlayStation 4 and Microsoft's (NASDAQ:MSFT) Xbox One, both of which also use AMD chipsets. It is capable of catering to a market of PC gamers who are willing to experience gaming in a much simpler and even cheaper way.
AMD's position
In the first quarter of 2014, the company saw a 12% annual and 8% sequential decline in the computing solutions segment, due to lower chipset and desktop revenue. Late entry into new markets and losing market share to Intel cost AMD heavily in 2012. In 2013, however, it went through a restructuring phase, which allowed the company to be on-track again with a new and diverse line of products. With the progress in the APU segment, which now offers even 4k gaming, AMD is well-positioned to grow. Most of the famous and much-wanted gaming titles are to be launched in 4k UltraHD, which will boost the sales of this new series.
Gaming Consoles
In our previous article, we discussed how AMD benefited from the sales of Playstation4 and Xbox One in the fourth quarter of 2013. We have seen remarkable progress for AMD in this area this year. Sales of video games robustly increased in May due to the launch of some famous titles like "Watch Dogs". Consequently, sales of gaming consoles went up as well. Sony's PlayStation 4 seems to be leading the market. It had sold 7 million units as of March 31, and has now hit the 9-million unit mark, while Xbox One has sold over 5 million units. Regardless of whoever wins, AMD's royalty revenue is likely to increase significantly on the back of strong sales growth in the gaming consoles segment. The gaming season is still ahead of us, and we believe that gaming consoles will face a much higher demand in the last two quarters of 2014, due to many famous gaming titles to be launched in that time period, including Far Cry 4. Let us recall that sales of gaming consoles had a major contribution in covering the losses of the company in the last quarter of 2013. We can expect even better results this year.
Conclusion
As we stated at the start of the article, AMD is on the right track regarding its strategy. More importantly, it is moving in the right direction with its APU segment, which will at least sustain its position in the PC market. Furthermore, sales for gaming consoles remain strong and will likely increase further, as sales of gaming consoles usually rise due to the seasonal impact of holiday season sales. Both these segments depend on the growth of gaming industry, which is growing rapidly. APU's support for 4k gaming will help it reach higher in terms of consumer preference. We maintain that AMD remains a solid turnaround play and it should be prove to be a good investment.
Additional Disclosure: This article is for educational purposes only and it should not be taken as an investment recommendation. Investing in stock markets involves a number of risks and readers/investors are encouraged to do their own due diligence and familiarize themselves with the risks involved.
Disclosure: The author has no positions in any stocks mentioned, and no plans to initiate any positions within the next 72 hours. The author wrote this article themselves, and it expresses their own opinions. The author is not receiving compensation for it (other than from Seeking Alpha). The author has no business relationship with any company whose stock is mentioned in this article.