Introduction
BNSF (NYSE:BRK.B), Union Pacific (NYSE:UNP), CSX (NYSE:CSX), Norfolk Southern (NYSE:NSC), Canadian National (NYSE:CNI), Canadian Pacific (NYSE:CP) and Kansas City Southern (NYSE:KSU) have a vast intermodal network in the U.S. and Canada. Having access to Los Angeles area ports, BNSF and Union Pacific have unique opportunities not available to other Class 1 railroads.
We can see that BNSF and UNP are significantly larger than other Class 1 railroads with respect to freight revenue in general and intermodal revenue specifically.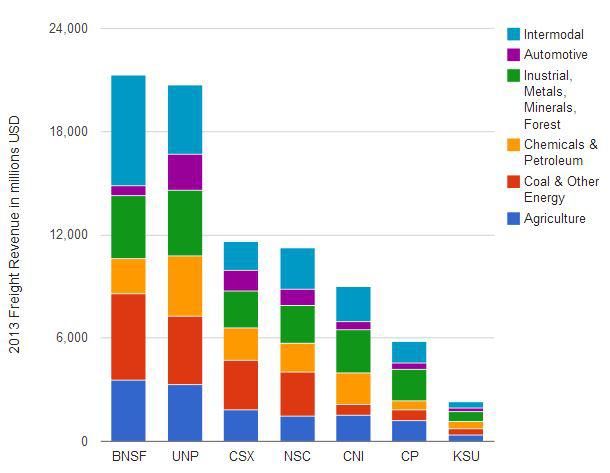 *Sources - 2013 10-Ks and Annual Reports
*CNI and CP revenue numbers are multiplied by .94 to convert from CAD to USD.
*Per the 2009 BNSF 10-K, Automotive, Domestic Intermodal and International Intermodal made up 8%, 49% and 43% respectively of Consumer. We don't see Automotive broken out in future years but we backed out 8% in this graph.
*Per the 2009 BNSF 10-K, Petroleum Products and Chemicals made up 20 and 16 percent respectively of the Industrial revenue. We don't see them broken out in future years but we backed out 36% in this graph.
*CSX, NSC, CNI and CP break out Forest separately as 775, 795, 1,413 ((NYSEARCA:CAD)) and 206 respectively but we put it in Industrial.
It would be interesting to make revenue graphs for past years but access to data is inconsistent. The filings go back to the following:
1993 10-K: UNP, CSX, NSC KSU
1995 10-K: BNSF
1996 Annual Report (French): CNI
2001 Annual Report: CP
Comparisons are tricky as there have been changes over the years. These are discussed by Claude Wiatrowski:
In 1995, private investors purchased [Canadian National] the railway from the Canadian government, and in 1999 the Illinois Central was merged into Canadian National.

...

In 2001, the Wisconsin Central was folded into Canadian National, and Great Lakes Transportation was added in 2004.

...

In 2004, CN, the new name of Canadian National, purchased the assets of BC Rail except for its track, which it leased from the province of British Columbia.

[Railroads Across North America page 206]

...

[KCS] added the 1,200-mile Mid South Railroad in 1994. A 1997 purchase of the Great Western Railway added St. Louis. In 2005, it took control of the Texas Mexican Railway with access to Mexico and bought Transportacion Ferroviaria Mexicana, a 2,661-mile Mexican railroad.

[Railroads Across North America page 214]
Ports
IANA shows the top 10 U.S. ports in 2013 TEUs
*Los Angeles: 5,668,068
*Long Beach: 4,964,524
NY - NJ: 4,200,565
Georgia: 2,365,597
Virginia: 1,836,112
*Oakland: 1,615,013
**Houston: 1,582,055
*Tacoma: 1,305,513
South Carolina: 1,294,235
*Seattle: 961,017
*West Coast Ports accessed by BNSF and/or Union Pacific
**Gulf Port accessed by BNSF and Union Pacific.
The Los Angeles and Long Beach ports are massive and many of their goods need to go all the way to Chicago. This gives BNSF and Union Pacific a great deal of revenue as rail can be more attractive than trucking as distances increase.
Density
Starting on the West Coast of the national freight rail network, we see BNSF and UNP have more of an east-west density than a north-south density. Chicago is a huge hub and the high density between Los Angeles and Chicago stands out. Looking at the 5 heaviest lines from the West Coast, the top line through Northern Montana belongs to BNSF as does the line through Northern Arizona, Northern New Mexico and Northern Texas. The lines through Nevada are Union Pacific as is the line through Southern Arizona.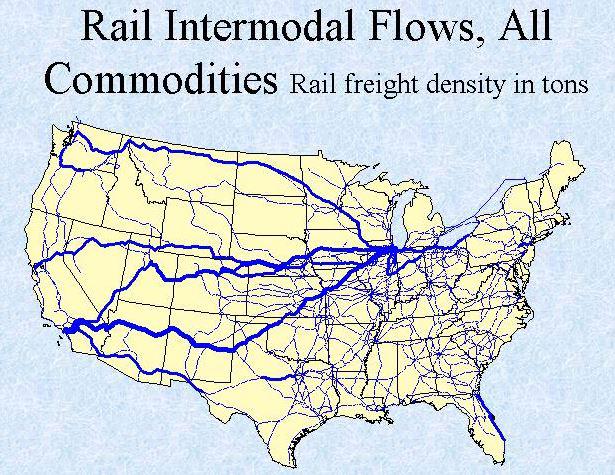 Source: FHWA (this map is somewhat dated but the thick line through Northern Arizona has been consistent over time)
Brian Solomon talks about the thickest line on the above map. He said that Santa Fe (now BNSF) had developed this line into America's foremost intermodal route by the early 1990s. [Intermodal Railroading page 177]
Mr. Solomon also mentions that the Port of Oakland was the first West Coast port to use containerized shipping on a large scale [pg 77]. This line is seen on the above map going through Northern Nevada. Discussing South Seattle, Mr. Solomon reveals that BNSF started a major expansion of the intermodal facilities there in 1972. [pg 79]
General Efficiency
Railroads are capital intensive and owners have not always gotten a good return on investment throughout history. Partly because of intermodal revenue, some railroads are producing nice returns for investors these days.
I like the way Union Pacific calculates ROIC. Apart from adding operating leases to the denominator, the Union Pacific ROIC calculation is similar to the Exxon Mobil, Shell and Chevron Return on Average Capital Employed calculation discussed in my Return on Capital article.
Here is a breakdown of the Union Pacific calculation:

Source: Union Pacific 10-K page 32
The equity and debt parts of the denominator come straight off the 2012 and 2013 balance sheets:
Average equity: (21,225 + 19,877)/2 = 20,551
Long-term debt: (8,872 + 8,801)/2 = 8,836.5
Current debt: (705 + 196)/2 = 450.5
Average debt Subtotal: 9,287
The operating leases part of the denominator is more work. Per page 33 of the 2013 10-K, operating leases were discounted using 5.7% and 6.0% at December 31, 2013 and 212, respectively. The "16. Leases" sections of the 2013 and 2012 10-K filings give us the other numbers we need to calculate the present value of these operating leases in the spreadsheets below: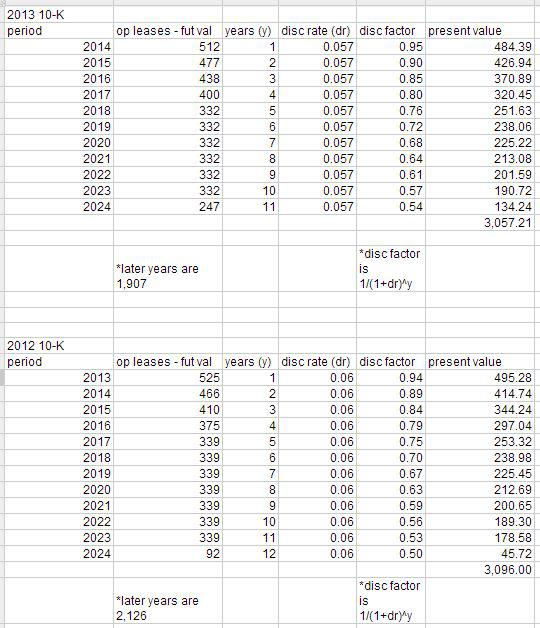 Using the 2013 and 2012 totals from our spreadsheet, (3,057 + 3,096)/2 = 3,077.
The 4,388 net income part of the numerator comes straight off the income statement as does the addition of the 526 interest expense.
Tony Dowling from Investor Relations helped clarify the 175 and the (264) in the numerator. The 175 interest on pv of the leases part of the numerator is calculated by taking the average pv of 3,077 and multiplying it by the 2013 discount rate of 5.7%: 3,077 * .057 = 175.4. The (264) taxes on interest part of the numerator is calculated by using the annual effective tax rate of 2,660/7,048 or .377 and multiplying it by the sum of both the 526 interest expense and the 175 interest on pv of the leases: .377 * (526 + 175) = 264.
How different would this percentage be if we exclude operating leases? In other words, it would be less of a hassle but we would still have a more realistic return than ROE because we'd be accounting for debt. The denominator would be 3,077 less or 29,838. On the numerator side the income statement tells us that taxes are 2,660 and pretax income is 7,048 so the tax rate is 2,660/7,048 or .37. This means our interest expense addition is 526*.63 or 331 instead of 526. The 175 and (264) go away so that our numerator would be 4,388 + 331 or 4,719. Excluding operating leases, we get a return of 4,719/29,838 or 15.8%. This is inflated by about 1% but we'll use this same yardstick on all the railroad companies to compare apples to apples.
Return on Average Capital Employed Excluding Operating Leases Summary:
UNP: 15.8%
Note that UNP has (8,910) in treasury stock vs 21,225 in equity and this can distort the denominator.
Here's a glance at the return on capital for railroads using this approach where operating leases are excluded.
UNP
Tax: 2660/7048 or .38
ROCE: (4388+(526*.62))*2/(21225+19877+8872+8801+705+196) or 15.8%
If we add treasury shares to the denominator we get 12.5%.
CNI
Tax: 977/3589 or .27
ROCE: (2612+(357*.73))*2/(12953+11018+6819+6323+1021+577) or 14.9%
NSC
Tax: 1055/2965 or .36
ROCE: (1910+(525*.64))*2/(11289+9760+8903+8432+445+50) or 11.6%
CSX
Tax: 1058/2922 or .36
ROCE: (1864+(562*.64))*2/(10504-21+9136-14+9022+9052+533+780) or 11.4%
CP
Tax: 250/1125 or .22
ROCE: (875+(278*.78))*2/(7097+5097+4687+4636+189+54) or 10%
BNSF
Tax: 2412/6683 or .36
ROCE: (4271+(57*.64))*2/(48414+45625+1472+1622+145+203) or 8.8%
KSU
Tax: 198.3/551.6 or .36
ROCE: (353.3-1.9+(80.6*.64))*2/(3371+3097+1857+1548+332+60) or 7.9%
CNI had the best operating ratio in 2013, is this something Bill Gates anticipated when he built a large position some time ago?
CNI: 63.4%
UNP: 66.1%
KSU: 68.8%
BNSF: 69.1%
NSC: 71.0%
CSX: 71.1%
CP: 76.9%
*CP notes that their adjusted operating ratio is around 69%.
Intermodal Background and History
During the Vietnam War, many ships were empty after arriving from the U.S. This provided opportunity for container shipping and COFC. Citing Marc Levinson, Brian Solomon notes that Asian companies were offered cheap transport of their goods to the U.S. during the Vietnam War. [Intermodal Railroading page 78]
The 1980 Staggers Act was a key development. It stated that truck competition exists and exempting piggyback services [TOFC] from regulation wouldn't threaten shippers.
Steve Barry talks about the growth of COFC in the U.S.:
If one were to stand by any major North American transcontinental main line in the 1970s and then stand by that same line today, what would be different? Certainly the locomotives are larger, but the trains themselves are pretty much the same. There are mixed-commodity trains, unit trains, and even trailers on flatcars. But one kind of train today didn't exist in the 1970s: the train carrying cargo containers stacked two high on well cars. These "double-stack" trains can reach lengths of 2 or 3 miles.

The development of the stack train can be traced to two factors. First is North America's insatiable appetites for Asian-made goods, most of which arrive on huge cargo vessels. The second factor goes back more than a century to the building of the Panama Canal. The canal's builders never envisioned the size of today's container ships, thus the canal is too narrow.

[Railroad Rolling Stock by Steve Barry page 102]
Clearly Asian-made goods are a big factor. However, the impact of the Panama Canal is limited in scope according to UNP:
The U.S. West Coast's share of total U.S. transpacific imports has averaged around 67 to 68 percent over the past four years despite available Panama Canal capacity during that time. Freight that has already shifted to the East Coast has been cargo that is lower in value and less time-sensitive, since the "all-water" route adds as much as two weeks to the total transit time. We believe diversions resulting from the eventual completion of the Panama Canal expansion will not have a material impact on our overall growth prospects.

[2013 UNP Investor Fact Book page 27]
Moving forward, I believe factors like the price of diesel fuel and road congestion will have more of an impact than the Panama Canal. CSX talks about the fact that rail alleviates highway congestion and is four times cheaper than trucking at current diesel fuel prices on page 21 of their 2013 10-K.:
Brian Solomon talks about the move from COFC to TOFC:
Burlington Northern was among the first to launch a post-Staggers domestic container service, marketing it as BN America. During the 1990s, many Class 1 railroads deemphasized or discontinued their own traditional piggyback TOFC operations in favor of domestic container services using both double and single-level equipment. Today, while TOFC is still handled for freight forwarders, for small-package carriers such as UPS, and for trucking companies, containers carry most railroad-controlled domestic intermodal traffic.

[Intermodal Railroading page 90]
Many criticize our reliance on Asian imports saying they are bad for our economy. Ken Fisher offers an interesting perspective:
Mercantilism operated then to a more extreme extent but much as Japan but much as Japan and Germany do now. They deploy government-based economic throttles to purposefully create trade surpluses on the theory surpluses should help their economy. They think just like those who think our trade deficits are bad. They think trade surpluses help and deficits hurt, so they purposefully manufacture trade surpluses by constricting consumption governmentally and pushing exports. But forcing policy through an economy to create anything at the expense of freer markets and purer capitalism leads to sub-optimization and slower growth. Always! Why? To maximize growth, you must let capitalism run wild. Positively amok! That is the basic economic lesson of the past 200 years. Deficit bears are too clever by half with their views of good and bad and can't get the beneficence of Adam Smith's invisible hand. They want to interfere with a policy hand that gets in the way and simply stifles growth. Bet on capitalism and growth, not on mercantilism and trade surpluses. Our growth creates the capital flows sustaining our trade deficits; as long as we continue to grow rapidly, our current account and trade deficits will remain high and we will remain happy. If our growth slows or ends, our twin deficits will too. That is all there is to it.

[The Only Three Questions That Count page 221]
Intermodal Case Studies
Everyone sees the big brown UPS trucks but their dependence on rail is less visible. UPS is an enormous intermodal customer. UPS' Chicago Area Consolidation Hub or CACH is the biggest ground package sorting facility in the world. Ten percent of UPS' U.S. volume goes through this hub and this hub uses rail heavily.
Half of the hub's incoming and outgoing volume is moved by rail, with the other half transported by trucks. In the Chicago area, UPS relies on BNSF Railway Co., CN, CSX Transportation, Norfolk Southern Railway and Union Pacific Railroad to accommodate its transportation needs, while some long-distance traffic is assisted in other areas by connecting carriers Kansas City Southern and Florida East Coast Railway. Typically, UPS uses rail if a shipment is traveling 400 or more miles.

"Rail is a 24/7 operation for us. We depend on our transportation partners," says Keith Hargarten, CACH's dispatch manager/feeder, adding that the hub requires 92 trains per day, and moves 5,000 inbound and 6,000 outbound shipments by rail per week at 13 intermodal ramps.

[Progressive Railroading - UPS relies heavily on railroads to keep the giant Chicago Area Consolidation Hub on schedule]
Beginning with the 2010 10-K, BNSF cut back on the disclosure of Intermodal specifics. Along with other key players, UPS was mentioned by name in 10-K filings up until that time.
Brian Solomon has some wonderful UPS pictures and he notes that they were one of the largest shippers of intermodal traffic on American railroads in 2006. He continues by saying UPS has worked with railroads for 4 decades. [Intermodal Railroading page 166]
Waiting until 2011, FedEx Freight did not get into rail as quickly as UPS per Tony Hatch on page 9 of Ten Years After: The Second Intermodal Revolution.
Inbound Logistics uses Jelly Belly and Constellation Brands as a case studies for intermodal benefits. Citing lower costs, intermodal is the choice for shipping Jelly Belly loads from the Fairfield, California factory to the Pleasant Prairie, Wisconsin distribution center. Intermodal is the standard of choice for Constellation's wine and spirits shipments moving from California to areas east of Denver. The annual cost savings for Constellation Brands are substantial.
BNSF explains how they provide intermodal transportation for many companies like Jack in the Box, Pep Boys, Michaels, The Container Store, Petco and Sierra Nevada.
Closing Thoughts
The BNSF and Union Pacific networks cover great distances from the West Coast to Chicago. These companies are well positioned for continued intermodal success in the future.
Glossary
BNSF: Burlington Northern Santa Fe Railroad
CNI: Canadian National Railroad
COFC: Container on flatcar
CP: Canadian Pacific Railroad
CSX: CSX Railroad
KSU: Kansas City Southern Railroad
NSC: Norfolk Southern Railroad
PV: Present value
ROCE: Return on capital employed
ROIC: Return on capital invested
TEUs: 20 foot equivalent units
TOFC: Trailer on flatcar
UNP: Union Pacific Railroad
UPS: United Parcel Service
Sources
2013 CNI Annual Report (also available at sedar.com)
2013 CP Annual Report (also available at sedar.com and cpr.ca)
Intermodal Railroading by Brian Solomon Copyright 2007
Railroads Across North America by Claude Wiatrowski 2012 edition
Railroad Rolling Stock by Steve Barry 2009
The Only Three Questions That Count by Ken Fisher
Disclosure: The author is long UNP, BRK.A, BRK.B, UPS. The author wrote this article themselves, and it expresses their own opinions. The author is not receiving compensation for it (other than from Seeking Alpha). The author has no business relationship with any company whose stock is mentioned in this article.
Additional disclosure: Any material in this article should not be relied on as a formal investment recommendation.