The hopes of yesterday's rally continuing into trading this morning seem like they have about the same chance of happening as William Hung being elected the next President of the United States. Coming off of a rally to end the day yesterday - as a result of the Fed's commentary - it's looking like futures are dictating a rough start to the day Thursday morning for traders.
Janet Yellen, in her best Steve Urkel voice, might be asking herself, "Did I do that?"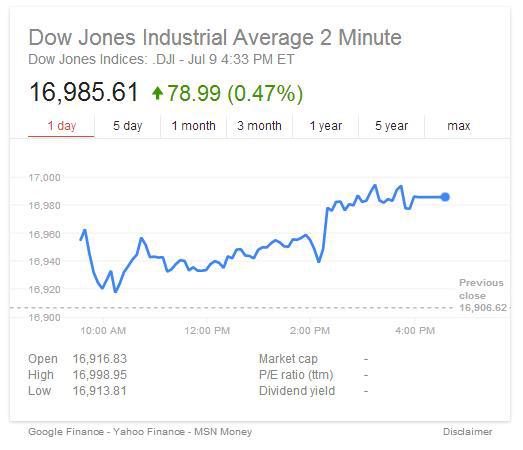 Despite this promising looking close from yesterday's trading, Dow futures are off 140 points to start this morning - and we're still about an hour and ten minutes until the market opens for trading. Names like Apple (NASDAQ:AAPL), BlackBerry (NASDAQ:BBRY), GoPro (NASDAQ:GPRO), Ford (NYSE:F) and Intel (NASDAQ:INTC) are already all in the red in pre-market trading. Pre-market volume is looking a little heavier than usual.
As Joe Kernen eloquently put it this morning:
"Futures are down on disappointing trade numbers out of China (glances at futures) - what were they, ZERO?"
Futures started the morning (at least when QTR woke up) off around 120 points - the selling has seemed to pick up slightly as we head towards the open.
And it's not just the U.S. - we were treated to a royal porking of epic proportions across the pond last night, while U.S. traders foolishly dreamt soundly about another green day today:
(source - CNBC.com)

That'll teach us to try and predict which way the markets are heading. Markets look like they actually opened relatively calmly overnight on the Fed news, but all of that changed. Portugal seems like one of the main culprits of the overnight sell-off. Shares in a couple of the primary bankers fell sharply, as concerns about liquidity of the banks were weighing on traders. Industrial output data from Italy and French industrial production both compounded the bank worries and dragged the rest of Europe into the sell-off. Asia also posted weak Chinese trade data (as eloquently reported by Mr. Kernen this morning) and export data.
Thanks a lot, guys.
Again, we'll likely be facing the question that we faced just two days ago with regard to whether or not this is a buy the dip day - or cause for greater concern. QTR thinks today is going to present buying opportunities across the board, despite the overseas data. I see the Fed's remarks yesterday as a net positive for the U.S. economy and a promised taper by October as a sign that our economy is making great strides.
It'll be a tumultuous morning for traders that are positioned long. Less so if you're holding a lot of names short - in which case, this is the best possible thing you could have woken up to. But, in keeping with the Kool-Aidish view on the markets that "green is good, red is bad", it's looking like it's going to be an unceremonious open Thursday morning.
I'll likely spend the first part of my day bargain hunting in hopes that the market can regain some positive momentum by the end of the day.
Best of luck in your trading day today.
Disclosure: The author is long AAPL, BBRY. The author wrote this article themselves, and it expresses their own opinions. The author is not receiving compensation for it (other than from Seeking Alpha). The author has no business relationship with any company whose stock is mentioned in this article.