By Bryan McCormick
US stock index futures are broadly lower this morning, with much of the downside in the Nasdaq 100 after disappointing earnings results from IBM (NYSE:IBM) and Apple (NASDAQ:AAPL) last night.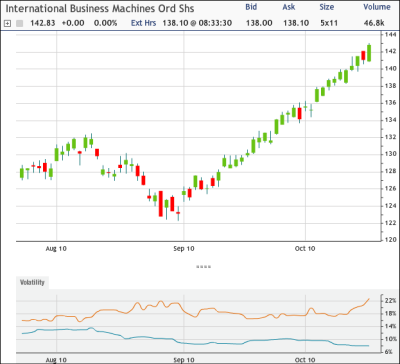 Asian markets finished on the plus side overnight, with China particularly strong after a surprise increase in interest rates. That is a very big story in currency markets, which are moving in the opposite direction from what one might expect.
The dollar is up significantly against its basket, pushing it higher. This is weighing heavily on commodity prices.
European markets have drifted lower, despite a higher-than-expected ZEW current conditions index in Germany.
A quick look at the US earnings front shows Apple down 4.5 percent and IBM down 3.3 percent. At the other extreme, Parker Hannifin (NYSE:PH) is up more than 8 percent after a good report. Capital One Financial (NYSE:COF) is also a winner, up more than 3 percent, with UnitedHealth Group (NYSE:UNH) also trading higher by 2 percent.
We are at a stage in earnings season where we have to get more selective in outlook as the number of companies reporting is rapidly becoming a very long list. Yahoo (NASDAQ:YHOO) reports tonight after the market close along with Altera (NASDAQ:ALTR), Juniper Networks (NYSE:JNPR), and Western Digital (NYSE:WDC). I will post more companies for tomorrow in our afternoon update.

Disclosure: No positions