Better-than-expected demand for PCs prompted Intel (NASDAQ:INTC) to raise its revenue guidance for Q2 and the whole of 2014. I urged Seeking Alpha users to buy INTC last month when it was still below $29. An improvement in PC processor sales should help Intel offset the operating losses over its contra revenue in tablets.
My June 13 article was validated by INTC's great run the last few weeks. Intel posted a new 10-year high recently. Many investors now realize that PC sales will remain a strong revenue and profit generator for Intel for many years to come. The personal computer will remain relevant in the Age of Smartphones and Tablets.
Graphic artists (like me) and Seeking Alpha contributors will keep buying Wintel machines for the next 10 years. We need a keyboard and a mouse to speed up our workflow.
However, Intel's strong support for Android and Chrome OS reveals it wants to profit from Wintel machines and non-Windows devices. The rise of Android OS devices threatens Intel's x86 golden cow.
Intel's contra revenue for pushing x86 SoCs against ARM-based tablets needs to be supported by strong PC sales. Console OS is a valid reason for consumers to remain loyal and buy new x86 desktop and laptop computers.
Dual-OS Windows/Android Concept
I argued before that the dual-OS Windows/Android function is a great idea for Intel to win tablet customers. I now realize that the dual-OS Windows/Android concept can also work towards keeping regular desktop and laptop computers viable for the long term.
Intel's near-monopoly of desktop x86 processors can continue for many years to come. Intel or its OEM partners may support the dual-OS concept presented by Console OS.
Microsoft's new memo called for OEMs not to manufacture dual-booting Windows/Android machines. Google (GOOG, GOOGL) and Microsoft (NASDAQ:MSFT) allegedly forced Asus to cancel the hybrid Transformer Duet TD300 laptop, which allows hardware-based switching between Windows and Android OS.
Advanced Micro Devices (NYSE:AMD) deftly avoided provoking Google or Microsoft's wrath by using a software emulator for its dual-OS implementation. AMD-powered desktops and notebooks will ship with a custom version of BlueStacks. AMD is betting that its x86 processors and APUs will benefit from customers who want a dual-OS computer than runs Windows and Android apps.
Since OEMs like Asus are afraid of defying Microsoft and Google, Intel cannot expect PC manufacturers to ever implement a native hardware-based Windows/Android product. Console OS, like BlueStacks, is a software solution.
Console OS Offers Native Android Implementation
Unlike the emulator approach of BlueStacks, Console OS promises native Android OS implementation on Windows 8.1 x86 computers. My years of using BlueStacks have convinced me that it is far from perfect. BlueStacks still has trouble running many Android apps. BlueStacks also cannot run on all different x86 computer configurations.
The latest version of BlueStacks will not run on my Acer V3-471G which has an Intel Core i5 and Nvidia GeForce GT 630M discrete GPU.
Based on the chart below, Console OS promises a superior implementation of dual-booting of Windows/Android for Intel-based x86 computers.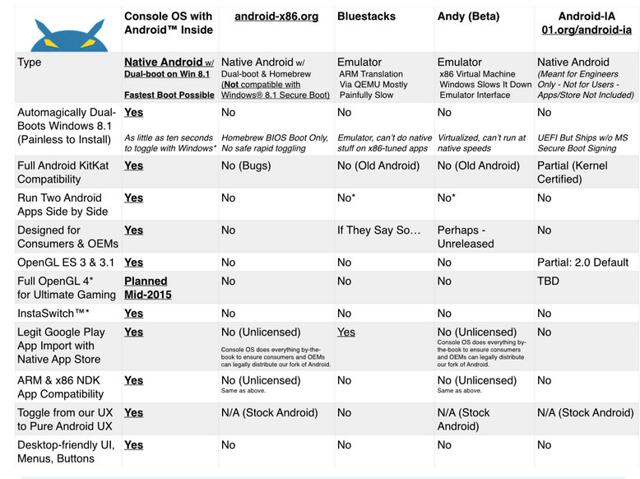 Click to enlarge
Source: consoleos.com
Console OS offers real dual booting and instant switching between Android and Windows 8.1. Console OS also supports OpenGL ES 3 and 3.1 for superior gaming performance.
BlueStacks cannot run two Android apps side by side while Console OS can. The OpenGL support allows Console OS users to run the latest Android 3D games.
Please watch the YouTube video on this link. Console OS is demonstrated as capable of providing better gaming experience on an x86 PC (with Intel's Iris embedded graphics) than a high-end Android tablet. The developers of Console OS promises full OpenGL 4 support by mid-2015.
Furthermore, Console OS versions are being hand-coded for specific x86 Windows 8 computers to ensure it does not suffer the incompatibilities that BlueStacks encounter with different PC brands and configurations.
Initial versions of Console OS will be customized for 25 PC models of laptops and computers from Asus, Dell, Lenovo, Sony, System76, Sager, and Toshiba.
The Console OS will support all Intel Next Unit of Computing builds except for 847DYE. It will also have a legitimate Google Play license and Console OS is already working on a version tailored for the new Microsoft Surface Pro 3.
Unlike the OEM-initiated Asus Transformer Duet TD 300, Console OS and BlueStacks are free programs that Google and Microsoft are unlikely to shut down.
Best For Emerging Markets
Intel can also issue a memo to its OEM PC partners to pre-install Console OS on new laptop and desktop computers. I believe Intel can stand up to Microsoft and Google. Intel is capable of doing anything that will help sell more of its x86 processors.
A $299 Intel-powered notebook that can run dual-boot Windows 8.1 and Android OS is a very attractive product. Emerging markets where customers are price-sensitive or budget-constrained will certainly appreciate a single computer that runs full Windows 8.1 and provides native Android OS functions.
It is more cost-efficient to buy just one Windows/Android tablet with Console OS. China, India, Asian countries, Latin America, and African countries' residents do not have the purchasing power of Americans. However, x86-powered computers may have the best growth potential in emerging markets.
New sub-$400 laptops now come with touchscreen displays. The native Android OS power of Console OS will further be appreciated when users have touchscreen notebooks. Tower defense and real-time strategy Android games like Clash of Clans will benefit from bigger 11 or 13-inch touchscreen displays of x86 computers.
Conclusion
Intel has no business relationship with Console OS or its developers. However, Console OS is a future catalyst for PC sales because it encourages people to buy a single x86 machine to enjoy both Android OS and Windows 8.1 features.
Since Intel gets much of its revenue from PC processors, it benefits from the success of Console OS.
The more people who use Console OS, the more chance those consumers will stay with Wintel machines rather than defect to ARM-based tablets.
Instead of losing money subsidizing sub-$150 Atom-based Windows 8 and Android OS-only tablets, Intel will benefit more from strong sales of regular computers. Higher-margin Celeron and Core iSeries processors add to the topline and bottom line growth of Intel which investors really appreciate.
OEM PC makers like Asus and Dell may pre-install Console OS on new computers for sale in emerging markets. Consumers with limited budgets are often good targets for dual-purpose products.
The better Android 3D gaming experience on desktop PC being promised by Console OS is also strong incentive to use the said program.
Most iOS and Android gadget users now spend most of their time gaming on their smartphones/tablets with 32% time spent.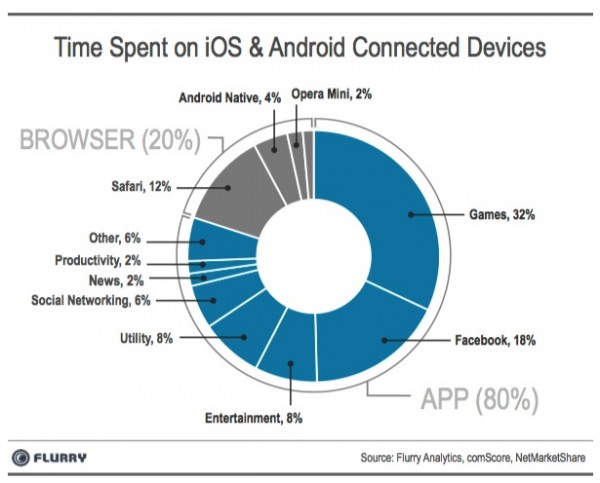 An Intel-powered Windows 8.1 tablet with Console OS may attract more buyers away from Android-only tablets.
Disclosure: The author is long INTC, AMD, MSFT. The author wrote this article themselves, and it expresses their own opinions. The author is not receiving compensation for it (other than from Seeking Alpha). The author has no business relationship with any company whose stock is mentioned in this article.