Brightcove (NASDAQ:BCOV) is likely to report 2014 second quarter earnings on or about July 24. Thomson Financial (via Yahoo! Finance) indicates an average analyst estimate for the second quarter of -$0.11 per share on a non-GAAP basis, wider than last year's -$0.04. Analysts anticipate revenues of $30.2 million, up 12.4% from last year's $26.9 million.
For Brightcove, non-GAAP earnings typically exclude stock-based compensation, amortization of acquired intangibles and merger-related expenses. I estimate that these items will amount to $0.09 in the second quarter, which would translate into a GAAP loss of -$0.20 per share, compared with the previous year's loss of -$0.12 per share. Brightcove's exclusion of these three items to arrive at non-GAAP earnings is consistent with common disclosure practices in the technology sector, even though some analysts prefer to use GAAP earnings to measure financial performance.
For the 2014 first quarter, the company reported a non-GAAP loss of -$0.02, much better than the consensus estimate of $-0.09. Yet, management only affirmed its full year guidance of $126-$130 million in revenues and a non-GAAP loss of $5-$7 million (or -$0.19 to -$0.25). After such a big earnings beat, however, the Street was looking for a bump up in full year guidance; so the reaffirmation was seen as disappointing. On the day following the earnings announcement, the stock opened higher at $8.87, but then fell sharply on that day and the day after, closing at $7.95, down 10.4% in two trading sessions.
Since then, however, Brightcove's stock has rebounded, helped perhaps by new product announcements at its annual Brightcove PLAY conference on May 8. These are enhancements to the digital video distribution process that allow media companies and digital marketers to add sophisticated features, such as Search Engine Optimization (SEO) and social media sharing to their videos, or adapt them more quickly and easily for playback on the full range of devices, including PCs, tablets, smartphones and widescreen TVs. Such new features will help improve the quality of user engagement. They also allow content creators to apply sophisticated analytics from third-party service partners, like Akamai and Nielsen, to measure more precisely the effectiveness of their media campaigns and calculate return on investment. Although the improvement in the quality of internet video and analytics in recent years is evident, these product enhancements appear to be evolutionary rather than revolutionary. While Brightcove and its competitors are all chasing the same proverbial mechanical rabbit, Brightcove clearly creates the impression that it is the lead greyhound.
After Brightcove PLAY, the stock rebounded back well above its 50-day moving average to nearly $11 on July 1; but it has since fallen back to around $9.50 currently, probably due to profit-taking after a 38% gain in just 8 weeks. The stock is now sitting on its 50-day moving average.
Based upon its updated first quarter guidance, I believe that the company has set a relatively low bar for the second quarter and the rest of the year. Given its recent purchase of Unicorn Media, and with the improved outlook for the economy, which should create a more favorable business environment for content providers and digital marketers, Brightcove should be able to deliver better-than-anticipated financial performance over the next few quarters.
Management's 2014 revenue guidance of $126-$130 million represents an increase of only a 9%-12.5% over 2013 revenues. In light of the expected continuing rapid adoption of sophisticated digital video offerings, this guidance seems modest. But it is also prudent, given that Brightcove has recently shifted its marketing focus exclusively in favor of its high volume media customers and is still in the process of finalizing its new product platforms.
By my estimates, Brightcove's earnings guidance implies that the company will achieve profitability (on a non-GAAP basis) by the fourth quarter. With revenue growth probably constrained over the next quarter or two, the key to meeting that earnings guidance depends its ability to reduce operating costs. This ought to be doable. In the first quarter, the company was able to reduce sales and marketing costs as a percent of revenues by 370 basis points to 36.5% and general and administrative costs by 350 basis points to 15.2%. Similar cost reductions over the next few quarters combined with moderate revenue growth should allow Brightcove to clear its non-GAAP earnings goals.
While it cannot be argued that the stock is cheap in an absolute sense - the company, after all, is still losing money - I believe, as I argued in my previous article (now available only to PRO subscribers) that Brightcove's stock still has significant upside. Given the recent pullback, which occurred on no news and on relatively low volume, the stock should have little near-term downside and at least a modest amount of upside potential (perhaps to $12-13). Getting and staying above $15 per share will, in my view, require clear evidence of real and sustainable revenue growth and a move to consistent profitability.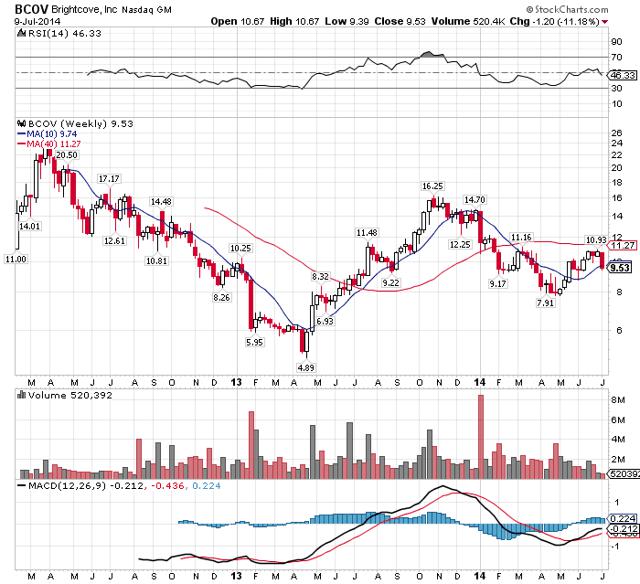 Disclosure: The author has no positions in any stocks mentioned, and no plans to initiate any positions within the next 72 hours. The author wrote this article themselves, and it expresses their own opinions. The author is not receiving compensation for it (other than from Seeking Alpha). The author has no business relationship with any company whose stock is mentioned in this article.