For unitholders of Linn Energy (LINE), the past few weeks have been pretty good. The company has greatly improved the sustainability of its distribution via two major transactions with Devon (NYSE:DVN) and Exxon (NYSE:XOM). You can read more about my thoughts on these transactions here and here. As a result, Linn Energy and its sister stock LinnCO (LNCO) have been on a tear, up nearly 15% since April.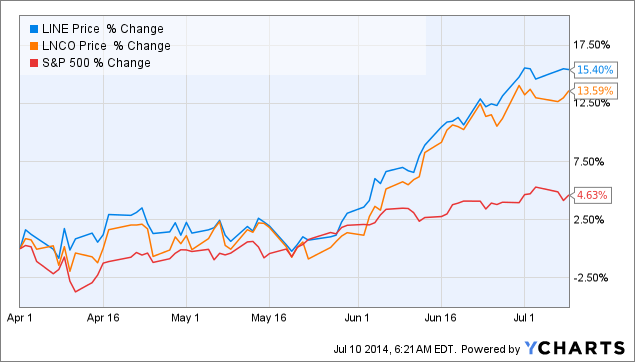 Securities class action litigation dismissed
On July 9th, Linn Energy announced some fairly good news regarding a class action lawsuit filed last year:
The United States District Court for the Southern District of New York has dismissed, with prejudice, the securities class action litigation originally filed in July 2013 against the Company, certain of the Company's officers and directors, and certain underwriters of LinnCo's IPO.
You can read the full opinion on Linn Energy's IR page via the following link:
Opinion Issued by Federal District Court
The suit argued that certain non-GAAP metrics disclosed by Linn Energy were materially misleading because they failed to account for the cost associated with purchasing derivative contracts, especially premiums for put options.
In addition, the Plaintiffs alleged that Linn Energy was being misleading when calculating its adjusted EBITDA, DCF, and distribution coverage ratio. Furthermore, the Plaintiffs alleged that Linn Energy had been understating its maintenance capex, thusly inflating DCF.
As a result, the Plaintiffs contended that by overstating DCF, Linn Energy "present investors with a materially inflated view of the Company's cash flows available for distribution and, as a result, its ability to continue to sustain or grow its cash distributions."
In contrast, Linn Energy's defense was quite straight forward. The company clearly explained how it amortized the cost of its derivative contracts over the length of their useful life. Furthermore, the company explained how it uses these contracts to "hedge" future production over a period a years.
Later on in the opinion, Linn Energy explained how its non-GAAP metrics (DCF, DCF coverage ratio, Adjusted EBITDA, etc) are derived from GAAP metrics. However, the company mentioned the limitations of these non-GAAP metrics, noting that they should not be considered in isolation.
Skimming through the PDF, it appears that the court was not impressed by the arguments put forth, dismissing on claims.
Quite embarrassingly, the court noted that the plaintiff's assertion that Linn Energy "failed to disclose" that DCF did not incorporate a deduction for settled put premium was simply wrong (page 41). The court was also puzzled by the argument by the Plaintiffs about a "proper" method in calculation DCF, since there is no "proper" method recognized (page 42).
The court noted that the Plaintiffs failed to allege any actionable misstatement or omission (page 39). "Absent a misstatement, there can be no fraud", the court noted (page 41). In addition, the court also noted that the Plaintiffs failed to allege any violations of SEC regulations (page 44).
Conclusion
As noted in the initial quote, the lawsuit was dismissed, with prejudice. This is, IMO, a resounding victory for Linn Energy and was likely the spark that sent shares higher on Wednesday, a day where most energy stocks declined.
The net effect of this lawsuit victory combined with the recent asset swaps serve to further de-risk Linn Energy's stock.
Disclaimer: The opinions in this article are for informational purposes only and should not be construed as a recommendation to buy or sell the stocks mentioned. Please do your own due diligence before making any investment decision.
Disclosure: The author has no positions in any stocks mentioned, and no plans to initiate any positions within the next 72 hours. The author wrote this article themselves, and it expresses their own opinions. The author is not receiving compensation for it (other than from Seeking Alpha). The author has no business relationship with any company whose stock is mentioned in this article.