By Mike McDermott
Three technology stocks are dominating the trading landscape this morning after reporting quarterly earnings last night. Two of the three stocks in question hit 52 week highs during Monday's session and the third closed roughly 12% off the 52 week high printed late in September. But the tepid reaction by traders after the announcements may indicate that tech's leadership is shifting.
Overall, the numbers weren't all that bad. In fact, earnings and sales beat expectations to a large degree. But when stocks are priced to perfection, even small wrinkles in the supporting details can derail an extended trend. And once momentum stocks fall out of favor, the resulting carnage can be quite brutal.
It will be interesting to see how the broad market reacts to tech disappointment. Will precious metal and agricultural securities take the baton and run with it? Is this the beginning of a broad "correction," or "retracement" or heaven forbid the beginning of a Q4 selloff?
We're not in the predictions market, and prefer to trade the environment as it is presented… But if these tech bellwethers stumble, it could significantly shift the landscape back to one where bearish positions are rewarded and nimble traders once again have the upper hand on the LOLO (Leveraged Outright, Long Only) investors.
So let's take a look at the reports and put these names at the top of our radar screen…
International Business Machines (NYSE:IBM)
IBM (AKA Big Blue) looks poised to open off 3% after reporting a 3% rise in revenues. Earnings came in at $2.82 per share versus the consensus estimate at $2.75. Management even raised their full year guidance to $11.40 per share compared to the current $11.30 expectations.
Looking ahead, we are uniquely positioned in the enterprise, investing in high value segments like business analytics, advanced systems and smarter planet solutions. As a result, we are confident we can deliver strong business performance to grow profit, return value to our shareholders and to achieve full-year 2010 diluted earnings per share of at least $11.40.

~Samuel J. Palmisano, CEO
The company's "growth markets" including BRIC (Brazil, Russia, India and China) were up 16% year-over-year and these markets represent 21% of IBM's total revenue. Still, investors may have already priced in this fundamental information given the negative reaction immediately following the release.
Bespoke Investment Group offered some interesting insight into trading trends for IBM and the market following Big Blue's regular report card.
IBM's one day reaction to earnings has been in the same direction as the S&P 500 over the next five weeks 80% of the time and eleven out of the last twelve quarters…
While the action for IBM is just one small factor in a much larger pool of information, a poor showing today would be another crack in the armor for a market that may be showing signs of fatigue.
(Click all images to enlarge)
VMWare Inc. (NYSE:VMW)
The entire cloud sector has been under pressure following the earnings miss from Equinix. While the bulls were quick to claim that EQIX was an isolated event, the reaction to VMW's may indicate otherwise. Pre-market indications point to a 5% drop initially and the bears will likely challenge the swing low established at $73.25 earlier in the month.
Once again, the numbers don't appear to be all that bad. VMW posted earnings of 39 cents per share – an increase of 63% over last year – and the figures beat analyst expectations by 4 cents. Forward guidance was also encouraging with robust growth expected into the end of the year.
VMware's third quarter results were driven by strong demand across products and regions, led by the U.S. Federal sector. For the fourth quarter, we expect total revenues to be within a range of $790 and $810 million, an increase of 30% to 33% from 2009.

~Mark Peek, CFO
Revenue was also above expectations, coming in at $714 million – well above the $698 million average expectation. You would think revenue growth of 46% would be an encouraging statistic, but investors were more concerned with falling cash flow and weakening margins.
Considering the bearish action this month in the entire sector (Salesforce.com – CRM – is now decidedly below its 50 day average), the negative reaction to earnings raises significant questions. What if VMW had reported numbers that simply met expectations? How vulnerable is the industry to further disappointments?
Even given the pre-open drop in earnings for VMW, the stock is still trading at more than 50 times 2010 earnings and while growth is expected to remain strong, we could still see significant multiple contraction. Now that the tide has turned, cloud names could become a great place to build short exposure at various inflection points along the way.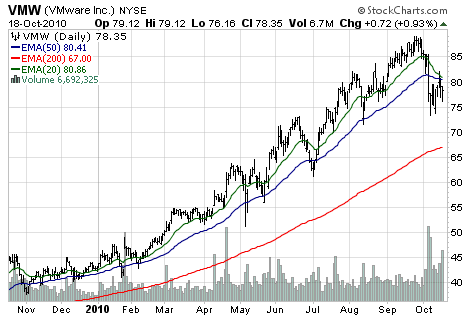 Apple, Inc. (NASDAQ:AAPL)
Apple will quite possibly turn out to be the most important earnings release this quarter as the company once again beat expectations, but failed to live up to the ever-inflated expectations. This quarter, Steve Jobs actually participated in the earnings call (an attempt to inject energy into an otherwise dull report?) and attempted to downplay advances made by competing firms like Research In Motion (RIMM) and Google (NASDAQ:GOOG).
No company is as well known for sandbagging (guiding low so it can beat its own numbers) as is Apple, so it is really no surprise that the company beat its own guidance. Analysts seem more than willing to play the game as well as they habitually set the consensus bar low and then expect Apple to beat.
This quarter, earnings came in at $4.64 per share which represents a 68% increase over last year. Revenue was $20.34 billion – well above expectations of $18.93 billion. But but gross margins fell from 39.1% last quarter to 36.9% in the current quarter.
The iPad turned out to be a major disappointment as the company only sold 4.19 million units compared to some lofty expectations of 5 million units.
Ironically, despite rising more than 200% from the recessionary lows, Apple's stock is not particularly expensive. AAPL trades at roughly 22 times current year earnings which is attractive considering its growth track record. But it's difficult to assume that a company with more than $20 billion in quarterly revenue will continue to grow at historic rates.
We're watching for AAPL's momentum to wane – and with it, the momentum of other consumer technology stocks. Of course price action dictates our timing, but this morning's break in AAPL could very well mark the beginning of a new trend which favors the bears.
Disclosure: As active traders, authors may have positions long or short in any securities mentioned. Full disclaimer can be found here.