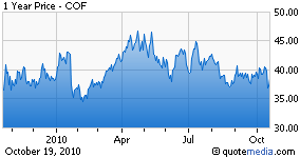 Capital One Financial Corp.'s (NYSE:COF) third quarter 2010 earnings from continuing operations of $1.79 per share were substantially ahead of the Zacks Consensus Estimate of $1.12. The earnings also compare favorably with earnings of $1.78 in the prior quarter and 96 cents in the year-ago quarter.
Results for the quarter benefited over the prior-year quarter primarily from increased revenues and a lower provision for loan losses due to improved credit performance. However, an increase in operating expenses acted as a headwind.
Total revenue for the reported quarter came in at $4.0 billion, up 2.6% from $3.9 billion in the prior quarter and 11.1% from $3.5 billion in the prior-year quarter. On a non-GAAP basis, total revenue improved 2.6% from the prior quarter but decreased 13.0% from the year-ago quarter to $4.0 billion. Revenues beat the Zacks Consensus Estimate of $3.8 billion.
Capital One's net income from continuing operations was $818 million, up from $812 million in the prior quarter and $437 million in the year-ago quarter. Adjusting the loss from discontinued operations, Capital One's GAAP net income came in at $803 million or $1.76 per share, compared with $608 million or $1.33 in the earlier quarter and $394 million or 87 cents in the year-ago quarter.
Quarter in Detail
On non-GAAP basis, net interest income spiked up 3.3% sequentially but declined 3.1% year over year to $3.1 billion. Non-interest income increased 12.4% sequentially but fell 34.0% year over year to $907 million.
Non-GAAP provision for loan losses upped 20.0% sequentially but fell 60.6% year over year to $867 million. The sequential increase in managed provision for loan losses was driven by a smaller allowance release in the third quarter compared with the second quarter.
Non-GAAP net interest margin (NIM) increased 12 basis points (bps) sequentially and 30 bps on a year-over-year basis to 7.21%.
Capital One's operating expenses for the reported quarter decreased 2.0% sequentially but inched up 4.4% year over year to $1.7 billion. The managed efficiency ratio improved to 49.70% from 51.23% in the prior quarter but deteriorated from 38.74% in the prior-year quarter.
Credit Quality
Capital One's credit quality continued to improve during the quarter. Allowance as a percentage of reported loans held for investment decreased 46 bps sequentially to 4.89%. Also, the net charge-off rate dropped 54 bps sequentially to 4.82%. The 30-plus day performing delinquency rate declined 10 bps sequentially to 3.71%.
Capital and Profitability Ratios
Capital One's tangible common equity (TCE) ratio for the quarter was 6.6%, up 50 bps from the prior quarter level of 6.1%. The Tier 1 risk-based capital ratio increased 130 bps sequentially to 11.2%, and continues to stay above the regulatory well-capitalized minimum.
Tangible book value per share was $26.60 as of September 30, 2010, compared with $24.89 as of June 30, 2010 and $26.86 as of September 30, 2009.
Our Take
We anticipate continued synergies from Capital One's geographic diversification and expense management initiatives. Additionally, the resilience of almost all of its businesses will continue to support the company's financials. However, its commercial real estate exposure will remain a drag. Also, we believe a weakening demand for new loans will restrict earnings in the near future.
Capital One currently retains a Zacks #2 Rank, which translates into a short-term Buy rating. However, considering the fundamentals, we maintain a long-term Neutral recommendation on the shares.
Capital One's rival card company American Express (NYSE:AXP) is scheduled to announce its third quarter results on October 21, 2010.
Disclosure: No position