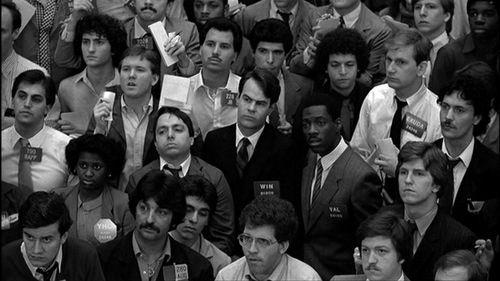 Image Source: "Trading Places" The Movie
Bloomberg News reported Tuesday night after hours that legendary hedge fund investor Leon Black of Apollo Global Management LLC (NYSE:APO) has been snapping up Molycorp Inc's (MCP) convertible bonds in order to gain control of the rare earth miner if it defaults on its debt. According to Bloomberg, Apollo controls over 20% of Molycorp's $230 million 3.25% convertible bonds due in 2016. Black is the quintessential definition of "smart money." I am personally a Michael Milken junkie and have read everything available on him and his former firm, Drexel Burnham Lambert. That said, I have known about Black since he was a Managing Director at Drexel in the late 1980s. If he is betting that Molycorp could be headed for bankruptcy that can't be good, right?
The market seemed to agree with Black's assessment with a huge sell-off yesterday. Molycorp fell $0.38 to $1.88 per share, a 17% decline from its previous close of $2.26 per share. Trading volume spiked to 21.1 million shares; average trading volume is 5.5 million. In early June the 3.25% convertibles traded at about 69 cents on the dollar. Based on Molycorp's cash burn - the company experienced Q1 cash out flows of $78 million - I did not think the pricing of the bonds reflected the company's bankruptcy risk. There were also reports that the bonds were traded up after Lynas Corporation's (OTCPK:OTCPK:LYSCF) (OTCQX:OTCPK:LYSDY) May press release stating it had raised equity capital; apparently, bond investors assumed Molycorp could raise equity in a similar fashion as its rare earth competitor. On my previous article I called the bonds mullet money or "dumb money":
Investors should buy bonds based on what they are actually worth. By buying Molycorp bonds with the assumption the company will raise equity in a similar manner as Lynas is foolhardy. Molycorp's bonds do not reward investors for the risk involved. Therefore, I believe bond holders are providing mullet money.
The following chart illustrates Molycorp's long-term debt: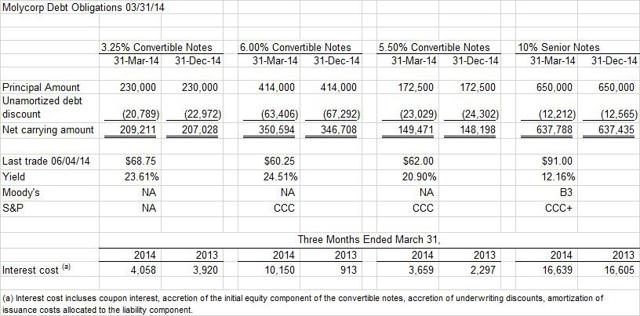 Is Dilutive Event Imminent?
Molycorp's cash out flows and operating losses have gone unabated for several quarters. Molycorp reported a loss of $88.1 million for Q1 2014, compared to a loss of $39.0 million for Q1 2013. Its cash on hand dwindled to about $236 million; that comes after two previous capital raises in 2013. If the company does not find a solution to its cash burn, it runs the risk of defaulting on its bonds and being taken over by Apollo and other bond holders. The question for longs is, "If Molycorp raises capital, how dilutive will it be?" The play is to buy the stock at a price you can live with and hope the rare earth miner survives, or try to buy the stock at a lower price after a potential dilutive event.
Conclusion
Apollo is betting that Molycorp will default on its debt obligations. Now that the smart money has made its play, the market has come to the realization that Molycorp may need to seek a dilutive event or face bankruptcy. I would advise investors to avoid the stock and buy it after the Q2 earnings report in August gives more visibility on the company's cash needs.
Disclosure: The author is short MCP. The author wrote this article themselves, and it expresses their own opinions. The author is not receiving compensation for it (other than from Seeking Alpha). The author has no business relationship with any company whose stock is mentioned in this article.
Editor's Note: This article covers one or more stocks trading at less than $1 per share and/or with less than a $100 million market cap. Please be aware of the risks associated with these stocks.