Get a chance to check out what's new in the world of Herbalife (NYSE:HLF) this morning? You know I sure have.
In between holding a funeral for the long positions I took yesterday and the day before, I spent a part of this morning looking at the unusual - and rather ridiculous - manner in which Herbalife decided to release its PRs this morning.
In the past, I've also noted some bizarre Herbalife PR stunts. The company's attempts at setting up a website to defend themselves and point out distributor success looked ridiculous when it was revealed that testimonials on said site were a result of a contest the company was holding for "best testimonial".
Then, Herbalife's latest PR effort on Twitter - an account setup as @HerbalifeTRUTH and used to place ad hominem attacks on Bill Ackman backfired when the statements it was making turned out to be ridiculous. This account reminded us that there's no limit to the ways which you can avoid the facts and obfuscate from the necessary data.
This morning, we were treated to a heaping of Herbalife news! Well, actually, we were treated to very little news that was presented in the worst possible fashion, in this investor's opinion.
Today, Herbalife has made an effort to let people know that independent members from several states are traveling to Washington D.C. in support of the company. Instead of just releasing one press release that notes that an aggregate of 21 members are heading to Washington, Herbalife decided to bludgeon the newswire and release six simultaneous press releases, like some kind of penny stock promotion.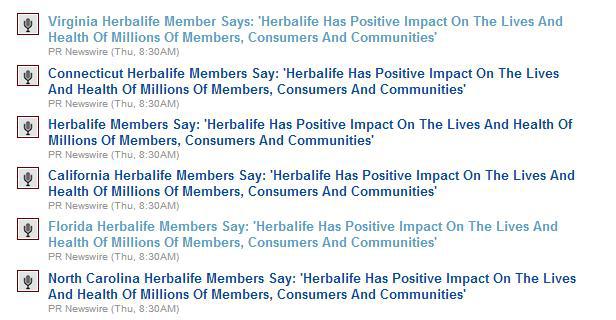 Again, these press releases represent a total of 21 people heading to Washington. That's just about 3 people per unnecessary press release this morning. The company's one PR without a state designation, located here, would have done just fine on its own.
21 people that Herbalife has marched out to represent the 550,000 U.S. distributors. This is like claiming that the President's Team members speak for all distributors - even the 96.4% of distributors who make less than a bottle and can collector yearly. We know that to be ridiculous, just as QTR believes this morning's efforts to flood the newswire are ridiculous. Meanwhile, we're supposed to take this seriously compared to the millions of people that churn at the bottom of the company's pyramid?
Nah, not today.
Each press release contains the exact same text that claims "Herbalife is a company built on great products", "Herbalife can lead to real business opportunities" and "Herbalife has the best consumer protections in the direct selling industry".
As many of us know, all three of those statements are hogwash.
1. Herbalife is a company built on commodity products.
2. Herbalife, in Des Walsh's own words, is just for people to make an extra couple hundred bucks.
3. Herbalife's return policy was only recently altered to adapt to criticism and it still falls way short.
Aside from factually being inaccurate, the PR team's (which I have claimed in the past should have been sacked a long time ago) need to put this out in 6 press releases instead of one, concise release is unprofessional and farcical - it smells of desperation for positive press, in this investor's opinion.
Another day, another lesson in obfuscation from Herbalife.
I continue to contend that Herbalife is a worldwide confidence game that bilks people out of money under the guise of a rigged business opportunity. The sooner the regulators step in here, the better.
Disclosure: The author is short HLF. The author wrote this article themselves, and it expresses their own opinions. The author is not receiving compensation for it (other than from Seeking Alpha). The author has no business relationship with any company whose stock is mentioned in this article.