In October 2013, Torchlight (NASDAQ:TRCH) bought a 50% working interest in Ring Energy's (NYSEMKT:REI) Kansas Mississippi Lime prospect in 2013, and funded the drilling of the first 10 wells for a total cost of $6 million. This was called a "joint venture", but in reality Ring monetized their upfront costs in the prospect, retained 50% ownership, and got the necessary exploratory wells funded.
The Mississippi Lime play has cooled down substantially since SandRidge Energy (NYSE:SD) and Chesapeake Energy (NYSE:CHK) kicked off the play in 2011, starting a land rush across almost 18 million acres. Here is a map of the play as conceived by SandRidge in 2012, showing the vast extent of the play: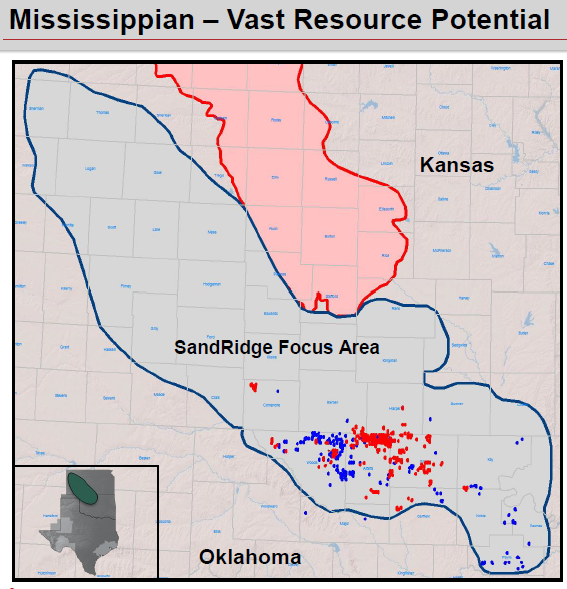 Ring and Torchlight's land is in the upper left/north west portion of SandRidge's disclosed focus area in the above map.
Subsequently, SandRidge realized that the prospective area of the Mississippi Lime play is a much smaller area, roughly 1/20 the size of the initial focus area. This can be seen in the below map: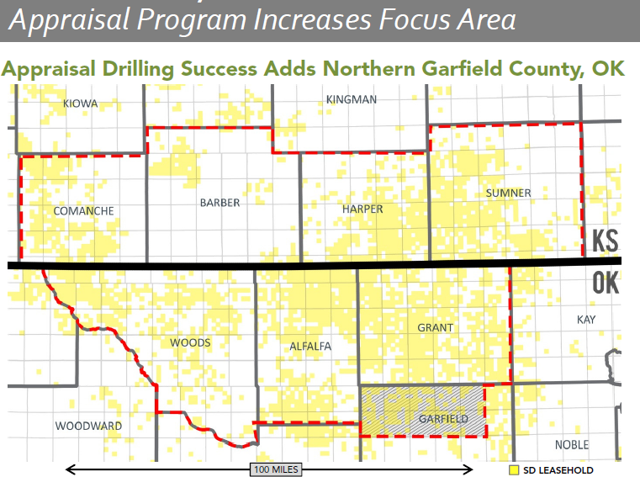 Additionally, economics in the Mississippi Lime play have deteriorated significantly, even in the small area that remains in SandRidge and Chesapeake's focus. Here is a depiction of Mississippian economics in 2012:
And here is a depiction in 2014: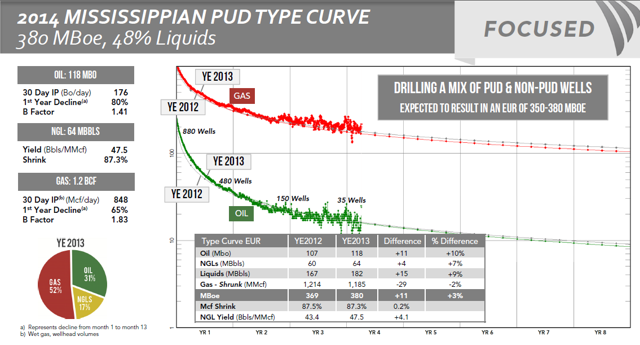 Note the lower EUR, lower oil percentage, and lower IRR, despite the focus on the best area of the Mississippi Lime play, which excludes the vast majority of the over 18 million acres originally thought prospective by SandRidge, Chesapeake and others.
Back to the Ring asset sale to Torchlight, Ring entered the play at a time when its area in Kansas was considered prospective for the play, as can be seen above in the 2012 SandRidge map. SandRidge, despite buying over a million acres in the area, now considers that area non-prospective and has essentially written it off, as seen by the focus area map in 2014.
Intelligently, despite the deterioration of the play subsequent to its purchase, Ring managed to resell its Mississippi Lime position to Torchlight, recouping its full cost and getting Torchlight to fund the first 10 wells. Obviously, a great deal for Ring, and a questionable one for Torchlight.
From the time the deal was announced, initial well results were supposed to be disclosed in April 2014. Here is a link to a Torchlight press release that mentions the date and here is a link to a Ring Energy press release discussing the drilling activity.
Subsequently, that production update was delayed until June 2014, as disclosed in a Torchlight update in April 2014 linked here. It is now the second week of July, and there has been no formal announcement of well results. However, there were comments made at the webcast Global Hunter Investment Conference about the wells, the link to which has since been taken down from Torchlight's website. Management said 2 out of the 5 initial wells were successful, which is a very low success rate and calls into question the $6 million purchase by Torchlight.
In the interim, while management teams at Torchlight and Ring have been talking up the potential of their Mississippi Lime prospect, and while bullish analysts have argued that the prospect could drive up Torchlight's production and somehow justify its egregious current valuation, both companies have issued stock.
Ring issued stock in a secondary offering. Ring's stock was trading at $20, and it sold stock in the secondary at $15 per share, a 25% discount to the prior day's closing price. Perhaps, investors demanded a discount due to delayed well results from the Mississippi Lime.
Torchlight issued stock via an acquisition of cash and a very small acreage position using stock. Torchlight acquired just over $1.65 million in cash and approximately 375 net acres in the Hunton using 1.35 million shares of stock. At the closing price that day, the stock was valued at $6 million. Using a $2,000 per acre value, which may be high considering the exploratory and non-operated nature of much of the land that was purchased, and $65,000 per barrel of oil equivalent of production, Torchlight essentially sold stock for $2 per share, or a 50% discount to the price at the previous day's close.
It is obviously a red flag that both companies issued stock before formally announcing well results. And, the large discount required is a further negative indicator. And of course, the delays from April to June, and now no news despite June having already passed, make it unlikely that any news will be good. This is consistent with SandRidge's experience in the north western Kansas Mississippi Lime, and perhaps should not be a surprise.
Disclosure: This commentary is provided as general information only and should not be taken as investment advice. The opinions expressed in these materials represent the personal views of the author(s). It is not investment research or a research recommendation, as it does not constitute substantive research or analysis. Any action that you take as a result of information contained in this document is ultimately your responsibility. The author(s) will not accept liability for any loss or damage, including without limitation to any loss of profit, which may arise directly or indirectly from use of or reliance on such information. Consult your investment advisor before making any investment decisions. It must be noted, that no one can accurately predict the future of the market with certainty or guarantee future investment performance. Past performance is not a guarantee of future results. Statements in this communication are forward-looking statements of the author(s). The forward-looking statements and other views expressed herein are as of the date of this publication. Actual future results or occurrences may differ significantly from those anticipated in any forward-looking statements, and there is no guarantee that any predictions will come to pass. The views expressed herein are subject to change at any time due to numerous market and other factors. The author(s) disclaim any obligation to update publicly or revise any forward-looking statements or views expressed herein.
Disclosure: The author is short TRCH. The author wrote this article themselves, and it expresses their own opinions. The author is not receiving compensation for it (other than from Seeking Alpha). The author has no business relationship with any company whose stock is mentioned in this article.