Yesterday, BlackBerry (NASDAQ:BBRY) experienced another higher-than-average volume day with over 28 million shares trading hands. While I'm long-term bullish on the stock, yesterday's volume and share price movement was a mystery to me. It was not till after market closed that I discovered the catalyst. It seems the dramatic rise in share price has a lot to do with the article, Samsung Nix's Knox: The Android Security Saga Continues. After I finished reading it, my heart raced in sheer excitement, "BINGO!" I couldn't help but scream. And I quickly posted my finding on StockTwits. Everyone that saw the piece was incredibly exuberant.
...And what happens to a contrarian when everyone gets excited?! She becomes....suspicious.
Sorry, BlackBerry Fans
I'm glad I hit the cancel button a few dozen times after hours. Upon reading the piece, I wanted to put even more money into BlackBerry for the long run. I still believe in the turnaround, but I have always been a stringently bigger believer in asset allocation beyond all else. A small voice in my head just kept saying, "Hold it right there! Just hold it! Something isn't right!"
Based on my background as a researcher, and my understanding of how Forbes' blogging system works (more on this later), I was unable to throw myself 100% into this particular purchase above and beyond my previously set investment criteria. If the news was correct, then of course, I was prepared to add -- but a niggling voice said to take a closer look.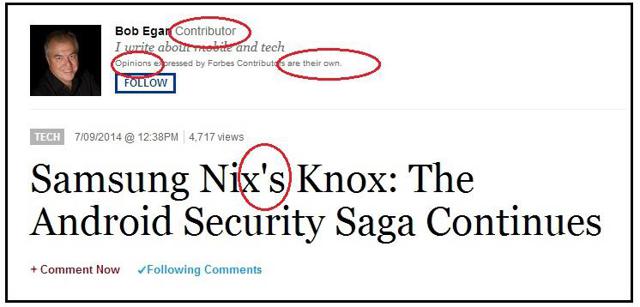 While Forbes has come up with a great many articles in the past, what prompted my questioning was a few items that are indicated in the diagram above. To generate a stronger readership for their brand, Forbes allows freelancers to contribute to their website. The speed with which articles are posted means that they do not necessarily get reviewed before posting. Quite awhile back, I had the chance to run into an article called How to Become a Forbes Blogger and that forms a great deal of my thinking for the possibility that the author of the Forbes article in question may have made a few mistakes. Given there is a fair amount of independence and nobody saying, "Um, you can't do that" or "Oh, my God, no!" -- a few factual errors can creep in.
In some Forbes articles such as the two I have pointed out, there is a bit of fine print from the company saying, "Opinions expressed by Forbes Contributors are their own." Writing can be quite an undertaking. As a writer with ample experience, I still find it difficult at times to find the right words. The "Nix's" essay contains information that lacks supporting facts and could have benefited from a bit of editing to correct the glaring mistake in the title, for example (it should say Nixes). The unfortunate circumstance has since caused some people to make purchases based on the wrong reasons. Links on the article fail to take a reader to any additional information. We are taken to generic information on Google (NASDAQ:GOOG) (NASDAQ:GOOGL) as a company, security as a broad topic, and mobile [instead of MobileIron(NASDAQ:MOBL)]. Without substantial proof, I had to do more digging to quiet my questioning mind.
Now What?
Late yesterday evening, I received an alert from a fellow member on StockTwits who also found the article suspiciously short on facts. She had joined Forbes' email to receive updates on the comments and Eon Kim had made the following post:

Eon Kim also goes by the name of Kim Eon on LinkedIn. He is the Enterprise Account Manager at Samsung (OTC:SSNLF), "Knox Client Representative in charge of Europe, North America accounts." The only comment on record at Forbes for Eon Kim was this particular one. Earlier in the day, I had reached out to Samsung for a comment. It seems they have responded.
When Teresa on StockTwits messaged me, I was halfway through writing my article. It seems ZDNet has already beat me to the punch; and it is better for me to give them credit and then to concentrate my efforts in furthering their ideas rather than repeating much of the same in the bulk of this writing: On June 25, they had released an article called Google, Samsung integrate Knox into Android, eye enterprise gain. I think this particular article is well-reasoned and justified in its arguments that Samsung and Google have a partnership and a commitment to improving security on the Android platform. As the undisputed leader in the sale of Android devices, Samsung does not lose their #1 position by contributing their knowledge to further the Android OS. My initial response when following the unfolding of the Google I/O was "uh oh, an allied front is developing."
To BlackBerry's credit, of course, will be the fact that it does not have forked versions and it is the sole distributor of its OS (in the sense that it continues to own the hardware on which its operating system runs). Even with Foxconn (OTC:FXCOF) in the picture, BlackBerry is the one in the control seat determining what hardware will come to market. In that sense, it is similar to Apple (NASDAQ:AAPL). A finite control over hardware and software makes securing the OS for enterprise that much easier. That said, Samsung and Google's partnership can drive awareness that Android is about security - even if it is just a gimmick, if the customer bites, then another phone is sold (and really, that's what Samsung cares about).
Will There Be a Future for BlackBerry?
Yes, there will be a future for BlackBerry. What shape or form it will be is still being determined by John Chen and his very capable team. More information on Project Ion will be available soon (Today, July 10th @ 1 PM EST). Also, there will be an excellent window of opportunity for BlackBerry to regain prominence while Samsung is losing market share quarter after quarter as it sells a product that many companies clone and sell for less. If anything, the article at Forbes is a sign of the changing times: the tornado of bad press and accompanying "short and distort" tactics which is frequently associated with bearishness has changed directions. The tornado is blowing away from Hudson Bay and heading for the Pacific Ocean, possibly touching down in the Korea Strait.
While the Google/ Samsung partnership forges ahead to try to work with the plethora of headaches which is staring them in the face, BlackBerry can continue to do what it does best: march to a different drummer, skip the consumer base, and reel in the enterprise client. G&S has to try to mold Android from being sweet and cute (KitKat, Donut, Eclair, Gingerbread, Honeycomb, Ice Cream Sandwich, Jelly Bean) to simply being..."L." One ends up wondering if it is so simple to change the DNA of an OS. And moreover, if it is possible to change it without infuriating existing consumers by rendering it a wholly different beast (considering that BlackBerry struggled with its enterprise clients, what is there to assure an investor that G&S will not struggle with consumers?).
One wonders if Google is even capable of such a change. Its corporate culture is standing in the way: Google has always been about fun. In moving towards enterprise, it seems to be trying to shed this identity. One wonders how many talented Google engineers will leave as the headache becomes too much and many realize the party's over.
Black is Back. BlackBerry knows what it is and what it is not. It will embrace its former identity as an enterprise-centered business. The YTD performance of BBRY is blazing ahead of many other technology stocks. The following information was generated on July 3rd, but it is still applicable. There is no need for props and inaccuracies to help this stock run. An excellent management team and a dedicated #BBFactCheck will keep the competition on its toes.
| | |
| --- | --- |
| MSFT | +11.73% |
| AMZN | -15.36% |
| GOOGL | +5.73% |
| AAPL | +17.32% |
| Nasdaq | +7.41% |
| BBRY | +42.60% |

Disclosure: The author is long BBRY. The author wrote this article themselves, and it expresses their own opinions. The author is not receiving compensation for it (other than from Seeking Alpha). The author has no business relationship with any company whose stock is mentioned in this article.
Editor's Note: This article discusses one or more securities that do not trade on a major U.S. exchange. Please be aware of the risks associated with these stocks.