Boeing (NYSE:BA) is firing on all cylinders as it gears up for the Farnborough International Airshow. Yesterday, the company said that it has won a massive order from Emirates for 150 aircraft. Today, it came forward with a rosy outlook that could continue to fuel its growth over the next twenty years.
Long Term Outlook
Earlier today, Boeing said that it sees the demand of more than 36,000 new airplanes over the next two decades, that's 4.2% higher than its previous estimate. The company has valued these panes at $5.2 trillion.
This growth will be driven by the strong demand from the single-aisle market, thanks to the rise of the low-cost carriers. The company projects that more than 25,000 new airplanes will be needed in the single-aisle and 8,600 in the twin-aisle market.

Source: Boeing.
Boeing said that a significant portion of this growth, more than 36%, will be driven by customers from Asia-Pacific, including China. The country, which will be responsible of 40% of the orders from Asia pacific, is on track to become the largest aviation market, surpassing the U.S.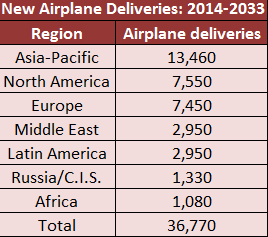 Source: Boeing.
New Orders
The positive outlook bodes well for Boeing's long-range, twin-engine aircraft, such as the wide-body 777 jet and the variants of the 787 Dreamliner, were responsible for $1.16 trillion of sales over the last twenty years. The new 777X, unveiled nearly seven months ago, has already attracted hundreds of orders valued at above $100 billion, mainly from Gulf carriers Emirates, Qatar Airways and Etihad Airways.
Randy Tinseth, Boeing's vice president of marketing, has said that the company's 787 and 777X take up 65% of all the current orders, while its rival Airbus (OTCPK:EADSF) (OTCPK:EADSY) with its A350 gets the rest. "If Airbus doesn't do something with their product strategy, they're headed to 30-35 percent market share," Tinseth said.
Boeing released its outlook just a day after it received a massive $56 billion order from Emirates Airline for the delivery of 150 777X jets. Moreover, Emirates will also have an option to purchase 50 additional aircraft. That could increase the size of the deal to $75 billion at current prices. The order came just weeks after the Dubai-based airliner scrapped its Airbus A350 order, originally valued at $16 billion, in one of the biggest cancellations in the industry.
Boosting Margins
To tap into this growing demand and to meet its existing backlog, the company has been ramping up the production rates for its commercial jets, such as 737NG and the 787 Dreamliner. As per its previous earnings release, the company's backlog stood at $440 billion. This mind-boggling number is nearly 5 times bigger than its consensus revenue estimate for this year and 5 times bigger than its current market cap.
Meanwhile, earlier this year, the company announced its "Partnering for Success" program in which it started working with its suppliers to get better contract terms.
These efforts could enable Boeing to continue growing its revenues while lowering its costs, thereby lifting the company's margins and improving its cash flows.
Outperforming Airbus
In the first half of 2014, Boeing has outperformed Airbus in terms of deliveries and orders. The former delivered 342 jets in the first six months of this year, ahead of the latter which delivered 303 jets. Boeing also booked 209 more orders than Airbus in the corresponding period.
Bottom Line
Boeing's long-term outlook looks positive due to the strength in the single-aisle and small wide-body markets that can sit between 90 and 300 people. As airliners go after fuel efficient planes, the soft demand for large models, such as Boeing's 747-8 or Airbus's A380 could drop even further. Both planes have struggled due to the strength in oil prices.
Meanwhile, Boeing and Airbus are preparing for the Farnborough International Airshow, which starts on Monday. Both companies could announce several new orders from airliners and lessors at the biggest event of the aerospace industry. That being said, Airbus said that its deliveries for this year will largely remain unchanged from last year. Consequently, Boeing could once again become the largest aircraft maker in 2014.
Disclosure: The author has no positions in any stocks mentioned, and no plans to initiate any positions within the next 72 hours. The author wrote this article themselves, and it expresses their own opinions. The author is not receiving compensation for it (other than from Seeking Alpha). The author has no business relationship with any company whose stock is mentioned in this article.
Editor's Note: This article discusses one or more securities that do not trade on a major U.S. exchange. Please be aware of the risks associated with these stocks.