In a previous article, I used regression analysis to argue that lower-yielding stocks provide more opportunity for capital appreciation. The study was done across all firms on the Dividend Aristocrats list. While the results confirmed my analysis, I wish to expand further in this article. My previous regression analysis used a 1-year rate of return for each company on the dividend aristocrats list regressed against its dividend yield. While the results confirmed my initial suspicions that lower-yielding stocks provide better overall rates of return, the one-year trend is too short to provide conclusive evidence. Here, I run the same model with a three-year return - this helps to smooth out effects of returns on the measurement of the dividend yield over time and provides more credence to our results.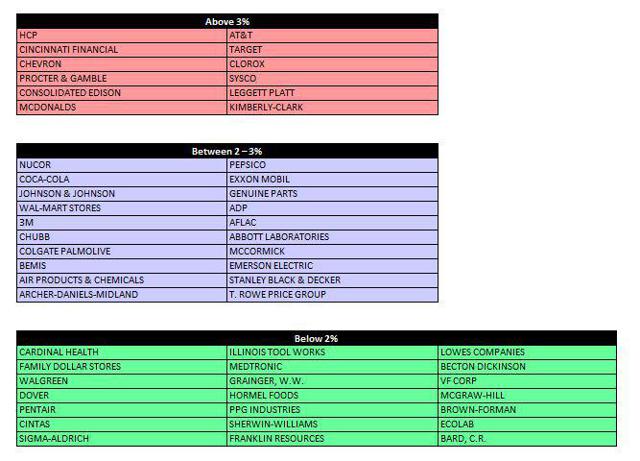 Click to enlarge
Regression Analysis
My initial regression model suggested that a 1% change in dividend yield caused an 11% change in dividend yield to the downside. Here, I run the same regression on 3-year return data, and the dataset and regression output are available here.
3-Year Return = Intercept + β (Payout Ratio) + β (Dividend Yield) + β (Years of Consecutive Dividend Increases)
Results
The dataset yielded the following regression model:
3-Year Return = 98.134359 - 16.59 (Dividend Yield)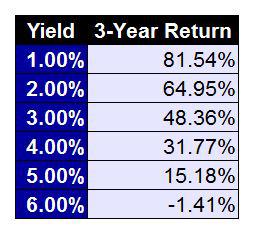 Note that the Dividend Yield variable is highly significant at all levels but our p-values indicate that there is no evidence of a relationship between a company's 1-Year Return and its Payout Ratio or Years of Consecutive Dividend Increases. We can see that a 1% change in a company's dividend yield is correlated with a -16.59% change in the company's 3-Year Return. While there are outliers, this model is telling us that generally, the higher the yield, the lower the rate of return.
Investment Implications
We can see that even when comparing a 1-year to a 3-year return timeframe, the results are similar in that higher yield is correlated with lower returns and vice versa. Therefore, it is my opinion that high yield should only be pursued by income-oriented investors who have a high need for regular income from their investments. For other investors who seek income but also capital appreciation, stocks paying below 3% in yields appear to offer the best returns, and also have a long history of sustainable dividend increases. One can see that of all the Dividend Aristocrats that have produced the highest 3-Year returns (60% or above), the vast majority of them yield below 3%: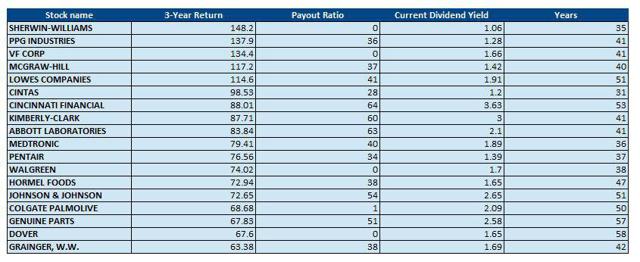 Click to enlarge
While these stocks have provided high rates of return over the past three years, one must question whether there is any upside in the short to medium term. Past rates of return are all well and good, but the above results reflect how an investor would have done if they had purchased the above stocks when they were undervalued. To narrow down the list even further, I decided to examine stocks on the above list on a P/E basis - if the stock's current P/E ratio is trading below the average P/E ratio attained in the last five years, then it is possible that the stock is still undervalued and could warrant further research.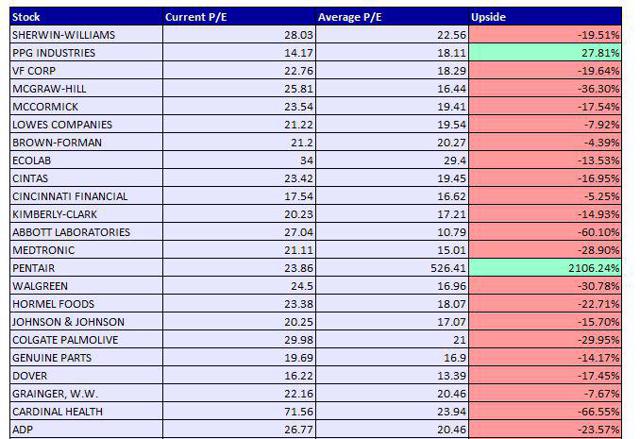 Click to enlarge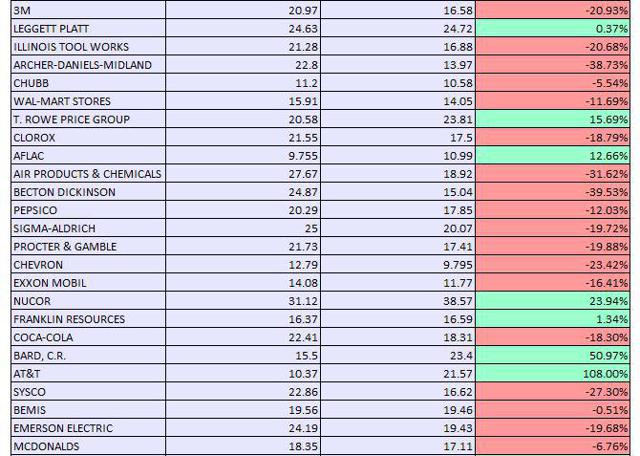 Click to enlarge

Click to enlarge
Source: YCharts
The stocks that currently trade at a lower P/E relative to their 5-year average are highlighted in green. Note that certain results should be interpreted with caution; e.g. while we can see that Pentair has a supposed upside of 2106.24% based on its average P/E ratio, the very fact that its average P/E ratio has such a high value relative to its current levels suggests that investors may have historically valued this stock based on expected earnings that did not materialize. Therefore, I am of the opinion that looking for stocks with approximately 25-100% upside based on average P/E might be a better option. In this regard, PPG Industries (NYSE:PPG), Nucor (NYSE:NUE), Bard C.R (NYSE:BCR), AT&T (NYSE:T), Stanley Black & Decker (NYSE:SWK) and HCP (NYSE:HCP) might be stocks worthy of further research. Of course, a deeper look at each company's fundamentals is necessary for a more accurate valuation - P/E ratios are just a starting point in this regard.
Conclusion
In conclusion, the results appear to confirm what I had initially hypothesized in my last article - higher yields generally result in lower overall returns, although there are exceptions. This appears to hold true across both short and longer time horizons. Note that I do not at all discourage those who prefer higher yields from continuing to do so. However, for investors like me who prioritize capital appreciation over income, I'll be looking at the ones below 3%.
Disclosure: The author is long CVX, WFC. The author wrote this article themselves, and it expresses their own opinions. The author is not receiving compensation for it (other than from Seeking Alpha). The author has no business relationship with any company whose stock is mentioned in this article.