The overall market is down this morning, so we're focusing on the stocks that are bucking the trend. The following is a list of high volume gainers with bullish option market sentiment, i.e. a large number of open call option positions relative to put option positions.

For each stock, we'll list the Relative Volume indicator, which expresses today's trading volume as a multiple of the 3-month average volume.

Relative Volume data sourced from Finviz, options data sourced from Schaeffer's.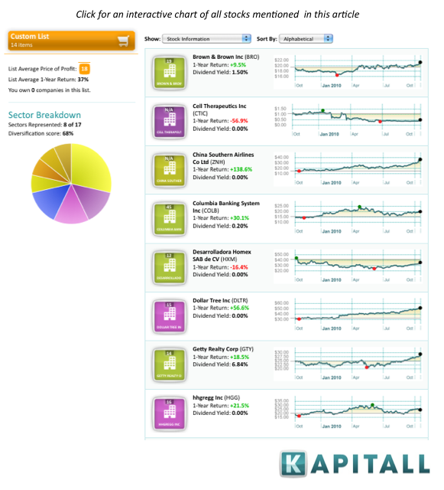 The list has been sorted by Put/Call ratio.

1. Brown & Brown Inc. (NYSE:BRO): Insurance Brokers Industry. Market cap of $2.95B. Today's relative volume at 4.57, with the stock gaining 2.6% at the time of writing. Call open interest at 1,193 contracts vs. put open interest at 48 contracts (Put/Call ratio at 0.04).

2. Columbia Banking System Inc. (NASDAQ:COLB): Savings & Loans Industry. Market cap of $777.75M. Today's relative volume at 3.22, with the stock gaining 0.86% at the time of writing. Call open interest at 96 contracts vs. put open interest at 30 contracts (Put/Call ratio at 0.31).

3. Cell Therapeutics, Inc. (NASDAQ:CTIC): Biotechnology Industry. Market cap of $310.98M. Today's relative volume at 11.09, with the stock gaining 12.68% at the time of writing. Call open interest at 64,896 contracts vs. put open interest at 14,399 contracts (Put/Call ratio at 0.22).

4. Dollar Tree, Inc. (NASDAQ:DLTR): Discount, Variety Stores Industry. Market cap of $6.38B. Today's relative volume at 1.98, with the stock gaining 1.67% at the time of writing. Call open interest at 20,350 contracts vs. put open interest at 9,268 contracts (Put/Call ratio at 0.46).

5. Getty Realty Corp. (NYSE:GTY): REIT. Market cap of $841.01M. Today's relative volume at 11.42, with the stock gaining 3.79% at the time of writing. Call open interest at 4,162 contracts vs. put open interest at 667 contracts (Put/Call ratio at 0.16).

6. hhgregg, Inc. (NYSE:HGG): Electronics Stores Industry. Market cap of $949.78M. Today's relative volume at 1.62, with the stock gaining 0.41% at the time of writing. Call open interest at 2,036 contracts vs. put open interest at 877 contracts (Put/Call ratio at 0.43).

7. Holly Corporation (HOC): Oil & Gas Refining & Marketing Industry. Market cap of $1.77B. Today's relative volume at 6.19, with the stock gaining 1.23% at the time of writing. Call open interest at 7,356 contracts vs. put open interest at 2,313 contracts (Put/Call ratio at 0.31).

8. Homex Development Corp. (NYSE:HXM): Property Management Industry. Market cap of $1.92B. Today's relative volume at 2.96, with the stock gaining 1.45% at the time of writing. Call open interest at 915 contracts vs. put open interest at 217 contracts (Put/Call ratio at 0.24).

9. Inspire Pharmaceuticals, Inc. (NASDAQ:ISPH): Drug Manufacturer. Market cap of $573.11M. Today's relative volume at 1.86, with the stock gaining 1.01% at the time of writing. Call open interest at 1,386 contracts vs. put open interest at 274 contracts (Put/Call ratio at 0.2).

10. Newport Corp. (NASDAQ:NEWP): Scientific & Technical Instruments Industry. Market cap of $465.24M. Today's relative volume at 1.73, with the stock gaining 1.97% at the time of writing. Call open interest at 272 contracts vs. put open interest at 52 contracts (Put/Call ratio at 0.19).

11. Northeast Utilities (NU): Diversified Utilities Industry. Market cap of $5.36B. Today's relative volume at 2.66, with the stock gaining 0.66% at the time of writing. Call open interest at 602 contracts vs. put open interest at 151 contracts (Put/Call ratio at 0.25).

12. Netezza Corporation (NZ): Diversified Computer Systems Industry. Market cap of $1.69B. Today's relative volume at 1.68, with the stock gaining 0.19% at the time of writing. Call open interest at 44,351 contracts vs. put open interest at 4,406 contracts (Put/Call ratio at 0.1).

13. Polaris Industries, Inc. (NYSE:PII): Recreational Vehicles Industry. Market cap of $2.31B. Today's relative volume at 7.47, with the stock gaining 1.75% at the time of writing. Call open interest at 9,417 contracts vs. put open interest at 3,043 contracts (Put/Call ratio at 0.32).

14. China Southern Airlines Co. Ltd. (NYSE:ZNH): Major Airlines Industry. Market cap of $5.8B. Today's relative volume at 1.8, with the stock gaining 0.47% at the time of writing. Call open interest at 1,047 contracts vs. put open interest at 232 contracts (Put/Call ratio at 0.22).

Disclosure: No positions