Tasman Metals, Ltd. (NYSEMKT:TAS) is based in Canada and it owns a number of interests in various rare earth mines and claims. Its flagship project is the "Norra Karr" which is located in Sweden. This is high potential project that could ultimately pay off big for investors. Earlier this year, this stock jumped and was trading for nearly $2 per share, but more recently the shares have seen a pullback which has given investors a significant buying opportunity.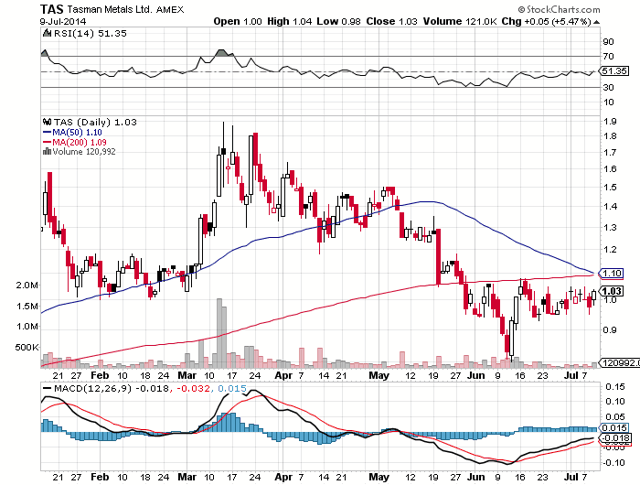 As the chart above shows, Tasman shares were trading for about $1.50 in early May but now trade for just over $1. This appears to be an ideal time to buy this stock because significant upside potential remains. After bottoming out in June, this stock has been trending up and could be poised to jump back over key support levels which include the 50 and 200-day moving averages both of which are around $1.10 per share.
The main potential downside risk for this stock could be the lack of current revenues. However, this company has a strong balance sheet with no debt, which reduces that risk significantly. By contrast, Molycorp (MCP) has about $1.4 billion in debt which has created balance sheet risk for investors in that stock. With significant European backing, and plans to start production at Norra Karr in 2017, downside risks appear to be reduced even further.
The main upside catalyst is the Norra Karr project because it is Sweden which really eliminates geopolitical risks and this makes Tasman Metals of strategic interest for the European Union. The Norra Karr project is the 4th largest heavy rare earth elements deposit in the world. Furthermore, this stock appears greatly undervalued which could mean it has very significant upside potential. According to the investor presentation, the Norra Karr project alone has a post-tax, net present value of nearly $1.5 billion. When you compare that to the current market capitalization of just around $67 million, it is easy to see the significant upside. With nearly 70 million shares outstanding, this implies that the net present value of nearly $1.5 billion is equivalent to around $21 per share. The investor presentation also points out that one industry analyst has said the "North Karr is the most important deposit in the western world for permanent magnets".
A Forbes article discusses the strategic importance of rare earth metals and why Tasman Metals could be extremely important for the European Union. It also points out that China may only be able to produce enough rare earth elements to supply its own needs, and that would leave other countries and companies out in the cold. The article states: "In Europe, Tasman Metals, Ltd. could become a dedicated supplier of REEs to the European Union."
Tasman Metals stock has been named a "top pick" for this sector by one analyst who set a price target of $1.75 per share. The analyst's bullish views were detailed in an article by ProactiveInvestors.com which points out that the Norra Karr project has very favorable economics. The article states:
"His analysis continually recognizes Tasman's Norra Karr as being the strongest on an economic basis, due to "favorable geology, metallurgy, infrastructure and jurisdiction". Industrial Alliance does not consider the heavy REE sector capable of handling more than one new project at a time, and therefore isolates Tasman as the top pick among these projects based on its comparisons, valuations, and the stress test seen in the research report."
With the Norra Karr project having a net present value that is potentially equivalent to nearly $21 per share, and with a debt-free balance sheet, this stock appears significantly undervalued at just over $1 per share. This stock could see another large move up in the short-term, and have significant upside in the long-term but, it should be considered for the more speculative or higher-risk and higher-reward portion of your portfolio. For another high-potential metals stock read this recent article I wrote.
Here are some key points for Tasman Metals, Ltd.:
Current share price: $1.02
52-Week Range: 54 cents to $1.89
Annual dividend: n/a
Data is sourced from Yahoo Finance. No guarantees or representations
are made. Hawkinvest is not a registered investment advisor and does
not provide specific investment advice. The information is for
informational purposes only. You should always consult a financial
advisor.
Disclosure: The author is long TAS. The author wrote this article themselves, and it expresses their own opinions. The author is not receiving compensation for it (other than from Seeking Alpha). The author has no business relationship with any company whose stock is mentioned in this article.
Editor's Note: This article covers one or more stocks trading at less than $1 per share and/or with less than a $100 million market cap. Please be aware of the risks associated with these stocks.