By Craig Bowles
Overview
JPMorgan Chase (NYSE:JPM) is scheduled to report Q2 2014 earnings before the bell on Tuesday, July 15th. The results are typically released at 7:00 a.m. EST, with a conference call available at JPMorgan Chase Investor Relations slated to follow at 8:30 a.m. While JPMorgan Chase follows earnings releases by Wells Fargo (NYSE:WFC) and Citigroup (NYSE:C), the numbers could have a significant impact in the trading of other names in the financial sector, as well as U.S. index futures and other broad market securities.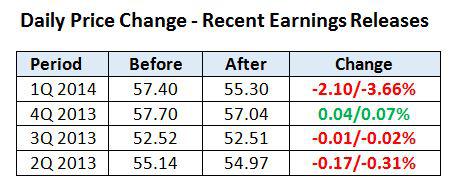 Outliers & Strategy
Key Measures:
Earnings Per Share (EPS): The current Street estimate is $1.29 per share (range: $1.16 to $1.38). (Source: Yahoo Finance) The estimate has been reduced from $1.49 three months ago.
Revenues: The current Street estimate is $23.73 billion, an 8.60% decrease from the year-ago period.
Last quarter's earnings miss blamed on lower revenue from fixed income trading and mortgages.
JPMorgan's P/E of 14.4 compares to a 5-year average of 11.7 and an industry average of 16.0; the Price/Book of 1.1 compares to a 5-year average of 0.9 and an industry average of 1.1; the Price/Cash Flow of 2.2 compares to a 5-year average of 3.4; the Dividend yield of 2.6% compares to a 5-year average of 1.8% and an industry average of 2.7%, so valuations are somewhat mixed.
Insiders sold 411,426 shares over the last three months and 3,105,478 shares over the last twelve months. The company plans on repurchasing $6.5 billion of equity from April 1, 2014 to March 31, 2015.
JPMorgan Chase shares have a 1-day average price change on earnings of 2.64%. Options are pricing in an implied move of 2.80% off earnings.
Recent News
07/08: JPMorgan is expected to cut expenses by hundreds of millions of dollars by relocating employees to less expensive office space and revising contracts, according to a post on WSJ.com.
06/20: JPMorgan is planning the sale of $304 million worth of U.S. mortgage bonds without government backing, according to a post on Bloomberg.com.
06/20: JPMorgan unit purchases San Francisco site for $415M, according to a post on Bloomberg.com.
06/16: Miami lawsuit: JPMorgan lending discriminatory practices worsened housing foreclosure crisis, according to a post on Yahoo Finance.
05/05: JPMorgan expects second-quarter 2014 market revenues to be down approximately 20% year-over-year to roughly $4.3 billion following a 17% decline in the first quarter, according to Zacks.com.
Technical Review
JPMorgan Chase shares doubled from June 2012 to the highs when the company last released earnings. JPMorgan stock has shown more life in 2014 compared to Goldman and Citi, after acting as a laggard in the second half of 2013. The recent balance at $56.50-$57.50 could act as resistance. Above $58 has traders targeting a retest of the $61 all-time high (which is slightly above the year-2000 high). Below, the 200-day moving average would have limited support below $50, and would raise fears of returning to the range of the last decade. (Chart courtesy of StockCharts.com).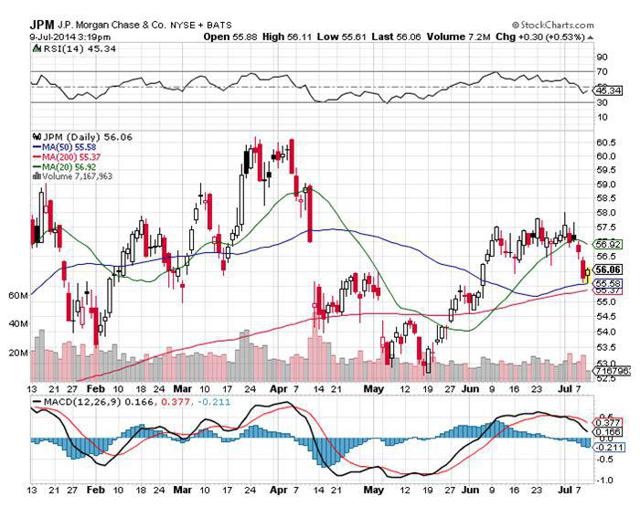 Summary
Last quarter's earnings miss blamed lower revenue from fixed income trading and mortgages, and May's guidance suggests market revenues dropped even faster in Q2. Despite this guidance, traders expect JPMorgan to beat the reduced analyst consensus number, after missing the last three quarters. Earnings probably needs to be above $1.36 per share (consensus is $1.32) with revenue above $24 billion to generate a positive reaction.
DISCLAIMER: By using this report, you acknowledge that Selerity, Inc. is in no way liable for losses or gains arising out of commentary, analysis, and or data in this report. Your investment decisions and recommendations are made entirely at your discretion. Selerity does not own securities in companies that they write about, is not an investment adviser, and the content contained herein is not an endorsement to buy or sell any securities. No content published as part of this report constitutes a recommendation that any particular investment, security, portfolio of securities, transaction or investment strategy is suitable for any specific person.
Disclosure: The author has no positions in any stocks mentioned, and no plans to initiate any positions within the next 72 hours. The author wrote this article themselves, and it expresses their own opinions. The author is not receiving compensation for it (other than from Seeking Alpha). The author has no business relationship with any company whose stock is mentioned in this article.