The last time I wrote about Gilead Sciences, Inc. (NASDAQ:GILD), I stated, "If the microeconomic news presented at the annual meeting brings the stock down due to technical reasons then I'll back up the truck and buy some more, but if the stock moves down due to the news presented at the meeting then I'll have to re-evaluate my position in the company." That was at last year's American Society of Clinical Oncology meeting, and since writing the article, the stock has increased 58.9%, versus the 19.58% gain the S&P 500 (NYSEARCA:SPY) posted. It's safe to say the stock never pulled back really and I just continued to hold my shares. Gilead is a research-based biopharmaceutical company that discovers, develops, and commercializes medicines, with a primary focus on HIV/AIDS, liver diseases, and cardiovascular/metabolic, and respiratory conditions.
On April 22, 2014, the company reported first-quarter earnings of $1.48 per share, which beat the consensus of analysts' estimates by $0.58. In the past year, the company's stock is up 66.32% and is beating the S&P 500, which has gained 20.89% in the same time frame. Since initiating my position back on May 28, 2013, I'm up 57.18%. With all this in mind, I'd like to take a moment to evaluate the stock on a fundamental, financial, and technical basis to see if right now is a good time to purchase more of the stock for my growth portfolio.
Fundamentals
The company currently trades at a trailing 12-month P/E ratio of 32.72, which is expensively priced, but I mainly like to purchase a stock based on where the company is going in the future, as opposed to what it has done in the past. On that note, the 1-year forward-looking P/E ratio of 11.29 is currently inexpensively priced for the future in terms of the right here, right now. Next year's estimated earnings are $7.85 per share, and I'd consider the stock inexpensive until about $118. The 1-year PEG ratio (1.34), which measures the ratio of the price you're currently paying for the trailing 12-month earnings on the stock while dividing it by the earnings growth of the company for a specified amount of time (I like looking at a 1-year horizon), tells me that the company is fairly priced, based on a 1-year EPS growth rate of 24.48%. The company has great near-term future earnings growth potential, with a projected EPS growth rate of 24.48%. In addition, the company has great long-term future earnings growth potential, with a projected EPS growth rate of 28.2%. Below is a comparison table of the fundamental metrics for the company for when I wrote all articles pertaining to the company.
| | | | | | | | |
| --- | --- | --- | --- | --- | --- | --- | --- |
| Article Date | Price ($) | TTM P/E | Fwd P/E | EPS Next Yr.($) | Target Price ($) | PEG | EPS Next Yr. (%) |
| 31May13 | 55.80 | 36.95 | 19.24 | 2.90 | 43 | 1.38 | 26.66 |
| 09Jul14 | 88.68 | 32.72 | 11.29 | 7.85 | 118 | 1.34 | 24.48 |
Financials
On a financial basis, the things I look for are the dividend payouts, return on assets, equity, and investment. The company does not sport a dividend to speak of, but is sporting return on assets, equity, and investment values of 19.1%, 39.2%, and 18.7%, respectively, which are all respectable values.
The really high return on assets value (19.1%) is important, because it is a measure of how profitable the company is relative to its assets, telling us how efficient the management team is at using its assets to generate earnings [for comparison purposes, Gilead has the highest ROA of all companies in the large-cap and overall biotechnology industry, ahead of Biogen Idec Inc. (NASDAQ:BIIB), which sports an ROA of 16.6%, and ahead of Regeneron Pharmaceuticals, Inc. (NASDAQ:REGN), which sports an ROA of 13.9%].
The really high return on equity value (39.2%) is an important financial metric for purposes of comparing the profitability, which is generated with the money shareholders have invested in the company, to that of other companies in the same industry [for comparison purposes, Gilead has the highest ROE of all large-cap and overall companies in the biotechnology industry, ahead of Celgene Corporation (NASDAQ:CELG), which sports an ROE of 25.2%, and Biogen, which sports an ROE of 22.7%].
In this particular instance, I will skip the dividend aspect of the financials because the stock is in my growth portfolio, and in the growth portfolio, a stock does not have to have a dividend. Below is a comparison table of the fundamental metrics for the company for when I wrote all articles pertaining to the company.
| | | | | | |
| --- | --- | --- | --- | --- | --- |
| Article Date | Yield (%) | Payout TTM (%) | ROA (%) | ROE (%) | ROI (%) |
| 31May13 | N/A | N/A | 13.54 | 32.88 | 17.09 |
| 09Jul14 | N/A | N/A | 19.10 | 39.20 | 18.70 |
Technicals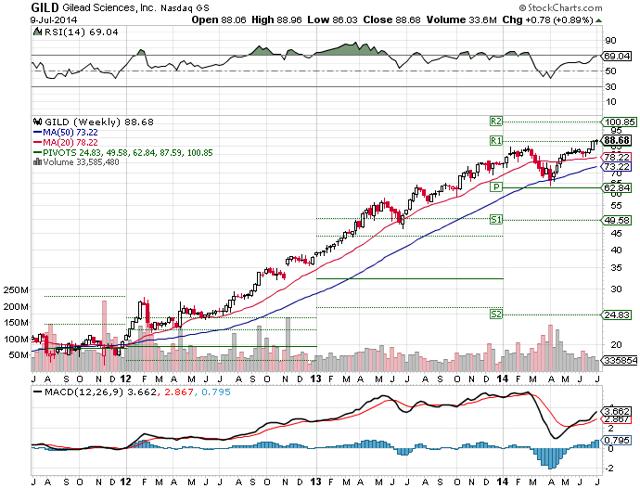 Click to enlarge
Looking first at the relative strength index chart [RSI] at the top, I see the stock approaching overbought territory, with a current value of 69.04. I will look at the moving average convergence-divergence [MACD] chart next. I see that the black line is above the red line, with the divergence bars increasing in height, indicating bullish momentum. As for the stock price itself ($88.68), I'm looking at $100.85 to act as resistance and the 20-day simple moving average (currently $78.22) to act as support, for a risk/reward ratio which plays out to be -11.8% to 13.72%.
Upcoming Earnings Report
Gilead is by far the best biotechnology stock that I'm invested in, and is set to report earnings on the 23rd of July after the market closes. Of the 25 analysts covering the company, the mean estimate for the quarter is $1.64, with a high of $2.06 and a low of $1.25. Last year's second-quarter earnings were $0.50, so analysts are expecting a 228% increase. Revenue estimates are coming in at $5.57 billion, with a low estimate of $4.73 billion and high estimate of $6.61 billion. The company has surprised on earnings three times out of four in the past year, with a minimum beat of 8.3% and a maximum beat of 62.6%. The one time that estimates weren't beaten, they were at least matched. As you can see, this is definitely a company that knows how to execute, and not only that, but its products are excellent, otherwise we wouldn't be seeing continued earnings growth.
Conclusion
This company is definitely hitting on all cylinders with hit products, such as Sovaldi for hepatitis C. It's important to realize that there are many diseases in the world today, and when looking for an investment in a company which fights against those diseases, that you pick the elite companies. I believe one of those companies to be Gilead. With that said, fundamentally, I believe the stock to be inexpensively valued on next year's earnings estimates but fairly valued earnings growth expectations, while having great near- and long-term earnings growth expectations. Financially, there isn't a dividend to speak of, but the ROA and ROE are excellent. On a technical basis, I believe the stock can hit $100 by the end of the year. That move upwards can get kicked off with a great earnings report at the end of the month. I like the stock but won't be buying any of it this week, and will choose to wait until I see it report. If the stock drops on earnings but estimates are beaten, I'll definitely pounce on it.
Disclaimer: This article is meant to serve as a journal for myself as to the rationale of why I bought/sold this stock when I look back on it in the future. These are only my personal opinions and you should do your own homework. Only you are responsible for what you trade and happy investing!
Disclosure: The author is long GILD, BIIB, CELG, REGN, SPY. The author wrote this article themselves, and it expresses their own opinions. The author is not receiving compensation for it (other than from Seeking Alpha). The author has no business relationship with any company whose stock is mentioned in this article.