On October 14, 2010, J.B. Hunt Transport Services (NASDAQ:JBHT), the third-largest U.S. truckload carrier, reported its third quarter earnings of 43 cents per share, which fell short of the Zacks Consensus Estimate by a penny. Earnings per share rose 39% year over year from the year-ago earnings of 31 cents.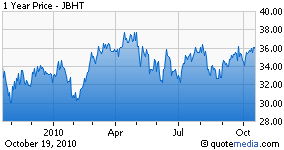 Earnings included the $4 million (or 2 cents per share) charge related to the donation to the Arkansas Children's Hospital. Despite the charitable donation, earnings shot up 31% year over year on higher intermodal volumes, reflecting continued increase in customer demand.
Total revenue increased 18% year over year to $986 million and was also above the Zacks Consensus Estimate of $984 million. The increment in revenues was aided by higher volumes in the Intermodal segment, significant growth in Dedicated Contract Services and Truck segments.
During the quarter, the company reintroduced and increased certain compensation and benefit programs for employees as profits rebounded quicker than expected. Operating income leaped 29% year over year to $91.5 million as all three segments generated strong profits.
Segment Results
Intermodal reported revenues of $559 million, up 23% year over year, based on strong demand. Average tractor count increased to 2,610 from 2,254 in the year-ago quarter. Operating income climbed 22% year over year.
Dedicated Contract Services revenues increased 18% year over year to $232 million, primarily on 13% growth in revenue per truck per week (productivity). The average truck count in the reported quarter increased 3% to 4,499. Operating income rose 17% year over year to $22.13 million, attributable to both revenue growth and productivity improvement.
Truck revenues upped 4% year over year to $124 million despite a 13% reduction in tractors. At the end of the third quarter, tractor count decreased to 2,793 from 3,227 in the year-ago quarter. Overall rates continued to improve and increased 9% year over year. Moreover, the average length of haul rose 8% in the third quarter. J.B. Hunt recorded an operating profit of $6.5 million compared with a loss of $0.4 million in the year-ago quarter.
Integrated Capacity Solutions revenues climbed 14% year over year to $77 million and operating profit declined 11% due to tight supply and demand balance. On an annualized basis, the customer base, third-party carrier base and employee count rose 5%, 18% and 9%, respectively.
Liquidity
At the end of the third quarter, J.B. Hunt significantly increased its cash and cash equivalents to $68,560 million compared with $7,843 at the end of 2009. Long-term debt decreased to $449 million from $565 million at the end of 2009.
Share Repurchase
The company repurchased 0.75 million shares at a total cost of $25 million in the third quarter. The company has $325 million remaining in the share repurchase authorization for full-year 2010.
Our Analysis
J.B. Hunt expects freight rates to continue to rebound from the unsustainable low levels as demand for transportation services are expected to remain at current levels.
We are positive on J.B. Hunt based on its continued strength in freight demand, strong balance sheet, improved rail service and network capabilities, continuous dividend disbursement as well as improving truckload fundamentals. We believe the company continues to gain market share from its Intermodal and Dedicated businesses. Further, Integrated Capacity Solutions will continue to show rapid growth and Truck is expected to deliver significant leverage as pricing recovers in the industry.
However, competitive threats and the inability to pass higher prices to customers or attract and retain drivers are the major risks, which limit the upside potential for the stock. Also, we are concerned that shippers might find it difficult to secure adequate capacity due to supply/demand imbalance.
We are currently recommending our long-term Neutral rating supported by the Zacks #3 Rank (Hold).