The following is a list for everyone who believes analyst ratings tend to lag performance.

To create the list, we started with a universe of stocks in a new uptrend, as defined by the Average Directional Index, or ADX(14) index. All of the stocks mentioned below have ADX(14) values above +20, which signals strengthening upward momentum.

In addition, all of these stocks have seen worsening analyst sentiment over the last three months. This pessimism, combined with the technical momentum behind these names, might offer an interesting starting point for contrarians…

Analyst ratings are presented on a linear scale, where 1 = "Strong Buy" and 5 = "Strong Sell." All of the stocks in our list have seen analyst ratings move closer to 5 over the last three months, i.e. worsening analyst ratings.

ADX data sourced from Stockcharts.com, analyst ratings sourced from Reuters.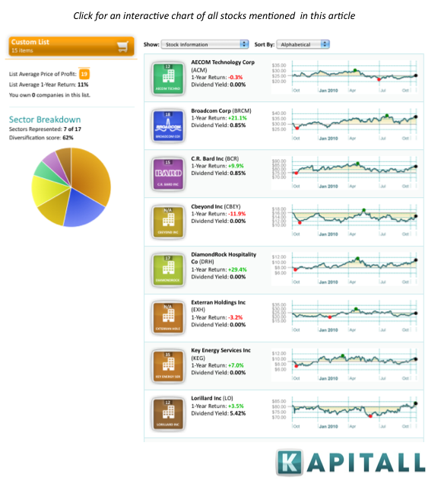 The list has been sorted by change in analyst rating. A reminder: a rating moving closer to 5 indicates worsening sentiment.

1. Mobil Telesystems (NYSE:MBT): Daily ADX Line(14) at 20.199. Current analyst rating at 1.89 vs. a rating of 1.5 three months ago.

2. New York Mortgage Trust Inc. (NASDAQ:NYMT): Daily ADX Line(14) at 20.401. Current analyst rating at 2.5 vs. a rating of 2 three months ago.

3. ManTech Intl Corp. (NASDAQ:MANT): Daily ADX Line(14) at 21.52. Current analyst rating at 2.57 vs. a rating of 2.21 three months ago.

4. Lorillard Inc. (NYSE:LO): Daily ADX Line(14) at 20.788. Current analyst rating at 2.36 vs. a rating of 2.09 three months ago.

5. SM Energy Co. (NYSE:SM): Daily ADX Line(14) at 20.571. Current analyst rating at 2.19 vs. a rating of 1.94 three months ago.

6. Cbeyond, Inc. (NASDAQ:CBEY): Daily ADX Line(14) at 21.161. Current analyst rating at 2.38 vs. a rating of 2.12 three months ago.

7. NorthWestern Corp. (NYSE:NWE): Daily ADX Line(14) at 20.066. Current analyst rating at 2 vs. a rating of 1.8 three months ago.

8. Broadcom Corp. (BRCM): Daily ADX Line(14) at 20.081. Current analyst rating at 2.21 vs. a rating of 2.03 three months ago.

9. Aecom Technology Corp. (NYSE:ACM): Daily ADX Line(14) at 21.018. Current analyst rating at 1.54 vs. a rating of 1.42 three months ago.

10. Bard C R, Inc. (NYSE:BCR): Daily ADX Line(14) at 20.013. Current analyst rating at 2.47 vs. a rating of 2.29 three months ago.

11. Whiting Petroleum Corp (NYSE:WLL): Daily ADX Line(14) at 20.007. Current analyst rating at 1.8 vs. a rating of 1.68 three months ago.

12. Key Energy Services, Inc. (NYSE:KEG): Daily ADX Line(14) at 20.668. Current analyst rating at 1.63 vs. a rating of 1.53 three months ago.

13. Exterran Holdings, Inc. (EXH): Daily ADX Line(14) at 20.128. Current analyst rating at 2.45 vs. a rating of 2.33 three months ago.

14. Petroleum Development Corp. (PETD): Daily ADX Line(14) at 20.08. Current analyst rating at 2.15 vs. a rating of 2.1 three months ago.

15. DiamondRock Hospitality Co. (NYSE:DRH): Daily ADX Line(14) at 21.313. Current analyst rating at 2.43 vs. a rating of 2.38 three months ago.

Disclosure: No positions