I've been looking for a high quality business that I can envision remaining a high quality business into the distant future. Finding high quality in and of itself is extremely difficult. Things like high ROIC, creditworthiness, strong management, strong disclosures, competitive advantages, etc. are hard to find all in one place. Adding the qualification that I must be confident that the business will continue to display these characteristics for a long time makes the search so much more difficult though. After preliminary research, I am actually still hopeful that Accenture (NYSE:ACN) may fit this high standard and that is why I am still very much interested after performing the research that makes up this article. I plan on doing much more detailed research for a more comprehensive follow-up piece.
Information
Accenture describes itself as a leading global management consulting, technology and business process outsourcing company. The company has 293,000 employees, operations in 56 countries, and $31.1B LTM revenue. It is a very large company to say the least. It was previously the consulting arm of Arthur Anderson and went public in July 2001.
Positives
Expect Continued Increasing Popularity of VBM
Accenture's revenue is virtually 50/50 split (actually 54/46) between management consulting and outsourcing. I am excited about the nature and future of both of these industries. In the book Valuation by McKinsey & Company, the authors detail the rise of Value-Based Management or "VBM" in the U.S. VBM is essentially just managing based on the teachings of the book - acknowledging that the combination of high ROIC, low WACC, and high growth drive value creation and managing to sustainably optimize all of those numbers. Over the past few decades, this has become increasingly popular among both managers and investors, but there is still plenty of ignorance in the world (see my article on growth-centrism). From what I understand, much of what management consultants do, whether a tech-oriented consultant from IBM (NYSE:IBM) and Accenture or a generalist from McKinsey or Bain, is enlighten management teams of VBM, the value drivers for the particular business, and how to optimize them. If that's the case, then I think the future for the global management consulting industry is very bright. From a very recent blog post by esteemed NYU Stern Valuation professor, Aswath Damodaran:
When I put together the outline for my very first valuation class in 1986, I was warned by a senior faculty member not to go down that path. I was told that there was really not enough theory in valuation to warrant a class and that I would end up teaching a glorified accounting class.
Valuation courses are becoming increasingly common in U.S. higher education and I think this will continue to be the trend. I liken it to the rise in popularity of basic concepts of value investing like margin of safety and circle of competence 1940-present.
Industry Ripe for High margins, Strong Brands, Differentiation, Etc.
There's a lot of talk in the investment community about pricing/margin pressures at Accenture. Maybe that is a valid short-term concern, but long term, I think the consulting industry will continue to be high margin and the company's LTM 13.5% pre-tax operating margin really doesn't seem unsustainably high.
In Modern Security Analysis by Marty Whitman, he mentions repeatedly how remarkable it is that corporate-level contractor professionals like investment bankers, auditors, lawyers, and consultants don't really compete on price. The following comes from pages 124 and 211:
If you run a promising private company and desire to go public, you will find that many potential underwriters will compete for your business. However, as a general rule they won't compete on price. The price will be a 7 percent gross spread plus expenses…

Other Professionals Who Tend to Enjoy Excess Returns

Other professionals can earn what seem to be excess returns:

Defense attorneys
Plaintiffs' attorneys (in the United States, the existence of class actions and absence of security for costs helps promote excess returns)
Management consultants
Tax advisors
Bankruptcy attorneys
If this does not sound not convincing, I would encourage readers to read the book as it is full of helpful investment gems anyway and you will almost certainly come away with a similar view of pricing in these industries or at least get the full point.
Maybe I am expending too much time, effort, and too many words drilling this point home, but I'd also like to bring up a recent book review I read by Whopper Investments, who also happens to be a prolific SA writer. The book review is of Double Your Profits in Six Months or Less by Bob Fifer. It is a favorite of 3G Capital, Warren Buffett, and Jack Welch. Here is the relevant excerpt from Whopper's post with emphasis added:
However, I think the bigger takeaway is the value of a good business / brand. Consider the differences between chapter 25 and chapter 71.

In chapter 25, the author recounts a story where they go to an office supplier and tell her that they need her to lower her prices or they are leaving. They go to her a few times and ask for a price decrease, noting they represent 10%+ of her business. She says she can't lower her prices as they are already the lowest she gives. Finally, the company goes to her and say they are bidding it to other suppliers, and she lower her prices 20% that day.

Now compare that to chapter 71, when the author discusses pricing his own services. He talks about ways to make price a throw in at the last second (set the conversation up so it focuses on "professional delivery of quality goods," not price) and make the customer feel like haggling over the price is unprofessional ("like a couple of people at a bazaar").

Consider the difference between those two stories. In the first, the author is driving his suppliers down to the lowest possible price and judging his suppliers completely on pricing. In the latter, the author is asking his customers to do the exact opposite and judge the business solely in regards to delivery with almost no price consideration.

So why can he get away with that? I believe the real reason is this: the author clearly has a great brand and is delivering consulting advice / services, which are (to some extent) a complete intangible that are judged as much by their presentation and the reputation of the presenter as they are by the quality of their ideas. Someone supplying normal office services (I believe the chapter 25 example was cleaning services, but I'm not sure) is supplying a somewhat tangible good that is not impacted by branding.

So as an investor, my takeaway is that I want to look for businesses with some form of intangible valuation or asset, as there may be hidden pricing power / value there.
I wholly agree with Whopper's conclusions in general and as they apply to the consulting industry.
Benefits from Continued Tech Shift
Accenture is not just a management consulting company but a technology-oriented management consulting company and business process outsourcing company. The shift to high-tech, task automation, SaaS, etc. is a strong one and I don't see why that won't continue in the next 10-20 years.
Should Intuitively Be Well-Managed and Seems to Be
I would expect a company that advises other companies on good management practices, VBM, etc. to practice what it teaches in the management of itself and that seems to be the case as I will hopefully show in my other points.
Lots of IP
Intellectual property is one of the most basic forms of a competitive advantage and Accenture has lots of it:
As of August 31, 2013, we had 2,632 patent applications pending in the United States and other jurisdictions and had been issued 855 U.S. patents and 1,000 non-U.S. patents.
Strong Financial Position
The company has virtually no debt and lots of cash (though the cash seems to be necessary to operations as it has been on the balance sheet for years and thus seems a real part of working capital and not "excess cash"). The company has a safety rating of 1 and A++ Financial Strength rating from Value Line. These ratings are really rarely given by Value Line, but make sense as most consistent high ROIC growing businesses can and do take on significant financial leverage, but ACN hasn't. To me, this is a win-win: either the company levers up and gets more cash at low rates to lower its WACC and create more value, or the company continues to be ultra-safe through its current financial standing.
Compensation and Attrition Look Good
Just about every company says in its 10-K's Risk Factors section something to the effect of "attracting and retaining talent is critical to our success and we may not be able to continue to execute on this front." For some companies this is much truer than for others. For a consulting business like Accenture where much of the value the firm offers to any one client is in the brains of the consultants retained by the firm, attracting and retaining talent is absolutely critical. I'd argue it's one of the most important, if not the most critical factor to a firm like ACN's long run success. The company seems to be doing a good job retaining and incentivizing its employees. I have no link because I heard it via word-of-mouth from a friend, but apparently, McKinsey's labor force turns over every 3 years. The attrition number is typically very high in management consulting, but it was only 12% for Accenture in FY2013, in line with 2012. Compensation is largely equity-based which is generally good for this type of business. Performance is based on EBIT, relative stock performance to the company's peer group, and subjective judgment of the board. These seem like decent criteria (though nothing special) and the board has been no pushover in judging performance. In 2013, the board only deemed performance to be in the 6th highest section of its 9-section range:

Source: ACN Proxy
Value Creation Credibility
Many of the companies I look at have outstanding 10-year charts and that is no coincidence. In the search for companies that will appreciate in value a great deal in the future and management teams and business models that will create that value, it makes sense to heavily consider companies that have done so in the past: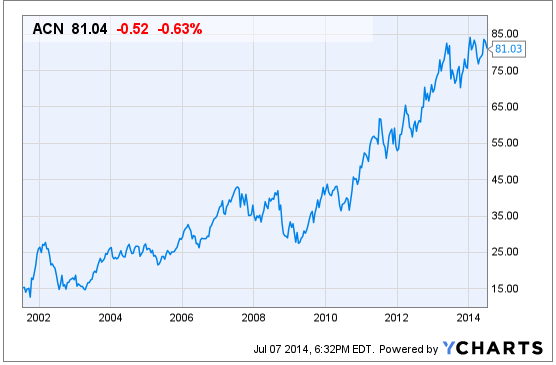 Since going public in 2001, Accenture stock has appreciated rather consistently by 14.1% annually, with annual total return probably 1.5-2% higher due to the dividend.
The company consistently repurchases lots of stock and pays a dividend. Charlie Munger is a strong advocate of investing in 'cannibals' or serial share repurchasers and that seems to be a common link among some of the best long term, high quality investments. I've had good luck with share repurchasers as well.
Tax Advantages
With its headquarters in Ireland, Accenture pays substantially less in taxes than it would as a U.S. company. Its tax rate has averaged about 24% in the last 11 quarters, much lower than the 36-40% you typically see in the U.S. This makes it much easier to earn high after-tax ROIC and boosts margins and sustainably so.
High ROIC
To counteract the lumpiness in capex/acquisition costs (that I will mention in Negatives section), I averaged out 3 years of performance: FY2012, FY2013, and LTM. Keep in mind that there is 1 quarter of overlap between FY2013 and LTM. Here are the results: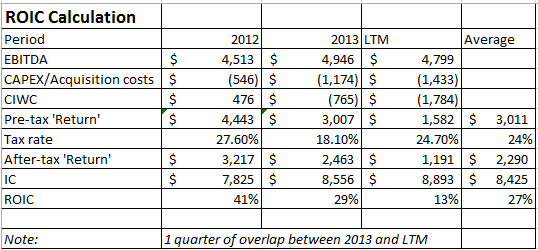 I am not too concerned by the trend in ROIC over the 3 periods as it is likely just due to timing of investments. The average ROIC came out at 27% after tax. That's very, very good.
Highly Diversified Revenue Stream
The company offers consulting services in most industries and sectors (Products 23.8%; Financial Svc. 21.6%; Communications & High Tech 19.9%; Resources 18.0%; Health & Public Service 16.6%; Other less than 1%) and its business is also pretty evenly split between consulting (54%) and outsourcing (46%). Since I run a highly concentrated portfolio (2-3 positions), I like when companies diversify for me (so long as it does not sacrifice ROIC).
Negatives
Primary Asset is People
Because of how labor-intensive the business is, I have a lingering fear that the business is not really worth much outside of its employees. It is sort of like a private construction contractor's business is typically worth little to nothing when he retires because he IS the business and he cannot sell himself. I just am a bit intimidated because I have never analyzed a company so dependent on its labor talent.
High Quality Competition
The following is the peer group that the company uses to evaluate its relative stock performance for performance-contingent compensation purposes: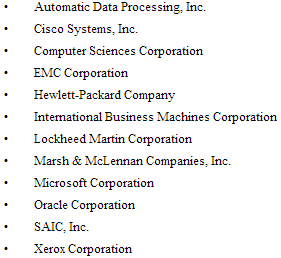 Source: ACN Proxy
Many of the companies on this list are notably excellent businesses. I find comfort investing in businesses that I can definitively say are best of breed but I am not sure that is the case with Accenture.
Stock Seems Pricey Without Perspective
The stock trades at:
Mkt cap/3 yr avg return 24.7x
Mkt cap/LTM EBITDA 11.8x
Mkt cap/ LTM FCF (OCF - capex) 20.2x
Without perspective, these look like pricey multiples.
The compounded annual growth rates I calculated:
Net Income last 10 years 15.5%
CFO 10 year 6%
EPS 6 year 9.7%
EBITDA 4.75 years 9%
Share count 10 year -3.7%
Dividend 10 year 12%
EBIT 4.75 years 10.3%
Revenue 10 year 7.5%
Based on all this I don't see the company being anymore than a 10-12% per share grower in the next few years. Over the long term, I would only expect slightly higher growth than the global economy - maybe 5% annually. If you're just looking at those growth numbers alone relative to the valuation multiples above, the stock certainly looks pricey, however, I don't think this is the correct approach to take as ACN is a very high ROIC business and I actually think it may well stay that way for a long time. I used the 'tao of corporate finance' valuation equation to account for ROIC:

I plugged in the following:
ROIC 20% (27% 3-year average but expect some deterioration over time as this is very high and marginal projects will likely bring down)
NOPLAT $3,166
Growth 5%
WACC 8%
I came up with $114 per share. Obviously there are some flaws in using a perpetuity equation and the ROIC, growth, and WACC assumptions have a huge impact on the result, but I think this is more accurate of underlying value in high ROIC situations than a PEG approach. I tend to think the stock is reasonably priced- neither cheap nor expensive, but back to the original point, without perspective, I could understand why others would think this stock to be pricey.
Significant Lumpiness in Performance
All components of ACN's capital investments are quite lumpy/unpredictable from year to year and that bothers me. I own Express Scripts (NASDAQ:ESRX) right now and appreciate the fact that every year, changes in working capital are accretive to cash flows. That is not the case at ACN and capex and acquisition costs are also lumpy as my ROIC graphic above shows.
Conclusion
Like any other investment research I've done, there's some good and bad to the ACN story, but I was generally quite impressed and even more enthusiastic to have discovered an industry in consulting that I really, really like over the long term. I will most likely pursue this idea further and check out other companies in ACN's peer group. I am not a buyer of ACN just yet as I don't have enough information at this point and don't know that the stock is obviously discounted enough for my liking.
Disclosure: The author is long ESRX. The author wrote this article themselves, and it expresses their own opinions. The author is not receiving compensation for it (other than from Seeking Alpha). The author has no business relationship with any company whose stock is mentioned in this article.