With interest rates at record lows and expected to remain depressed for the foreseeable future, investors have been forced to get creative in their hunt for current return. Some have shifted domestic fixed income holdings along the risk/return continuum, seeking out more attractive yields from junk bonds. Others have ventured beyond the US borders, embracing emerging market bonds as a higher-yielding alternative to Treasuries. Equities have also emerged as a potential source of current return, with the dividend yield on many stocks exceeding the yield on fixed income securities. Billions of dollars have flowed into exchange-traded products focusing on the MLP sector of the domestic energy market, thanks in part to yields in the neighborhood of 6% on these securities.
For investors looking to access a broader representation of dividend-paying companies, there are several ETFs that focus on high-yielding domestic equities, tilted towards corners of the US economy that deliver value through dividend payments: telecoms, banks, and utilities. But there are also some attractive options in international equity markets, tools for adding some geographic diversification while still maintaining a focus on a value investing strategy. Below we profile several dividend ETFs offering investors exposure to markets outside the US.
Ex-US Dividend ETFs
There are a handful of ETFs that offer broad-based exposure to international dividend-paying companies:
WisdomTree World ex-US Growth Fund (NYSEARCA:DNL)
This ETF seeks to replicate a fundamentally weighted index that consists of growth companies in developed and emerging markets outside the US Potential index components are given a "growth score" based on EPS, sales, book value, and price per share. The top 30% of companies with the highest growth scores are included in the index, and weighted by cash dividends paid. Currently, DNL's breakdown between emerging and developed markets is approximately 33%/67%. DNL's 30-day SEC yield checks in at close to 2.8%, and the distribution yield stands at 2.2%.
PowerShares International Dividend Achievers Portfolio (NASDAQ:PID)
This ETF seeks to replicate the International Dividend Achievers Index, a benchmark that consists of approximately 75 companies that have increased their annual dividend for five or more consecutive years. Not surprisingly, telecom (20%), energy (16%), and financials (14%) account for the largest sector weightings. PID is tilted more heavily towards developed markets, which make up close to 85% of assets. This fund has a 30-day SEC yield of about 2.6% and a distribution yield of close to 2.8%.
Dow Jones International Select Dividend Index Fund (NYSEARCA:IDV)
This ETF is linked to the Dow Jones EPAC Select Dividend Index, a benchmark that consists of companies that have provided relatively high dividend yields on a consistent basis over time. IDV gives its largest individual country weightings to Australia and the UK, and invests exclusively in developed markets outside the US With more than 100 holdings, IDV was recently offering an impressive 30-day SEC yield of about 4.4% and a distribution yield close to 4.6%.
WisdomTree International Dividend ex-Financials Fund (NYSEARCA:DOO)
As the name suggests, this fund distinguished itself by avoiding exposure to financials. Because bank stocks derive a meaningful portion of their value from dividend payments, the financial sector often makes up a big slug of dividend-paying indexes; many of the other ETFs on this list give significant weight to the sector.
Regional Dividend ETFs
The following companies provide more targeted exposure to dividend-paying stocks, focusing on specific regions of the world: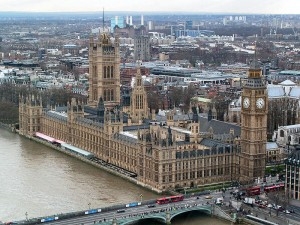 WisdomTree Europe SmallCap Dividend Fund (NYSEARCA:DFE)
Unlike many of the ETFs on this list, DFE focuses on small cap companies, meaning that most component stocks aren't household names even to international investors. This ETF tracks an index consisting of small cap dividend-paying stocks listed in Europe, including about 250 companies in total. The United Kingdom receives by far the largest country allocation, accounting for more than 35% of fund assets. DFE's 30-day SEC yield comes in at about 3.3%, while the underlying index has a dividend yield of more than 4.2%.
Dow Jones STOXX European Select Dividend Fund (NYSEARCA:FDD)
FDD also offers exposure to European dividend stocks, but unlike DFE this fund is dominated by large cap and mid cap equities. The benchmark to which FDD is a dividend-weighted index consisting of 30 stocks from the STOXX Europe 600 Index. The construction methodology for the index is somewhat unique: eligible stocks must have a positive five year dividend-per-share growth rate and a dividend to earnings-per-share ratio of 60% or less. For each potential components, an "outperformance factor" equal to the net dividend yield divided by the net dividend yield of the region, minus 1. Current components ranking in the top 60 remain in the index, with the highest-ranked non-components being added until there are 30 stocks.
At the end of the third quarter, FDD exhibited a 30-day SEC yield of nearly 6% and a distribution yield of about 5.9%.
WisdomTree Emerging Markets SmallCap Dividend Fund (NYSEARCA:DGS)
DGS is one of two ETFs offering exposure to small cap equities in emerging market economies (State Street's EWX is the other). DGS tracks a fundamentally-weighted index consisting of companies in the bottom 10% of total market cap of the WisdomTree Emerging Markets Dividend Index. There are currently more than 500 individual securities in the index, which has a dividend yield of about 5% and a price-to-earnings ratio of less than 13.
The largest country allocations made by DGS go to Taiwan (19%), South Korea (11%), South Africa (11%), Thailand (10%), Turkey (9%), and Israel (9%), meaning that the BRIC economies are overshadowed by smaller emerging economies. That makes DGS somewhat unique from most broad-based emerging markets ETFs on the market.
WisdomTree offers several other options for emerging markets equities featuring attractive dividend yields, including the Emerging Markets Equity Income Fund (NYSEARCA:DEM).
WisdomTree Middle East Dividend Fund (NASDAQ:GULF)
GULF is one of the more targeted ETFs on this list, offering exposure to dividend-paying companies listed in Kuwait, Qatar, the UAE, Egypt, and other Middle East economies. The index underlying GULF has about 75 components, with the telecom sector (46%) and energy sector 34%) combining to make up about 80% of total assets. The benchmark's dividend yield is a staggering 6.7%. GULF exhibits a 30-day SEC yield north of 6%, making it an interesting option for yield-hungry investors willing to take on a little risk. Given the exotic nature of the exposure offered by this ETF, the expense ratio comes in at 0.88%–the highest on this list.
WisdomTree DEFA Fund (NYSEARCA:DWM)
This fund is a potential alternative to EFA or VEA, as it offers exposure to dividend-paying companies in the industrialized world outside of the US and Canada. DWM's biggest weightings are towards banks, telecom companies, and utilities, although this ETF is much more balanced from a sector perspective than are many others on this list (the three sectors mentioned combine to make up less than half of total assets). DWM offers a 30-day SEC yield in the neighborhood of 3.5%, and the underlying index has a dividend yield of about 4.7%. The SEC yield of the iShares EAFE Index Fund (NYSEARCA:EFA), a popular option for ex-US developed market exposure, is about 100 basis points lower.
Beyond DWM, WisdomTree maintains a number of ETFs offering exposure to dividend paying companies in developed market outside the US. Options include funds focusing on large caps (NYSEARCA:DOL), mid caps (NYSEARCA:DIM), and small caps (NYSEARCA:DLS).
WisdomTree Japan SmallCap Dividend Fund (NYSEARCA:DFJ)
DFJ focuses in on small cap Japanese stocks offering meaningful current returns by seeking to replicate a benchmark that consists of nearly 500 individual stocks, almost all of which maintain a market capitalization of less than $2 billion. Though components must be dividend-paying companies and the underlying index is dividend-weighted, the benchmark's distribution yield comes in at less than 3%. That relatively small current return reflects the nature of small cap Japanese stocks; the other ETFs targeting this asset class, including iShares SCJ and State Street's JSC, don't offer much in the way of current returns either.
WisdomTree offers a handful of additional Asia-focused dividend ETF options, including the Pacific ex-Japan Total Dividend Fund (DND) and Pacific ex-Japan Equity Income Fund (DNH).
| Ticker | Region | SEC 30-Day Yield | Expense Ratio |
| --- | --- | --- | --- |
| DNL | ex-US | 2.77% | 0.58% |
| PID | ex-US | 2.48% | 0.50% |
| IDV | ex-US | 4.36% | 0.50% |
| DOO | ex-US, ex-Financials | 4.02% | 0.58% |
| DFE | Europe | 3.60% | 0.58% |
| FDD | Europe | 5.94% | 0.60% |
| DGS | Emerging Markets | 3.74% | 0.63% |
| DEM | Emerging Markets | 4.77% | 0.63% |
| GULF | Middle East | 5.99% | 0.88% |
| DWM | EAFE | 3.47% | 0.48% |
| DOL | EAFE (Large Cap) | 3.61% | 0.48% |
| DIM | EAFE (Mid Cap) | 2.93% | 0.58% |
| DLS | EAFE (Small Cap) | 3.18% | 0.58% |
| DFJ | Japan | 1.35% | 0.58% |
| DNH | Pacific ex-Japan | 5.56% | 0.58% |
| DND | Pacific ex-Japan | 3.63% | 0.48% |
Disclosure: No positions
Disclaimer: ETF Database is not an investment advisor, and any content published by ETF Database does not constitute individual investment advice. The opinions offered herein are not personalized recommendations to buy, sell or hold securities. From time to time, issuers of exchange-traded products mentioned herein may place paid advertisements with ETF Database. All content on ETF Database is produced independently of any advertising relationships.