Luna Gold Corp. (OTCPK:LGCUF) is a junior gold producer with clear ambitions and the potential of evolving into a mid-tier producer. The company is operating all mining, project development and exploration activities in the state of Maranhão, Brazil. It currently operates only one mine. The Aurizona Gold Mine is its primary asset and located within the São Luis Craton and is accessible year round by roads from the capital cities of Belém (400 km), Pará and Sao Luis (320 km), Maranhão. The mine and surrounding communities are also accessible by a one-hour air charter from both São Luis and Belém.
Their main Piaba deposit is a 3.3 kilometer-long orogenic greenstone deposit containing a total of 3.6 million ounces in Measured and Indicated Resources at 1.39 g/t Au, inclusive of 2.36 million ounces in Proven & Probable Reserves at 1.32 g/t Au and another 0.95 million ounces of Inferred Resources at 1.39 g/t Au (Reserve estimate in compliance with the NI 43-101 regulations).
Luna Gold recently launched its Brownfields exploration program. The 3- to 5-year drill program targets growth upside within a 15,500 hectare land package featuring five deposits: Piaba, Tatajuba, Boa Esperança, Conceição and Ferradura as well as a dozen other exploration targets.
Additional to this land package Luna has further exploration upside potential, owning 100% of Luna Greenfields, which is a 220,000 hectare property, located to the southwest and southeast of Aurizona, which contains more than 100 historical "artisan" gold workings. Luna Gold is offering investors a compelling case with forecasted cash costs in the lowest quartile between $690 and $740, with an all-in sustaining cost between $800 and $900 and a production guidance between 85000 and 95000 ounces for 2014 (source: Lunagold.com).
Let's take a closer look at what is happening so far in 2014 for Luna Gold, and what is still ahead this year and beyond.
Luna Gold has a production forecast for 2014 between 85000 and 95000 ounces of gold. The company was able to generate a Q1 net income of $7.5 million ($0.07 per share) and production came in at 19,414 ounces, representing a record first quarter for the Company. All-in sustaining cost of production of $787, All-in cost of $921 per ounce of gold produced (source: Marketwatch).
I think one should take into consideration that these Q1 results for Luna Gold were achieved during the most challenging part of the year due to the rainy season and affected by a week-long temporary suspension of mining operations resulting from community demonstrations against the local government.
The rainy season challenges are expected to continue throughout Q2. However Q3 and Q4 should provide an "after the rain comes sunshine" catalyst in terms of production and the market will probably feel more comfortable with the stock in terms of the company being able to reach its production forecast. Furthermore, the second half of 2014 could provide potentially very positive news for the stock as the company is on schedule and expected to inform the market about:
1. Phase I Expansion Completion
The market is awaiting 'Mechanical' completion of the 'Aurizona Phase I Expansion', which is currently trending on budget. This expansion phase will allow the company to raise the production target for 2015 towards 115000 ounces of gold.
The Phase I processing plant throughput design capacity is of 10,000 tonnes per day of saprolite ore. Take into account that subsequent to the mechanical completion, the Company requires operating permits to be updated and issued from the Brazilian mining and environmental authorities (source:Lunagold.com).
Production past, present and future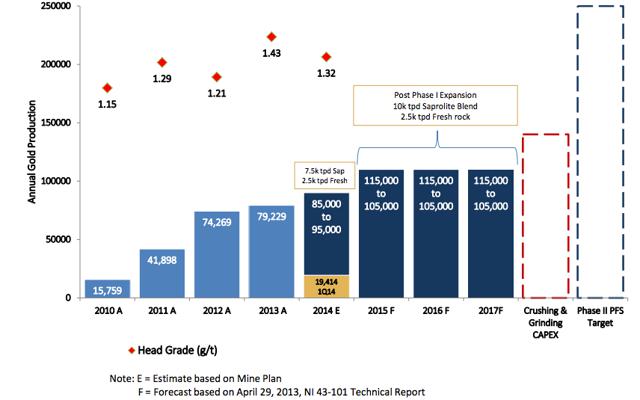 (Image source:Luna Gold - Corporate Presentation)
2. Compelling PFS Phase II Aurizona Expansion
A completion of the PFS (Pre Feasibility study) of PHASE II Aurizona Expansion, targeting a yearly production between 200,000 and 300,000 ounces of gold. If the needed capital expenditures for this phase of the expansion are reasonable, the market could react violently to the upside (source:Lunagold.com).
3. Upside potential through the new drilling program and the expected Resource and Reserves update in second half of 2014.
The Brownfield Exploration drilling program announced in April 2014 will target new mineralization in several near mine areas as well as an expansion of resources and reserves through step-out drilling at the Piaba, Boa Esperança, Conceição and Ferradura gold deposits. (LunaGold.com - Factsheet).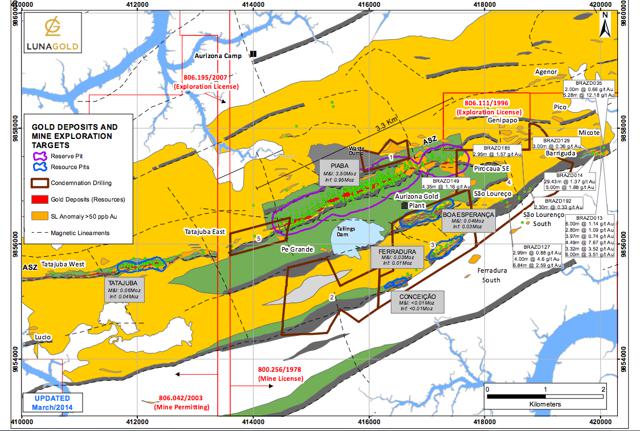 (Image source:Luna Gold - Corporate Presentation)
4. Mining license Tatajuba
The company is targeting to receive the mine license for Tatajuba claim in the second half of 2014.
What about 2015?
As mentioned before, management is currently targeting a production rise towards 115,000 ounces of gold for 2015, providing that they can complete 'Phase I' expansion of Aurizona.
I especially like that management is currently considering a new initiative to advance waste stripping during the second half of 2014 in the dry season, in order to prepare for inventory stockpile ahead of the 2015 wet season (Source: Q1-Conference Call). This initiative would definitely ease the minds of investors in terms of safeguarding the production targets for 2015.
What other facts should you be aware of as an investor?
Currently Luna Gold Corp. is trading at $1.15 and has a market cap of approx. $140 million.
On April 30th, Luna Gold had $31 million in cash, and a debt of $50 million. Of the $51 million estimated projected cost for current 'Phase I expansion', $39 million has already been accounted for. For 2014 there is a projected further 'Phase I' spending of $11 million for the remainder of the year. (Luna Gold $9 million, Sandstorm $2 million).(Source: Q1 Conference call)
Sandstorm Resources receives 17% of Aurizona's production at a price of $404 per ounce, which brings their 'Weighted Average Realized Price' at $1165, considering a spot price of 1322 at the time of writing this article. Obviously this deal with Sandstorm affects the investment case for investors at least for the Aurizona mine. However, Luna Gold is fortunate to have received a 10 year 'SUDENE' tax reduction rate of 75%. Calculated, this tax reduction regime allows Luna Gold to -- more or less -- balance out the negative effects of the Sandstorm agreement in terms of the bottom line at the current production rate. Do consider that the Company is required to make an additional application to extend the 'SUDENE' tax incentive to production in excess of the amounts specified in the Appraisal Certificate and for future mine expansions or the implementation of new mining operations (Source: Lunagold.com - Corporate presentation - pages 35-36).
Analysts and Shareholders:
On March 23, 2014, Canaccord Genuity issued in its 'Daily Letter' a valuation for Luna Gold with a 12-month C$2.00 target price, based on 0.75x operating NAVPS estimate plus corporate and other working capital adjustments. This valuation seems to reflect an overall consensus by various analysts.
Following 'price consensus chart' tells me that there is also a positive evolution in the prospects for the stock. Number of downgrades have dropped over time and the first upgrades are in. It seems most analysts are comfortable with the current narrow band price target of around $2 per share and the company is trading significantly below that target.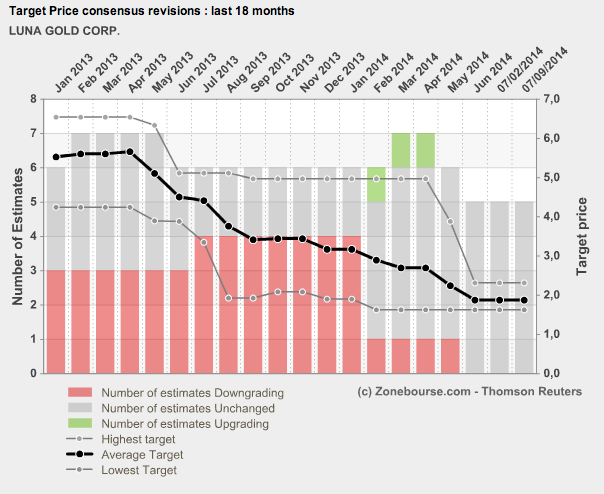 (Consensus Chart - 4-traders.com)
Shareholder breakdown suggests a healthy balance between institutional shareholders, Retail shareholders and Insiders. This distribution indicates faith in the long-term growth possibilities of Luna Gold.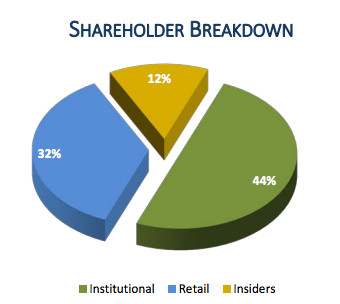 (Image source:Luna Gold - Corporate Presentation)
Why I think it might be the right time to consider Luna Gold Corp.
All in all, I like the potential of Luna Gold a lot and find the current valuation very attractive. The bottoming process of the gold price looks like it is in its final stages and Luna Gold does seem offer some protection if the Gold price would take a temporary downturn as it currently has sufficient funds to carry out its current mine plan. Apart from that it is also a low cost producer ($800-$900 all-in sustaining) and should be better positioned to endure any averse gold price circumstances at this point in time. Add to that the prospect of becoming a mid-tier producer over the next two to three years and the enormous exploration potential it has, I'm finding it very hard not to be a shareholder right now.
I am also considering the fact that the various upcoming catalysts are aligned with the traditionally stronger performance of the gold price in the second half of the year. This could prove to be quite an explosive mix to the upside and far exceed the target valuation of around $2. As a long-term investor you might want to consider a first position in shares of Luna Gold Corp. at the current valuation, based on their long-term potential and shorter term catalysts.
Speculators however, might want to consider a possible imminent downturn in the gold price if the latter continues to fail in piercing through its current resistance at around $1330 per ounce, in which case they would wait until gold reaches a clear oversold signal before stepping in with a speculative position in order to be set for the upcoming catalysts.
If this short-term negative gold price scenario would play out, I would find it an excellent opportunity for a long-term investor to also consider the new buying opportunity and add to the long-term position.
When investing in small-cap stocks you should always consider the higher risks involved and the higher volatility of the stock price and the potential total loss of your investment. Your portfolio and investment decisions should be based on your own investment profile and risk appetite. Remember that this thesis on Luna Gold is subject to various factors beyond this author's control (management and execution risks, governmental interference, gold price environment, etc.); furthermore, this article is not to be interpreted as investment advice -- rather, as an idea to further investigate and do your own due diligence.
Disclosure: The author is long LGCUF. The author wrote this article themselves, and it expresses their own opinions. The author is not receiving compensation for it (other than from Seeking Alpha). The author has no business relationship with any company whose stock is mentioned in this article.
Editor's Note: This article discusses one or more securities that do not trade on a major U.S. exchange. Please be aware of the risks associated with these stocks.