We were all witnesses to Germany's 7-1 drubbing of the Brazilian National Team in the World Cup Semifinals on Wednesday. Without Thiago Silva, the Brazilian defense was left to its own sputtering devices. Needless to say, there was not much that Neymar could have done about this result. The Great Pelé may have only served to make the loss less embarrassing.
Now consider the current plight of Zynga Inc. (NASDAQ:ZNGA) While the demolition of Brazil's national team lasted 90 minutes of game-time plus some needless minutes of stoppage time, Zynga Inc. has had a rough go of it ever since their entry into life as a publicly traded company.
I documented Zynga Inc.'s struggles on my blog Market Eyewitness in early December of 2012. At the date of the piece, Zynga Inc.'s closing share price was a whopping $2.55. Their share price had dropped more than 75% since their IPO in December 2011. Around the time of the piece, two of Zynga's executives had left the company for greener pastures. Additionally, Zynga Inc. was already reeling from the brutal acquisition of OMGPOP. OMGPOP was the maker of a once-addictive social drawing game called Draw Something. Zynga had sought to rake in profits from the popularity of this trendy game.
Unfortunately, Zynga Inc. had made this acquisition at the time when Draw Something was at the peak of its popularity. The game's user-base and overall value fell sharply in the months following the acquisition. Subsequently, Zynga incurred a $95.5 million dollar impairment charge and a terrible net loss in their earnings report.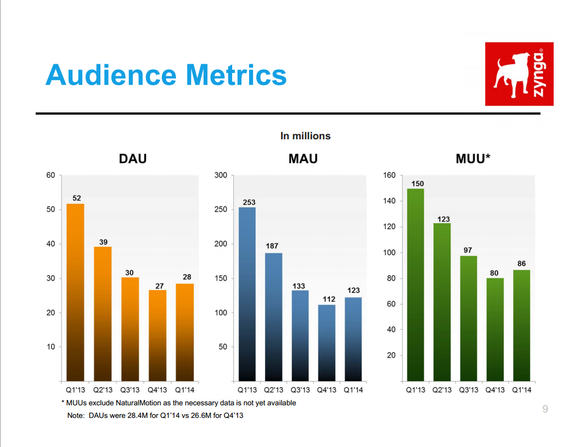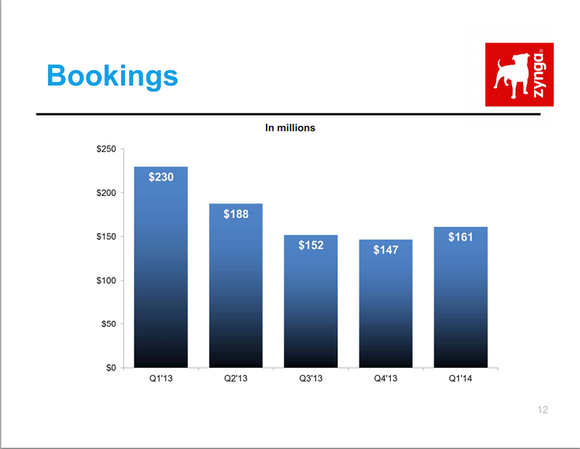 A year and a half later, things have not gotten much better for Zynga Inc.
In a move that suggested that the firm had more guts than brains, Zynga Inc. had previously tried to distance itself from Facebook (NASDAQ:FB) through a revised partnership agreement in which they gained the right to develop games for other key platforms.
Yet, 3/4th of Zynga's 2013 revenues still came from their games on Facebook. Additionally, Facebook was mainly responsible for the introduction of Zynga's software to many key players who played Zynga games outside of Facebook's platform. Thus, Zynga continues to have a heavy reliance on Facebook for its good fortune.
It is no secret that Zynga and Facebook no longer enjoy the comfy relationship that they once had as a result of the aforementioned agreement from 2012. It is also no secret that Facebook enjoys nearly all the leverage and control in the partnership and may either choose to place stricter boundaries on Zynga's development on the platform or end the partnership altogether.
The end of Zynga's presence on Facebook might be the final KO punch for Zynga. Thus, Zynga Inc. investors would be wise to keep an eye on the continued progress of King Digital Entertainment (BATS:KING) on the Facebook platform. Surely, there may be an increasing enticement for Facebook to just seek a partnership with King Digital as they have knocked Zynga Inc. off the pedestal as the top gaming company on the Facebook platform.
HINTS OF PROGRESS
Certainly, Zynga Inc. should be credited as its 2013 FY net loss was not nearly as it was in FY 2012. However, this is attributed to the slashing of R&D expenditures and SG&A expenditures. Surely, one key reason for the cut in SG&A expenditures involves the massive layoffs that took place during the summer of 2013 in which Zynga cut 18% of its workforce. Zynga cut R&D spending by $232 million dollars last year.
Additionally, Zynga Inc. reported improvements in its audience metrics and gross bookings for the first quarter of 2014: This can be seen below in the following graphs.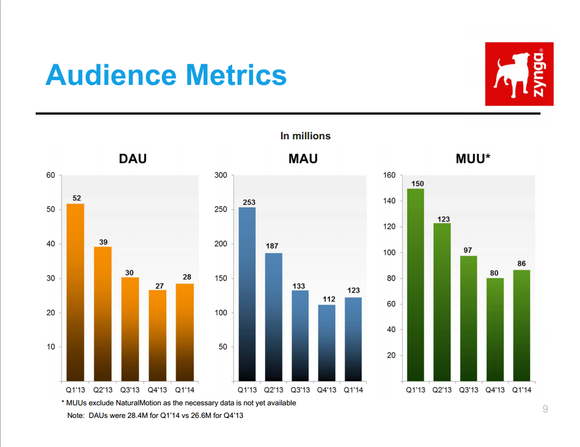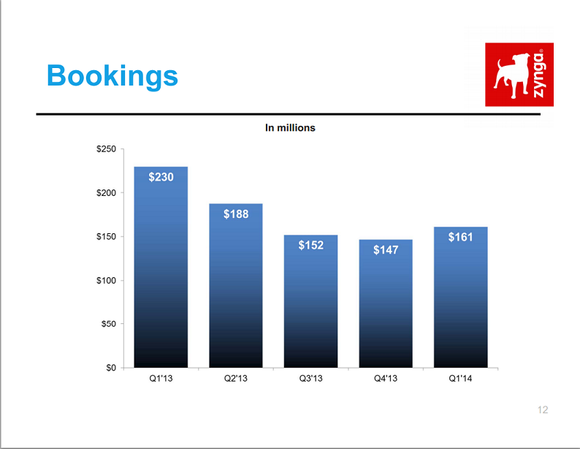 Additionally, Zynga Inc. seems to have duplicated its success with the Farmville franchise with Farmville 2: Country Escape. It has received more than 4 million downloads since its release. According to App Annie, the game has consistently hovered around the Top 20 overall in terms of grossing ranks for the iPhone. As can be seen by Google Trends, The game has continued to maintain its popularity for a significant period of time. Currently, it is in the Top 10 in grossing ranks on Google Play.
This brings us to another aspect of Zynga's progress: its mobile audience. In the first quarter, Zynga improved its monthly and daily mobile audiences by 45% and 23% respectively. The firm's core mobile audience grew by 11%. According to its first quarter 10-Q, the mobile platform accounted for 36% of Zynga's bookings and 31% of Zynga's revenue respectively. This represented an increase of 14% and 9% from the prior year.
BUT…..
While the aforementioned results hint at improvement, Zynga's revenue totals continue to decline with each passing quarter. Zynga's revenue total marks the eighth consecutive quarter of revenue decline. This could be seen in the graph below:

Furthermore, there are no signs of any other impactful hit games that could turn this firm into a real turnaround story.
In February 2014, Zynga acquired the mobile game company Natural Motion for $527 million in order to bolster its momentum in the mobile platform. While Natural Motion have had popular hits such as CSR Racing and Clumsy Ninja, these games appear to be fads that have had their time in the sun. They do not appear to have had nearly the same impact as Zynga's flagship games.
According to Google Trends, Clumsy Ninja appears to have faded in popularity by the time that Zynga Inc. had completed the acquisition. The same could be said for CSR Racing.
The decline could also be seen in Clumsy Ninja's app ranking in terms of downloads for the iPhone, according to App Annie. As of July 8th, Clumsy Ninja is ranked 616th in the U.S in terms of iPhone downloads. CSR Racing has tailored off as well, but is ranked 175th in iPhone downloads.
Zynga Inc. has made an honest effort to come up with another potential flagship game. Recent efforts include Zynga Poker - Texas HoldEm, Hit it Rich! Free Casino Slots and Duck Dynasty Slots.
According to App Annie, none of these games are in the Top 100 in terms of Google Play Charts in the free or paid categories. Clumsy Ninja and CSR Racing are also not included in that list. Besides Farmville 2, the only game in the Top 100 in iOS rankings for the iPhone or iPad is Words With Friends Pro.
BOTTOM LINE
While Zynga Inc. has worked aggressively to change their fortunes, they still appear to be the laggard in a competitive field that includes firms such as Super Cell, Glu Mobile (NASDAQ:GLUU), Electronic Arts (NASDAQ:EA) and King Digital Entertainment. . They may have a stalwart in Farmville 2. Yet, this fad will soon die out like all the rest. And once it does, it does not appear that Zynga has a strong heir-apparent to stem the eventual tide. Add the fact that most of Zynga's revenues (and consequently, their hopes) are still derived from the Facebook platform. The current agreement between Zynga and Facebook is expected to expire in 2015.
The risks still outweigh the rewards. As an investor, I would still be weary of Zynga Inc. at this time from a long-term perspective. Any investors that are currently in Zynga Inc. should hold their position until it gets to the range between $4.25 and $4.50. According to NASDAQ, the 12-month range for Zynga Inc. is $4.25. The median target according to the Financial Times is a rate of $4.50.
Make no mistake about it. Zynga Inc. has a lot more to prove before a turnaround could be deemed official.
Disclosure: The author has no positions in any stocks mentioned, and no plans to initiate any positions within the next 72 hours. The author wrote this article themselves, and it expresses their own opinions. The author is not receiving compensation for it (other than from Seeking Alpha). The author has no business relationship with any company whose stock is mentioned in this article.