I do not own shares of Bank of America (NYSE:BAC) right now, but I have in the past and could very well own them in the future. For the present however, holding shares of BAC could be precarious in many more ways than even I had anticipated.
While it is true that I have been negative on the stock for quite some time, I will try to simply state my case as to where I believe the stock is headed in the near to intermediate term, if not longer.
Nowhere.
The first time I opined that BAC was dead money I was held accountable with every uptick. Of course the down-ticks were ignored, and there also was a time when I even admitted I was wrong. In retrospect, I was not that wrong, but even more accurate than I gave myself credit for, in terms of comparative performance.
Let's Take A Look At The Numbers
A simple chart comparing Wells Fargo (NYSE:WFC) and BAC during the period of time I first stated that BAC was "dead money" is compelling.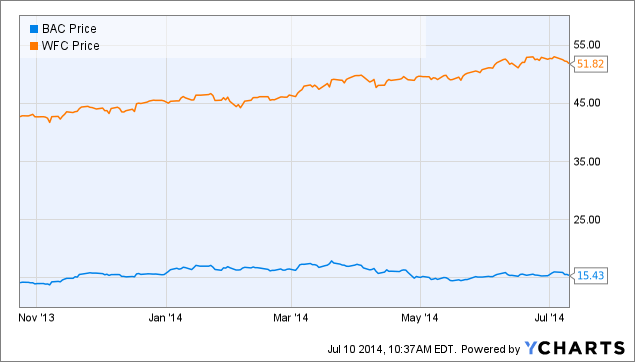 On 10/24/2013, BAC shares closed at $14.17 and as of this writing, sit at $15.40. Shareholders from that point, up to right now, have seen a $1.26 per share increase, or roughly 9.25%, including a one penny per share dividend paid for the last 3 quarters.
The S&P 500 has gone from 1752 to 1961 as of this writing. Add to that an average dividend of about 2.66% for the index, and investors in just the index have seen an overall increase of approximately 14.29% including the dividends for 3 quarters.
WFC shares closed at $42.69 and as of right now sits at $51.85. Shareholders have enjoyed a $9.16 increase, or roughly 24%, including the .35/share dividend paid over the last 3 quarters.
The net result is as follows:
BAC underperformed the total S&P 500 by about 5%.
BAC underperformed WFC by about 15%
BAC has gone up by about 9%, which is nothing to sneeze at and nothing to brag about in comparison to the S&P 500 as well as its peers. To me, that defines dead money. more accurately; money that could have been better spent.
Could The Citigroup (NYSE:C) Settlement Impact BAC?
As everyone knows, Citigroup is about to settle with the Department of Justice for a rumored $7 billion, or over 70% more than what C had offered and 70% less than what was originally demanded. They split the difference. While some analysts have lowered their forecasts for C, I believe it was prudent for C to settle, even though the bank was not even on the radar as far as the mortgage mess was concerned when compared to BAC.
It basically puts the issue to bed.
Now it seems that Brian Moynihan reached out to Eric Holder to discuss settlement terms for BAC, and Mr. Holder gave the "finger" to the CEO and Bank of America!
U.S. Attorney General Eric Holder has formally refused to meet with Bank of America Corp Chief Executive Brian Moynihan to hammer out a multibillion-dollar deal, as talks to resolve probes into shoddy mortgage securities sold by the bank and its units remain at a standstill, according to people familiar with the matter.
While another article written today by my friend and colleague Josh Arnold, stated that the bank gave regulators the "finger", to me it seems as though the government has chosen to bite that finger off, by virtue of Holder's formal refusal.
I would say that things are more up in the air for BAC than before all of this, even with the new plan that the bank has delivered to the regulators.
Bank of America Corp has asked regulators to approve a higher quarterly dividend of 5 cents per share after it withdrew a previously planned increase in April, the Wall Street Journal reported on Wednesday, citing people familiar with the matter.
While a dividend increase is sorely needed for shareholders, the question now becomes at what price will an increase have, even if approved? To me it appears that the threat of BAC going to court over the amount of money the DoJ has demanded to settle the mortgage issues ($17 billion versus the offered $12 billion), is now either very much more of a reality, or BAC will have to fork over pretty darn close to the $17 billion that the DoJ demands.
The issue for BAC has not been settled and could very well drag on indefinitely, no matter whom gives the finger to whom.
The Bottom Line
If I were a shareholder of BAC I would seek greener (or calmer) pastures for now. If I was an investor who was thinking that BAC is cheap at the current share price and a bargain to buy right now, I might want to understand that the bargain might be greater as time goes by, or at best, the bargain will be the same for quite some time.
I have no idea how long a court proceeding would take, but it does appear that the finger has now been placed in Brian Moynihan's ear by Eric Holder.
This cannot be a positive for BAC stock folks, but then again, perhaps I am wrong, right?
Disclaimer: The opinions of this author is not a recommendation to either buy or sell any security. Please remember to do your own research prior to making any investment decisions.
Disclosure: The author is long WFC. The author wrote this article themselves, and it expresses their own opinions. The author is not receiving compensation for it (other than from Seeking Alpha). The author has no business relationship with any company whose stock is mentioned in this article.