By David Russell
Kinetic Concepts (NYSE:KCI) is getting routed on a negative court ruling today, and traders are positioning for more downside.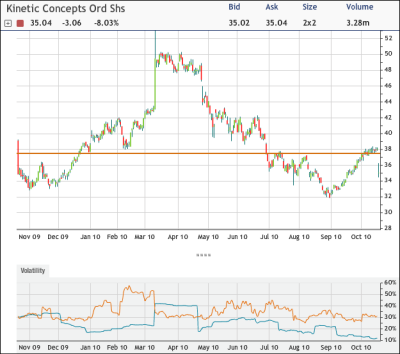 optionMONSTER's Depth Charge tracking system detected the purchase of more than 5,000 January 2012 30 puts, most of which priced for $4.10. Volume was more than 120 times open interest in the strike.
KCI fell 8.03 percent to $35.04 in late morning trading and gapped lower after a federal judge threw out patents for a wound-dressing device. The decision favored a British rival selling similar products.
The US company had rallied 19 percent gain from the beginning of the September when the session began but has rolled over at the same $38.70 level that was support in June (orange line on chart). It's been making lower lows and lower highs since March, which some chart watchers may consider evidence of a bearish trend.
The puts bought today will turn a profit if KCI falls another 26 percent by expiration. They could also make money if the stock continues lower in the near term and volatility increases.
Overall options volume in the medical-devices company is 72 times greater than average so far today, with puts accounting for a bearish 91 percent of the activity, according to Depth Charge.
Disclosure: No position