By Craig Bowles
Overview
Johnson & Johnson (NYSE:JNJ) is slated to report Q2 2014 earnings before the opening bell on Tuesday, July 15th. The earnings release is expected at approximately 7:45 a.m. EST, with a conference call to follow at 8:30 a.m. that is webcast through J&J Investor Relations. A member of the Dow Jones Industrial Average, J&J has significant market influence and the potential to impact the broader market gauges.
Outliers & Strategy
Key measures:
Adjusted Earnings Per Share & Earnings Per Share Excluding Items: The values for both measures are typically the same and are comparable to consensus estimates. The current Street estimate is $1.54 (range $1.45 to $1.64) (Source: Yahoo Finance). JNJ has beaten estimates by 4-9c the last four quarters.
Revenues: Analysts expect an increase of 5.5% y/y to $18.86 billion (range $18.55 billion to $19.18 billion).
Adjusted Earnings Per Share Guidance / Earnings Per Share Guidance (FY2014).
2014 full-year earnings guidance of $5.80-$5.90 per share compares to the current Street estimate of $5.89.
In the wake of the recent run-up, J&J shares are beginning to show relatively high valuations. The stock is yielding 2.60%, compared to a 5-year average of 3.2%; a P/E of 20.0 compares to a 5-year average of 16.7; Price/Sales of 4.2 compares to a 5-year average of 3.0; Price/Cash flow of 15.8 compares to a 5-year average of 13.6.
J&J shares tend to see minimal movement off earnings, with the 1-day average price change on earnings of just 1.27%. Options are pricing in an implied move of 1.42% off earnings.
Recent News
07/02: J&J settled its first state deceptive marketing claim over recalled metal-on-metal hip implants and will pay Oregon $4 million, according to a post by Bloomberg.com.
07/02: J&J's DePuy Synthes medical device unit that was purchased two years ago is undergoing reorganization and cutting 400 employees, according to a post on WSJ.com.
06/19: Warren Buffett heads the list of gurus holding J&J stock, according to a post on Forbes.com.
06/01: Johnson & Johnson was among the companies fined for price fixing in China's contact lens and eye-glass market, according to a post by Bloomberg.com.
05/23: Morgan Stanley reiterated an Equal-Weight noting gains on surgery segments competition and that management has been more emphatic about its robotic strategy, which could be unveiled within 12 months, according to a post by Benzinga.com.
04/01: Jim Cramer believes Johnson & Johnson's selling its Ortho-Clinical Diagnostics business to The Carlyle Group for $4 billion will lead to a buyback of "a huge amount of stock", according to a post on TheStreet.com. (J&J previously has done a few $10 billion and above buybacks since 2007, so is one of the more aggressive companies in this area.)
Technical Review
J&J was relatively flat the last decade, and now shows two years of upside, so the stock is one of those textbook examples of a breakout from multi-year consolidation where duration is so often underestimated. May built support at $100, with a larger support area around $90. (Chart courtesy of StockCharts.com)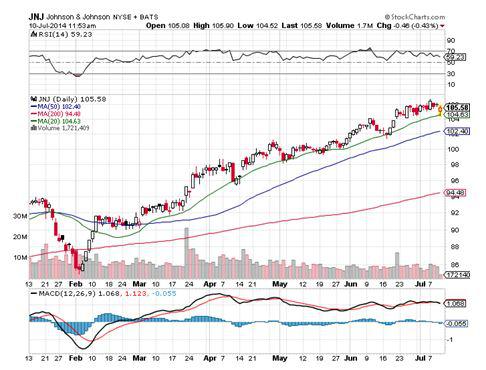 Summary
Since March, J&J shares are breaking out to the upside, while Pfizer softened looks similar to Wells Fargo vs. the other banks after announcing the stock buyback. J&J hasn't announced a buyback, but does have some speculation that it will. J&J has beaten estimates by 4-9c the last four quarters, but something more in-line is expected this quarter, although you wouldn't know it by looking at the stock. Estimates edged higher after last quarter's increase of annual guidance, so another guidance increase isn't really expected to happen again. Earnings above $1.54 with revenue similar to expectations could be enough to keep the stock moving higher on hopes of dividend increases and the possibility of a stock buyback announcement.
DISCLAIMER: By using this report, you acknowledge that Selerity, Inc. is in no way liable for losses or gains arising out of commentary, analysis, and or data in this report. Your investment decisions and recommendations are made entirely at your discretion. Selerity does not own securities in companies that they write about, is not an investment adviser, and the content contained herein is not an endorsement to buy or sell any securities. No content published as part of this report constitutes a recommendation that any particular investment, security, portfolio of securities, transaction or investment strategy is suitable for any specific person.
Disclosure: The author has no positions in any stocks mentioned, and no plans to initiate any positions within the next 72 hours. The author wrote this article themselves, and it expresses their own opinions. The author is not receiving compensation for it (other than from Seeking Alpha). The author has no business relationship with any company whose stock is mentioned in this article.