With fears that financial problems are going to once again surface in Europe after the missed payment on commercial paper by one of Portugal's largest financial institutions, we are not at all surprised to see energy names taking a hit today. Any time economic growth is called into question one has to expect a pullback in oil, as strength in energy is usually coupled with strength in economic growth. We will be watching what Israel does over the next few days in regards to the ground forces they could use to put an end to the rocket attacks they have been experiencing.
Chart of the Day:
The rally in gold started yesterday after the Federal Reserve minutes were released and got another bump up, as investors reacted towards the European news. This is a small move towards safety, but if other banks in Europe are affected, we could see a much larger migration towards safety.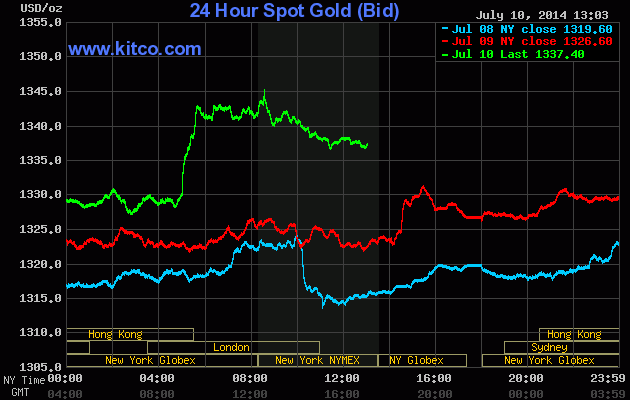 Source: Kitco
Commodity prices are as follows (at time of submission):
Gold: $1,337.70/ounce, up by $13.40/ounce
Silver: $21.43/ounce, up by $0.408/ounce
Oil: $102.32/barrel, up by $0.03/barrel
RBOB Gas: $2.9368/gallon, down by $0.0009/gallon
Natural Gas: $4.12/MMbtu, down by $0.05/MMbtu
Copper: $3.268/pound, up by $0.02/pound
Platinum: $1,515.80/ounce, up by $8.90/ounce
Precious Metals Markets
With financial fears being rekindled in Europe as problems in the debt market surface, specifically with Portugal's largest publicly traded bank, investors are seeking safety. The SPDR Gold Shares (NYSEARCA:GLD) and iShares Silver Trust (NYSEARCA:SLV) are both rising, as investors bid up both gold and silver on the back of the missed interest payment. With events unfolding in the Middle East pointing to Israel potentially using ground troops, this might be a trade with further room to run.
Right now, we are not extremely excited about precious metals; however, when faced between the decision of having to own physical gold or silver, we would choose silver due to its industrial use and potential to see demand increase if the economy continues to improve. Our favorite way to play metals right now is Freeport-McMoRan (NYSE:FCX), which has exposure to both gold and copper while also having an energy kicker that appears capable of driving both top and bottom line growth should metals markets stagnate.
Copper Plays
If one is of the opinion that both Freeport-McMoRan and Newmont Mining (NYSE:NEM) are going to botch their respective moves in Indonesia and continue to see production sidelined, then Southern Copper (NYSE:SCCO) might be a decent play for a few more quarters to play rising copper prices. For investors also of the opinion that the economic recovery taking place around the world will continue, with China strengthening, then copper seems a no brainer - and Southern Copper holds a lot of appeal in a market where copper prices are increasing.
Both Freeport-McMoRan and Newmont Mining are special situation plays, but right now we think Freeport-McMoRan is the better play for investors, as we think they will resolve their issues in a more timely manner.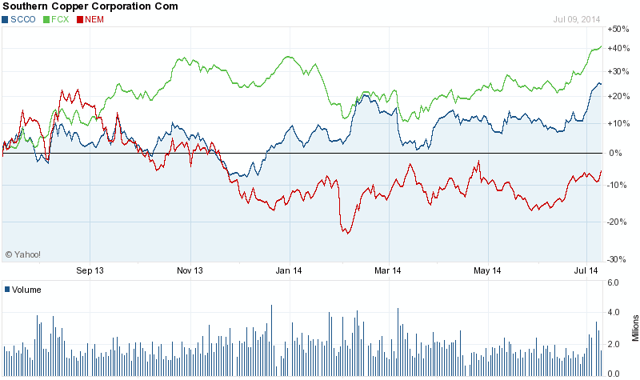 Source: Yahoo Finance
We would point out that Newmont is an interesting name because there continue to be talks of the company being a takeover candidate, or possibly moving to break-up the company into more focused plays on gold and copper. Freeport is our favorite name in the space, especially as it seems that they are about to reach an agreement to solve their export problems in Indonesia, but both Newmont and Southern Copper offer different angles on the market.
Disclosure: The author has no positions in any stocks mentioned, and no plans to initiate any positions within the next 72 hours. The author wrote this article themselves, and it expresses their own opinions. The author is not receiving compensation for it (other than from Seeking Alpha). The author has no business relationship with any company whose stock is mentioned in this article. FCX has previously been recommended.