While an argument can be made that the Obama Administration has been trying to redistribute wealth via the excessive fines being levied on US banks over the 2008 mortgage securities collapse, a less contentions space in which it operates is pursuing banks that violate Patriot Act, Anti Money Laundering, and OFAC regulations.
These protocols are all internationally recognized and have been signed by governments in the spirit of unity to combat terrorism, drug smuggling, and violations of ITAR (International Trafficking in Arms Regulations), among other protocols.
Will the BNP Paribas' $9 Billion Fine Be A Starting Point For Commerzbank and Deutsche Bank Penalties?
With the US $9 Billion fine that BNP Paribas (OTCQX:BNPQF) now faces, one has to wonder what the Department of Justice may have in mind for two German banks that are also now in the crosshairs of the Department of Justice: Commerzbank AG (OTCPK:CRZBY) and Deutsche Bank (NYSE:DB).
In the case of Commerzbank, the New York Times and Reuters have already reported that settlement talks had commenced. Commerzbank stands accused of Anti Money Laundering violations of over US$500 Million in wire transfers to Iran and Sudan, both nations of which are on watchlists for Islamic terrorist activity and support.
It is expected that a Justice Department deal with Commerzbank would withhold criminal charges in exchange for the fines. This is critical as any criminal charges could result in suspension of US dollar trading access, which would decimate any of Commerzbank's activities requiring settlement in US dollars, such as commodity transactions, US securities transactions, etc.
Subsequently, a Commerzbank deal would apparently pave the way for a comparable arrangement with Deutsche Bank. While the extent of Deutsche Bank's alleged violations has not yet been publicized, it would stand to reason that the Merkel administration is closely engaged with ensuring that Deutsche Bank's reputation and US dollar access remains untarnished and uninterrupted. With Deutsche Bank's intimate involvement with Euroclear, a US dollar access prohibition sanction could result in a domino effect for the EU.
Contrasts With BNP Sanctions Penalties
While the violations committed by Deutsche Bank and Commerzbank are clearly egregious, there are two factors to consider when comparing their infractions to that of BNP Paribas:
1) BNP Paribas' violations are estimated to total above US$190 Billion over a 10 year period with illegal transactions to Iran, Cuba and Sudan.
The $9 billion sanction and criminal charge guilty pleas equate to under 5% of the total amount of estimated financial wrongdoing. Using a similar ratio, Commerzbank's fine would be less than US$25 million, which is not nearly as damaging a sum to the bank's bottom line. One could reasonably conclude that Deutsche Bank's fine would be of comparable or lesser amount, which would impact Germany's #1 bank even less.
2) Germany is the leading economic power in the EU and Chancellor Andrea Merkel has strong domestic support, as opposed to France's President, Francois Hollande, whose poll numbers are around 15% approval rating. France's Credit Agricole, another major bank, is also being targeted by the US Department of Justice, so France's woes are expected to continue in an already weakened economic environment. Politically, Obama's current problems in handling Russian President Vladimir Putin's activities in the Ukraine make the maintenance of friendly relations with Angela Merkel even more vital to US interests.
Negative Impacts For Commerzbank, Deutsche Bank Stocks
Overall, the impact to Commerzbank's and Deutsche Bank's stocks are likely to dip, following announcements being made of settlements, but nowhere near the 10% BNP drop.
Both CRZBY and DB have declined YTD.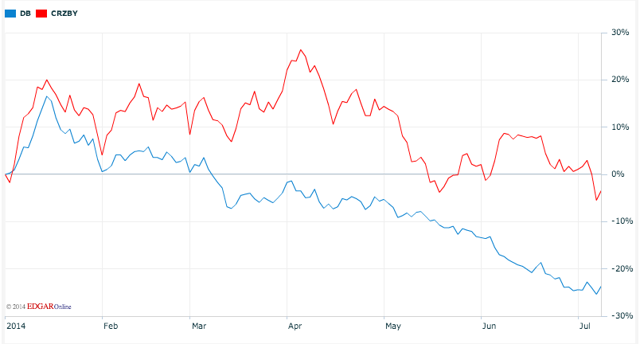 (Nasdaq.com)
If Eric Holder and company apply a fairness ratio and the investigations uncover no further wrongdoing, any stock price depression could be temporary due to the much lower level of illegal transactions and Germany's geopolitical importance to the Obama Administration at the moment.
However, Deutsche Bank also missed revenues expectations by a significant $178 million last quarter, and missed expectations for both revenues and earnings three out of the past five quarters.
Deutsche Bank's dividends are solid yet spotty, compared with Commerzbank's more consistent payouts.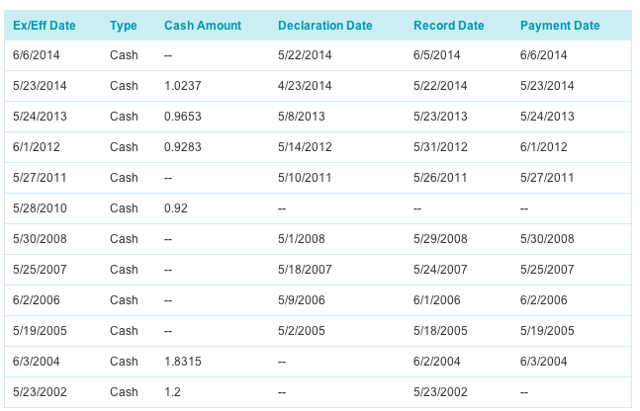 (Nasdaq.com)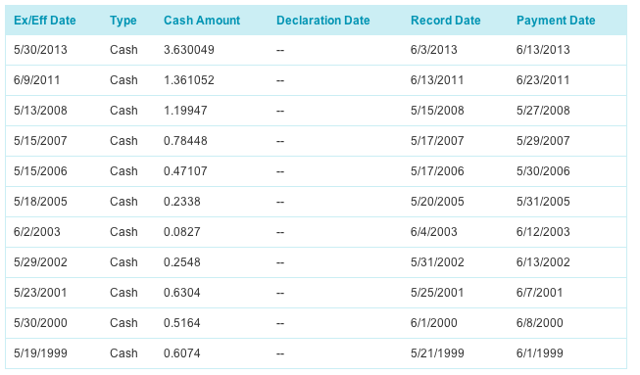 (Nasdaq.com)
Given that this negative news will take time to play out, we suggest investors steer clear of both stocks, particularly Deutsche Bank in the near-term.
Alternative investments in financial institutions could include Morgan Stanley (MS) and Heritage Insurance (NYSE:HRTG)-both of which have shown strong results YTD and have avoided scandal.
We invite readers wishing to join the discussion on mega-bank settlements to click the +Follow button above the title of this article and those looking for the latest updates to click +Get real time alerts.
Disclosure: The author is long HRTG. The author wrote this article themselves, and it expresses their own opinions. The author is not receiving compensation for it (other than from Seeking Alpha). The author has no business relationship with any company whose stock is mentioned in this article.
Editor's Note: This article discusses one or more securities that do not trade on a major U.S. exchange. Please be aware of the risks associated with these stocks.