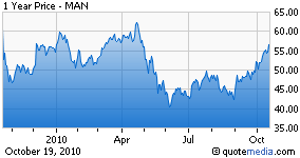 Click to enlargeManpower Inc. (NYSE:MAN) is scheduled to report its third-quarter 2010 financial results before the bell on Wednesday, October 20, 2010. The current Zacks Consensus Estimate for the quarter is 47 cents a share.
We believe that the company is better positioned than its competitors for the economic recovery. The company's comprehensive range of services makes it a true global staffing firm.
Second-Quarter 2010, A Synopsis
Manpower posted better-than-expected second-quarter 2010 results that topped the Zacks expectation on the heels of revenue growth across all geographies due to improvement in the global job markets, and the acquisition of technology staffing firm COMSYS.
The quarterly earnings outpaced the Zacks Consensus Estimate and rose nearly twofold from the prior-year quarter. Foreign currency fluctuation negatively impacted net earnings modestly.

Milwaukee, Wisconsin based company, Manpower, said that total revenue for the quarter soared 20.9% year-over-year to $4,585.6 million, and 23.7% in constant currency.
Guidance
Riding on the back of robust results, Manpower now expects third-quarter 2010 earnings in the range of 41 cents to 51 cents a share, including a foreign currency headwind of 4 cents. Management has forecasted a total revenue growth of 20% to 22% in constant currency for the second quarter.
Third-Quarter 2010 Consensus
Analysts surveyed by Zacks, expect Manpower to post third-quarter 2010 earnings of 47 cents a share that remains at the high-end of the company's guidance range. The current Zacks Consensus Estimate represents a year-over-year growth of 80.8%. The estimates in the current Zacks Consensus for the quarter range from a low of 42 cents to a high of 53 cents.
The current Zacks Consensus Estimate has remained stagnant over the last 30 days, with none of the 14 analysts covering the stock having revised their estimates. In the last 7 days too, no analysts have revisited their estimates keeping the consensus unchanged.
With respect to earnings surprises, Manpower has topped the Zacks Consensus Estimate over the last four quarters in the range from 52.9% to 157.1%. The average remained at 96.9%. This suggests that Manpower has outperformed the Zacks Consensus Estimate by an average of 96.9% in the last four quarters.
Manpower in Neutral Lane
Manpower's brand value and strong global network provide a competitive advantage and reinforces its dominant position in the market. Manpower leverages a strong network of 3,950 offices in 82 countries and serves approximately 400,000 clients.
The company provides services for the entire employment and business cycle including permanent, temporary and contract recruitment, employee assessment and selection, training, outplacement, outsourcing and consulting.
Manpower stands to benefit from growth prospects in under-penetrated staffing markets. The company indicated that Germany, Sweden, U.K., Canada, Mexico, France and Italy all witnessed robust revenue growth during second-quarter 2010. Despite the recent economic downturn, the company's U.S. operations also registered revenue growth.
With improvement in the economic conditions, the company's staffing business is also stabilizing. However, Manpower's Right Management and Jefferson Wells brands continue to struggle. Right Management witnessed a fall in demand for the counter-cyclical outplacement services, whereas Jefferson Wells that offers professional financial services continues to portray sluggish demand as companies still remain conscious of discretionary spending. Moreover, Manpower also notified that the operating environment in France (contributing 29% of total revenue during fiscal 2009) remains highly competitive.
Given the pros and cons, we prefer to be Neutral at this juncture. Moreover, Manpower holds a Zacks #3 Rank, which translates into a short-term 'Hold' recommendation, and correlates with our long-term view.
Disclosure: No position