Recently, the Michael J. Fox Foundation for Parkinson's Research awarded Cynapsus Therapeutics (CYNAF) (TSX:CTH.V) a $500,000 grant to support clinical studies for Cynapsus' lead program, APL-130277, a sublingual (oral) thin-strip reformation of apomorphine. $500,000 may seem relatively small for FDA trial funding purposes, but any non-dilutive capital for a developmental-stage biotech is manna from heaven.
In addition to the most recent grant, the Michael J. Fox Foundation previously awarded Cynapsus with a $947,925 grant to complete a comparative study of APL-130277 versus subcutaneous injection. The positive results from that study were compelling, as the following statements from the company suggest:
"Results from this CTH103 clinical study are an important de-risking event for our product and set the stage for completing in the next two years the clinical requirements for qualifying APL-130277 for a 505(b)(2) New Drug Application. Importantly, the data indicate that APL-130277 may have advantages over an injectable product (i.e. apomorphine hydrochloride subcutaneous injection, Apokyn® or Apo-Go®) by reducing the frequency and intensity of side effects including nausea and vomiting versus those commonly reported for a subcutaneous injectable formulation. The results also suggest that APL-130277 exhibits comparable time to maximal concentrations in the blood and therapeutic plasma levels that are similar or longer than those seen following subcutaneous injection."
As a biotech investor, I look first at the science. If the science is good, success usually follows. So, from an investor's perspective, validation of the science is key. The relevance of Cynapsus obtaining approximately $1.5 million from the Michael J. Fox Foundation goes beyond access to non-dilutive capital. It means a team of top Parkinson's experts has reviewed Cynapsus' program and supports major funding based on their findings. Let's see what they're getting for their money.
Parkinson's Disease
From the Mayo Clinic website, Parkinson's disease is a progressive disorder of the nervous system. It develops gradually, usually with just a light tremor. Parkinson's disease worsens as the condition progresses over time. Parkinson's symptoms may include:
Tremor. Your tremor, or shaking, usually begins in a limb, often your hand or fingers.
Slowed movement (bradykinesia). Over time, Parkinson's disease may reduce your ability to move and slow your movement, making simple tasks difficult and time-consuming. Your steps may become shorter when you walk, or you may find it difficult to get out of a chair. Also, you may drag your feet as you try to walk, making it difficult to move.
Rigid muscles. Muscle stiffness may occur in any part of your body. The stiff muscles can limit your range of motion and cause you pain.
Impaired posture and balance. Your posture may become stooped, or you may have balance problems as a result of Parkinson's disease.
Loss of automatic movements. In Parkinson's disease, you may have a decreased ability to perform unconscious movements, including blinking, smiling or swinging your arms when you walk. You may no longer gesture when talking.
Speech changes. You may have speech problems as a result of Parkinson's disease. You may speak softly, quickly, slur or hesitate before talking. Your speech may be more of a monotone rather than with the usual inflections.
Writing changes. Writing may appear small and become difficult.
There is no cure for Parkinson's disease, but medications may greatly reduce the symptoms. The medications increase or substitute for dopamine, a neurotransmitter in your brain that is in low concentrations in Parkinson's patients. Patients have "off" episodes, which are periods of time when the symptoms reemerge despite taking medications. Up to 50% of patients with Parkinson's experience daily fluctuations in performing motor activities. The only approved drug to be used as a rescue therapy for "off" motor symptoms is apomorphine. Apomorphine is currently only available by subcutaneous injection.
The above information is taken directly from Mayo Clinic's medical website and could have been summarized with a link, but it's worth including in its entirety here given its importance to the thesis. Given the severity of the symptoms, Parkinson's patients have difficulty functioning when their maintenance medications are not working, which can be on a regular, daily basis. It's worth repeating, their only option currently is to give themselves a shot, similar to insulin shots for a diabetic. Sticking a needle into the body on a regular basis can be a difficult and unpleasant experience. As a result, a large percentage of patients go untreated for their "off" episodes, particularly the elderly.
Per Cynapsus' Annual Information Form;
Over one million people in the U.S. and an estimated 4 to 6 million people globally suffer from Parkinson's disease. Based on a recent study and the results of the Corporation's Global 500 Neurologists Survey, it is estimated that between 25 percent and 50 percent of patients experience "off" episodes in which they have impaired movement or speaking capabilities.
Obviously, the market potential for an oral product versus an injectable product that offers the same or better efficacy level that will treat "off" episodes for Parkinson's patients is huge.
APL-130277
Cynapsus' key product, APL-130277, is a patented apomorphine delivery system offering ease of use and pharmacokinetic properties suitable as a rescue therapy to treat off-episodes in patients with Parkinson's disease. APL-130277 is a sublingual, thin-film strip containing apomorphine, buffer and absorption enhancers, which rapidly dissolves when placed under the tongue. Cynapsus' strategy is simple. It is pursuing the reformulation of apomorphine from a subcutaneous injection to a convenient and more tolerable and safe sublingual thin-film strip.
Per Cynapsus's website, APL-130277 qualifies for the 505(b)(2) approval pathway with Apokyn® (apomorphine hydrochloride injection) as the Reference Listed Drug (RLD). A 505(b)(2) is a new drug application which contains full safety and effectiveness reports, but allows at least some of the information required for approval to come from studies not conducted by or for the applicant. This method gains approval for new drugs in a fraction of the time and cost required by traditional paths.
Trial Update
The 505(b)(2) pathway requires Cynapsus to provide statistically sufficient clinical evidence that Parkinson's patients experience management of their "off" episodes as a result of delivery of apomorphine via the sublingual thin-film strip route. The primary end-point will be based on changes in the Unified Parkinson's Disease Rating Scale Part III (UPDRS III) movement score. In addition, Cynapsus is required to provide in a separate study, statistically sufficient clinical evidence that administering apomorphine via a sublingual thin-film route results in Parkinson's patients experiencing low-to-no oral irritation as a result of multiple daily exposures to the drug for an extended period.
The following trials, as outlined in Cynapsus' most recent Annual Information Form, are designed to meet the FDA requirements for NDA submission:
CTH-105 Pilot Study. A pilot study in patients with Parkinson's disease who are naive to the use of apomorphine and who experience at least one daily "off" episode, with a total "off" duration in any 24-hour period of at least 2 hours. This study is planned to examine the effect of APL-130277 on relieving "off" episodes over a single day, with a dose-titration used to determine dose strengths necessary for future clinical development. CTH-105 is expected to be completed by the end of Q3 2014. The grant from the Michael J. Fox Foundation will be used to fund the CTH-105 study. The study will assist Cynapsus with dosing information required for the CTH-300a registration study, which is expected to begin in Q4 2014.
CTH-200 Bridging Study. The study is designed to provide the clinical "bridge" to the FDA's finding of safety and efficacy for apomorphine. The CTH-200 Bridging Study is expected to begin subsequent to completion of CTH-105. It is expected to be complete by the end of Q3 2014, and is required under the FDA's 505(b)(2) regulations to demonstrate comparability to the reference listed drug.
CTH-300a Efficacy Study in apomorphine-naïve patients. A double-blind, placebo-controlled, parallel-design study with Parkinson's patients who have at least one "off" episode every 24 hours, with total "off" time of at least 2 hours.
CTH-300b Efficacy Study in apomorphine-experienced patients. A double blind, placebo-controlled, crossover-designed study with Parkinson's patients who are presently controlled with the use of apomorphine. Upon successful completion of CTH-300a and CTH-300b, Cynapsus will provide the results to the FDA and request a meeting to seek final guidance for the design of the Safety Study (CTH-301).
CTH-301 Safety Study. A long-term safety study in apomorphine-naive Parkinson's patients who have at least one "off" episode every 24 hours, with total "off" time of at least 2 hours. The Safety Study is expected to start in early 2015 and be completed by the end of 2015. The study will specifically look at the safety and tolerability of the new delivery route over a minimum period of 16 weeks.
Prior proof-of-concept studies have shown strong positive results. The FDA NDA submission is anticipated in 2016 after completion of the 5 referenced trials, assuming APL-130277 continues to demonstrate efficacy and safety, which is likely, based on results to-date.
Cash Runway
Cynapsus' stock price took a hit in April, as the graph below reflects, due to the announcement of a dilutive capital raise.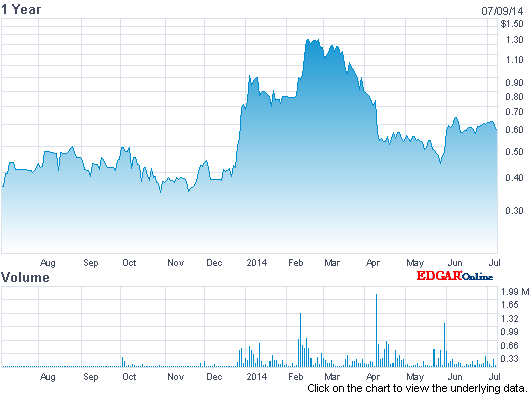 The pullback has created a buying opportunity for new investors.
The capital raise, which included institutional investors, grossed $25 million, which should provide sufficient cash for Cynapsus to complete clinical development of APL-130277.
Cynapsus issued an aggregate of 38,461,538 units at a price of $.65 per unit, with each unit consisting of one common share and one common share warrant. Each warrant entitles the holder to purchase one common stock for $.81 per warrant share for a period of 60 days after closing of the offering. It should be noted that Cynapsus' current stock price is below the offering price of the financing.
As another vote of confidence in the potential success of APL-130277, Dexcel Pharma, an international specialty pharmaceutical company and a significant shareholder of Cynapsus, subscribed for 6,153,846 units with a subscription price of $4 million. After the offering, Dexcel Pharma's ownership interest in Cynapsus was 17%.
Conclusion
Cynapsus Therapeutics is a little-known Canadian biotech working on a big problem; a better process for administering apomorphine to Parkinson's patients. Results to-date have been very promising. If the remaining trials prove successful, a substantial return on investment is almost assured. An established international pharmaceutical company (one of the largest in Israel) continues to increase ownership in the company, and a large, established charity for Parkinson's disease continues to provide substantial funding, both meaningful votes of confidence in Cynapsus' ultimate success.
With a market cap of only approximately $46 million (not including dilutive shares), Cynapsus appears considerably undervalued, based on the probability of success and the market potential, if successful. Cynapsus continues to be a key holding in my biotech portfolio, with the potential to generate substantial returns over a two-year period.
Admittedly, most of the content in this article consists of public information hopefully presented in a coherent, easy-to-follow format. However, that speaks to the validity and soundness of the thesis. The story is compelling in and of itself, and needs little embellishment or depth of analysis for support. Some of the best investment ideas follow the KISS Principle, and Cynapsus is no exception.
Disclosure: Nothing in this article constitutes investment advice or any recommendation with respect to a particular security. Investing in developmental-stage biotechs is highly speculative and risky. The road to commercialization is long, and full of peaks and valleys. Take profits when offered, and most importantly, diversify.
Disclosure: The author is long CYNAF. The author wrote this article themselves, and it expresses their own opinions. The author is not receiving compensation for it (other than from Seeking Alpha). The author has no business relationship with any company whose stock is mentioned in this article.
Editor's Note: This article covers one or more stocks trading at less than $1 per share and/or with less than a $100 million market cap. Please be aware of the risks associated with these stocks.