When scouring biotechnology stocks to invest in, I look for undervalued companies that are developing or have approved drugs to treat diseases with high unmet clinical need with the potential to reach blockbuster status (a drug with over $1 Billion in annual sales). Even more helpful in predicting the success of a recently approved drug is analyzing the performance of inferior drugs currently on the market. For example, Vertex's Hepatitis C drug Incivek achieved over $1 Billion in sales in 2012 before being completely abandoned in 2014 with the rise of Gilead's Sovaldi. I believe I've found a drug that meets these criteria in Medivation's (NASDAQ:MDVN) prostate cancer drug Xtandi. Medivation's current market cap of $5.8 Billion provides investors a good opportunity to invest in a company with significant upside and a drug destined to enter the exclusive blockbuster club.
Data Predicts Xtandi Will Dominate Prostate Cancer Market
In the United States, prostate cancer is the most common type of cancer in men with over 200,000 new cases diagnosed annually. Although generally not presented until later in life, prostate cancer remains a challenging disease with high unmet clinical need. It is the second leading cause of cancer death in men with over 30,000 deaths a year attributed to the disease. Due to the significant number of men affected, it is not surprising that the prostate cancer treatment market in the US is ~$12 Billion annually. The treatment regimen for metastatic castrate resistant prostate cancer (mCRPC) typically follows specific steps. Most men with mCRPC are initially treated with androgen deprivation therapy to reduce the level of androgens in the body that fuel prostate cancer cell growth. This treatment typically slows the progression of prostate cancer but does not cure it and eventually stops working. Chemotherapy using docetaxel is administered once hormone therapy has failed, which similarly extends life but is unlikely to result in a cure and can have extensive side-effects. I wrote an article less than a month ago detailing BIND Therapeutics' (NASDAQ:BIND) nanoparticle targeting strategy to enhance the efficacy and reduce the side-effects of docetaxel in prostate cancer. Since the article, the stock approached an ~50% gain before settling up ~30% at $11.50 per share.
Medivation's drug Xtandi (Enzalutamide) is an androgen receptor antagonist which is clinically effective in mCRPC. The Astellas co-developed drug was approved in December 2012 for mCRPC following docetaxel treatment. The trial was halted early when it was determined that patients taking Xtandi were living ~5 months longer than on placebo. To further expand the drugs label, a clinical trial detailing the drug's effectiveness in chemotherapy-naïve patients was conducted. Recent Phase III results revealed impressive data with interim analysis showing duration of treatment being 12 months longer in Xtandi treated patients than placebo. In addition, radiographic progression-free survival was 10 months longer in Xtandi than placebo and most importantly risk of death was improved 29%, with an estimated 32.4 months median overall survival in the Xtandi arm, compared with an estimated 30.2 months for the placebo arm (HR=0.706; p<0.0001). This survival advantage was seen despite the fact that ~30% more patients in the placebo group received at least one subsequent life saving event. As in the previous study, this trial was stopped early due to the overwhelming efficacy. The results have been published in the prestigious New England Journal of Medicine and submitted to the FDA with a review date of September. This will be a no brainer for approval and label expansion, and a significant catalyst for the stock.
Blockbuster Competition
As I stated earlier, when trying to judge how well a drug with superior efficacy will perform in the market it is always a good idea to analyze the performance of competing drugs. In this case, the competition is Johnson & Johnson's (NYSE:JNJ) Zytiga. Also an anti-androgen, the drug has been approved for both pre- and post-chemotherapy. To illustrate the potential of Xtandi, Zytiga did $1.7 Billion in sales in 2013 and over $500 million in Q1 2014. Looking over the data from the chemotherapy-naïve clinical trial of Xtandi and Zytiga, Xtandi provides several benefits which I believe will allow it to overtake Zytiga in sales once approved for the larger chemotherapy-naïve patient population.
Median time to initiate chemotherapy was much longer on Xtandi (17.2-month benefit over placebo) than Zytiga (8.4-month benefit over placebo)
Radiographic progression-free survival was slightly longer in Xtandi than Zytiga
Overall survival was statistically significant in the Xtandi trial and not the Zytiga trial
Ease of use benefits Xtandi as it doesn't require any corticosteroid treatment and doesn't have restrictions on eating or drinking before taking the medication.
The clinical trial data seems to benefit Xtandi over Zytiga in every possible metric. I'm sure urologists and oncologists will agree. In accordance, on Medivation's last conference call they stated they were already seeing Xtandi eating into Zytiga's sales and doctors switching over. Johnson & Johnson is adamant that most doctors are using Xtandi following Zytiga treatment, but that seems unlikely.
Sales Set to Explode
Although only currently approved for treatment following docetaxel therapy, Xtandi is off to an impressive start. There have been 79,000 pill bottles filled from over 5,700 prescribers, illustrating strong uptake.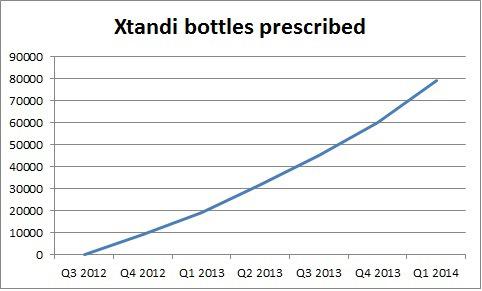 *Chart created in Microsoft Excel
In addition, revenue from both the US and internationally have been climbing rapidly, reaching $172 Million in Q1 2014. Therefore, the drug is on pace to come close to $1 Billion in sales even without the expanded label.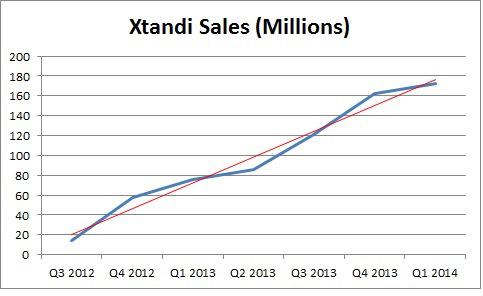 *Chart created in Microsoft Excel
When approved for chemotherapy-naïve patients in September, sales will increase dramatically. Astellas and Medivation split the revenue for Xtandi and share in the marketing and sales expenses. Importantly, in addition to splitting the revenue, Medivation receives payments upon reaching various milestones with over $550 million in development and sales objectives still available. For example, as stated in the last earnings call, they have already achieved $47 million in milestones for Q2 2014 and due a $50 million milestone payment when sales reach $800 million. It's fair to say we can be pretty confident Medivation will pocket all the sales milestone payments.
Pipeline
In addition to expanding the label of Xtandi in prostate cancer, there are also clinical trials ongoing for Xtandi treatment in breast cancer that expresses the androgen receptor. Medivation has also recently licensed technology from OncoFusion Therapeutics to develop BET bromodomain inhibitors. These inhibitors bind downstream of the target for hormonal therapies in mCRPC and have been shown to be effective in androgen resistant preclinical models. Therefore, one possibility is patients could be treated with BET bromodomain inhibitors following androgen treatment failure or in combination with Xtandi. With over $200 million in cash and significant revenue on the way, don't be surprised to see Medivation expand its clinical pipeline by R&D investment or acquisitions.
Conclusion
Medivation currently provides investors an opportunity to buy in at a reasonable price point before Xtandi sales skyrocket following expanded label approval in September. With Xtandi on pace to come close to blockbuster status by the end of this year, it is hard to imagine sales not reaching over $2 Billion by 2016. Especially since Xtandi trial data appears to outperform Zytiga in all aspects. Having a blockbuster drug with the possibility to expand its label with other indications and cancer types, and an affordable market cap of $5.8 Billion, makes Medivation not just a sound investment but a prime acquisition target. Look for $100 price target in next 3 months.
Disclosure: The author is long MDVN, BIND. The author wrote this article themselves, and it expresses their own opinions. The author is not receiving compensation for it. The author has no business relationship with any company whose stock is mentioned in this article.