There are some sectors that are heaven for income investors and the pharmaceutical sector is one of these. Companies operating in this sector are usually good dividend payers - massive operations and solid product portfolios allow these companies to have stable revenues and healthy growth in cash flows. As a result, these companies distribute a considerable portion of these cash flows to their investors in the form of dividends. Pfizer (NYSE:PFE) has a reputable name in the pharmaceutical industry, and the same goes for its dividends. The company pays an annual dividend of $1.04 per share and currently has an attractive dividend yield of 3.5%. This article is focused on the growth potential of the company's dividends and we will try to determine whether it is a good dividend investment or not.
Dividend Performance
Pfizer has been one of the most consistent dividend payers - however, the company had to cut dividends in 2009 when it decided to buy Wyeth - in 2009, Pfizer was paying 32 cents in quarterly dividend and the company decided to cut dividends in half. However, since the dividend cut, the company has been growing its quarterly dividend at a consistent rate of 2 cents every year - Pfizer increases its dividend in the first quarter of the year.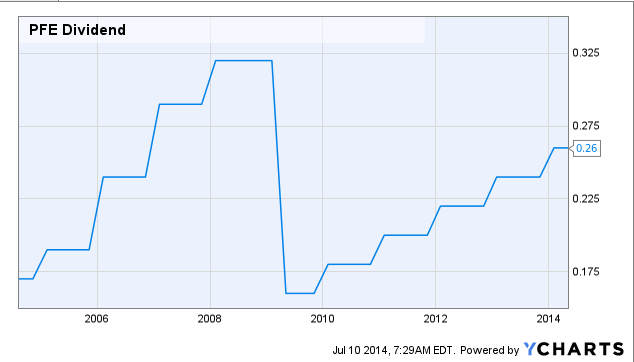 The above graph shows the trend in dividends over the last 10 years. This kind of standardization in dividends should also contribute to stability in the stock price which every dividend hunter requires, as this takes out the element of surprise.
We have seen by the company's past strategy that acquisitions are a priority as compared to dividends. In other words, there is a possibility of dividends getting chopped again if the company decides to make another acquisition. In May, Pfizer tried to acquire AstraZeneca (NYSE:AZN) for around $119 billion in stock and cash but this offer was rejected. So investors need to know if the company has enough financial muscle to fund these kinds of acquisitions and if there is any possibility of history repeating itself. For this reason, we have conducted a free cash flow analysis with respect to dividends.
Free Cash Flow and Dividend Analysis
Free cash flows for the trailing twelve months stood at just under $17 billion for the company. If we do not take future acquisitions into consideration and assume that the free cash flows will not be used for acquisitions, then the cushion is substantial for dividends. Cash dividends for the last twelve months stand at about $6.5 billion - payout ratio based on free cash flows stands at about 38%. For pure dividend consideration, free cash flows of the company are extremely strong. At the same time, the company repurchased shares worth $12.6 billion, which takes the total cash distribution to shareholders to over $19 billion.
Furthermore, the operating cash flows of the company remain strong with net income showing solid trend over the last three years. However, Pfizer is in no position to be making acquisitions worth $119 billion with cash. The company has $2.86 billion in cash and cash equivalents and is already under long-term debt worth $31.4 billion. If the company presses ahead with the acquisition then it will surely have to be a mixture of debt and equity transaction. The company will have to take on a substantial amount of debt and the dividends of the company might also come under threat. However, the combined entity will be a formidable proposition for every investor as the financial muscle and the economic moat of the combined entity will be massive in the pharmaceutical industry. Investors might be willing to accept a dividend cut in the short term for the prospect of a larger, stronger business with a stronger products portfolio.
Conclusion
Pfizer is not a short-term pick - this stock should be held with a long investment horizon. Despite the threat of a dividend cut in case of acquisition, we believe that Pfizer remains a good pick in the sector. The free cash flows of the company are extremely strong and the payout ratio of the company should give it enough room to grow dividends. Even if Pfizer is successful in acquiring AstraZeneca, we believe the prospect of a larger, stronger pharmaceutical company will offset the loss of dividends, if any.
Additional Disclosure: This article is for educational purposes only and it should not be taken as an investment recommendation. Investing in stock markets involves a number of risks and readers/investors are encouraged to do their own due diligence and familiarize themselves with the risks involved.
Disclosure: The author has no positions in any stocks mentioned, and no plans to initiate any positions within the next 72 hours. The author wrote this article themselves, and it expresses their own opinions. The author is not receiving compensation for it (other than from Seeking Alpha). The author has no business relationship with any company whose stock is mentioned in this article.