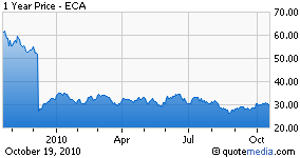 Click to enlargeLeading natural gas producer, EnCana Corporation (NYSE:ECA) is expected to report its third quarter 2010 earnings on Wednesday, October 20, 2010. The Zacks Consensus Estimate for the third quarter is 22 cents per share.
Second Quarter 2010 Recap
EnCana's operating earnings per share, excluding one-time items, came in at 11 cents, missing the Zacks Consensus Estimate of 22 cents and way below the year-ago quarter income of 63 cents.
Revenues (net of royalties) came in at $1.5 billion, down 40.0% year over year and also missed the Zacks Consensus Estimate of $1.6 billion.
The company's production was up approximately 7.9% year over year to 3,344 million cubic feet equivalent per day (MMcfe/d), primarily due to a 9.5% rise in natural gas production. The increase in production was primarily attributed to a successful drilling in U.S. key resource plays, partially offset by lower volumes due to divestitures.
Guidance
EnCana expects full-year 2010 production to be 3,365 MMcfe/d while capital spending will likely be approximately $5 billion.
Agreement of Analysts
In the last 30 days, out of the 12 analysts covering the stock, 2 analysts have raised their estimates for the third quarter of 2010 and 2 analysts have lowered their estimates for the same quarter. In the last 7 days, 2 analysts have revised their estimates upwardly, while I analyst has moved in the opposite direction.
The analysts expect EnCana to benefit from its active hedging policy, cost control initiatives, healthy financial position and high potential shale plays such as Haynesville and Horn River.
Magnitude of Estimate Revisions
Taking into effect the analysts' earnings revision, the Zacks Consensus Estimate for the third quarter of 2010 decreased to 22 cents per share from the earnings estimate of 24 cents, over the last 30 days.
However, with the upwardly earnings revisions by the analysts, the Zacks Consensus Estimate for the third quarter of 2010 moved to 22 cents from the earnings estimate of 21 cents, recorded 7 days ago.
Surprise History
With respect to earnings surprise, EnCana exhibits a mixed trend in the last 4 quarters. The company recorded a negative surprise of 50.0% in second quarter 2010 to the maximum of 80.6% in first quarter 2010. On an average basis, the earnings surprise was a positive 9.27%.
Our Recommendation
EnCana, with a large natural gas resource portfolio in North America and Canada, provides a highly diversified inventory of reserves and resource base. The company's continued focus on low cost operations in high potential growth areas such as Haynesville, Horn River and Montney is expected to generate high volumes in the to-be reported quarter.
However, EnCana's lack of commodity and geographic diversification of assets will likely hamper quarter results amid low natural gas price scenario. We also remain apprehensive about the company's high capital spending target, which might result in an increased debt level.
We are maintaining our long-term Neutral recommendation on the stock. EnCana currently retains a Zacks #3 Rank (short-term Hold rating).
Disclosure: No position