Virtualization Is Leading Rapid Growth, for Now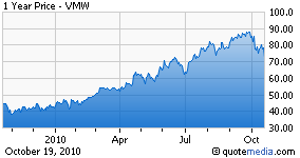 VMware (NYSE:VMW) sustained rapid revenue growth of 47.9% year-to-year in 2Q10 and now 45.8% year-to-year in 3Q10. TBR believes there are several factors influencing growth and that VMware growth rates are likely to slow down as virtualization and cloud mature; however, the maturation of its core markets may limit the pace of VMware's growth moving forward.
VMware's 3Q10 financial results were strong, with revenue reaching a record $714 million during the quarter. Revenue was fueled by widespread growth in emerging markets like Brazil, Argentina, and Russia, while government adoption of virtual environments propelled growth in the Americas.
CFO Mark Peek announced during VMware's 3Q10 earnings call that revenue growth is expected to slow during 2011 in comparison to 2010, while margin expansion will cease to be a focus as the company refocuses efforts on investments. TBR believes that in the short-term, VMware will take a minor cut in profitability, but TBR believes investments in new markets, M&A, and headcount over the long-term will help the company to expand into a larger and more diverse business. TBR believes VMware is already investing in the future with these smaller acquisitions like Integrien and TriCipher, but expects future larger purchases as the company becomes more aggressive in cloud.
VMware Will Face the Music – Rapid Growth Is Not Sustainable Forever
VMware's growth rates are high as a result of a weak comparison in the year ago quarter; however, cloud and virtualization are fast growth markets that are propelling rapid growth for VMware. Large vendors like IBM and Microsoft do not grow as rapidly because of scale, but VMware is getting big. Citrix, a smaller virtualization competitor to VMware, grew less rapidly at 16.7% year-to-year in 2Q10 as a result of having less presence in large enterprise. TBR believes another factor responsible for VMware's rapid growth, aside from scale and cloud, is that revenue slowed to single digits for VMware during the recession. Tough comparisons from 2009 will slow growth across calendar 2011.
Virtualization Is the Stepping Stone to Cloud
VMware set the direction for its cloud and virtualization strategies during the quarter, focusing on IT as a Service to make IT more efficient and strategic for customers. The company will focus on hybrid cloud opportunities, which blends private cloud infrastructure with public cloud services. To strengthen customer adoption of virtualization and new cloud offerings, VMware bolstered security solutions with the release of VMware vShield. TBR believes cloud management tools will play an increasing role in VMware's corporate strategy as IT departments continue to evolve. As VMware expands its focus on cloud enablement, the company will continue to focus mainly on enabling private cloud opportunities where its virtualization portfolio will be its strongest capability.
TBR research in cloud suggests that the market opportunity for cloud will be $250 billion in 2015. We estimate that VMware has a $10 billion cloud opportunity with half of that being in private cloud. $10 billion seems like a large opportunity, but in comparison to the overall market size, it is a rather small chunk of the pie. TBR estimates a market size of $50 billion for Microsoft and $60 billion for Oracle as large vendors pursue and capture the majority of large enterprise deals in SaaS, public cloud, private cloud and PaaS opportunities.
Disclosure: No position