Estimates continue to rise for PAREXEL International Corporation (NASDAQ:PRXL). The company delivered a solid "beat and raise" quarter back in April, prompting a flurry of positive estimate revisions from analysts. Then in late June, management provided bullish guidance for fiscal 2015, and analysts once again upped their estimates.
PAREXEL is a Zacks Rank #1 (Strong Buy) stock.
PAREXEL International Corporation provides knowledge-based contract research, primarily to pharmaceutical and biotechnology clients. The company operates in three segments:
Clinical Research Services (75% of revenue),
PAREXEL Consulting (11%), and
PAREXEL Informatics (14%).
Third Quarter Results
PAREXEL reported better-than-expected results for its fiscal 2014 third quarter on April 29. Adjusted earnings per share came in at 56 cents, beating the Zacks Consensus Estimate of 53 cents. It was a 12% increase over the same quarter last year.
Total service revenue increased 8% year-over-year to $492.375 million, in-line with the consensus. This was driven by 9% top-line growth in both the CRS and PI segments.
Profit margins expanded too. Gross profit expanded from 31.4% to 34.4% of revenue. And the operating margin expanded from 8.1% to 10.6%. This led to a stellar 42.5% increase in operating profit.
Estimates Rising
Following strong Q3 results, management increased both its revenue and EPS guidance for the remainder of fiscal 2014. This prompted analysts to revise their estimates higher too.
Additionally, at its annual Investor Day on June 25, management issued FY2015 guidance above consensus. Once again, this prompted analysts to revise their estimates higher too.
You can see the solid increase in consensus estimates for both 2014 and 2015 over the last few months in the company's "Price & Consensus" chart: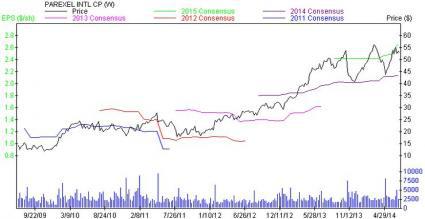 PAREXEL is a Zacks Rank #1 (Strong Buy) stock.
The 2014 Zacks Consensus Estimate is currently $2.13, up from $2.05 ninety days ago. This corresponds with 26% annual EPS growth. The 2015 consensus is now $2.65, up from $2.42 over the same period. This equates to 24% growth over the 2014 estimate.
Valuation
Shares of PAREXEL trade around 20x 12-month forward earnings, which is actually a slight discount to its 10-year historical median. It also seems reasonable given the company's above-average growth projections.
The stock also trades at 15x trailing cash flow.
The Bottom Line
With rising earnings estimates, strong growth projections and reasonable valuation, shares of PAREXEL offer investors attractive upside potential.
Disclosure: None