Philips (NYSE:PHG) is a household name with products that are most likely inside your house. To name a few: Philips Norelco shavers, Avent baby care products and Philips light bulbs are the most popular household staples. With such a strong lineup, I'm surprised that PHG is selling less than its sum-of-the-parts "SOTP" valuation. In addition, PHG is on target to deliver its self-help cost reduction programs with 100-200 bps of EBITA margin improvement in 2016. In early 2015, PHG also plans to spin off its Lumileds (LED Components) and Automotive lighting division as a standalone company. This will free up capital for the rest of the parent company and help to reveal the intrinsic value of the spin-off. Given the rapidly growing LED business, I foresee that the spin-off will be well received by both private and public investors, with the private investors looking to unlock a future merger possibility with a compatible acquirer. With many different methods to unlock shareholder value at PHG, I believe that PHG will continue its uptrend and momentum will generate a 25% potential gain within 2 years.
Company Overview
PHG has four divisions: Healthcare, Lighting, Consumer Lifestyle and Innovation, Group and Service. A global footprint allows PHG to serve its customers all over the world. It was founded in 1891, and is headquartered in Amsterdam, the Netherlands. More details about PHG and its different divisions can be found on the company website.
Why does such opportunity exist?
PHG reported a weak Q1 2014 report. First, the Cleveland facility suspension adversely affected the healthcare division's performance. Second, there were FX headwinds dragging down the whole group's profitability. Third, comparable sales in the lighting division were flat year-over-year. This significant slowdown might cast some doubt on the future growth prospects of the lighting industry. However, according to Vernon Nagel, the CEO of Acuity Brand, he expected the lighting market, including renovation and retrofit activity, to grow by mid-to-upper single digits through year-end. Despite the recent headwinds faced by Philips, shares should benefit from near-term catalysts, an early 2015 spin-off and long-term investment value, for which I will provide more details later in the article.
PHG has recovered almost all the share price loss since the Q1 2014 release. Based on my long-term investment experience, I find that if the long-term investment thesis is intact, any short-term earnings hiccup will be recovered in a relatively short period of time. As the old saying goes, no company's stock price will go up in a straight line. What is important is that the intrinsic value is supported by a long-term investment thesis with good rationale. Sooner or later, the stock market will realize the true intrinsic value of PHG.
Self-Help Cost Reduction Initiatives
PHG has implemented an accelerating performance program since 2011. Recently, the management of PHG commented that the accelerating performance program was on track, and reiterated its financial targets in 2016. The following offers details of the program with the financial goal to improve EBITA margins by 100-200 bps in 2016.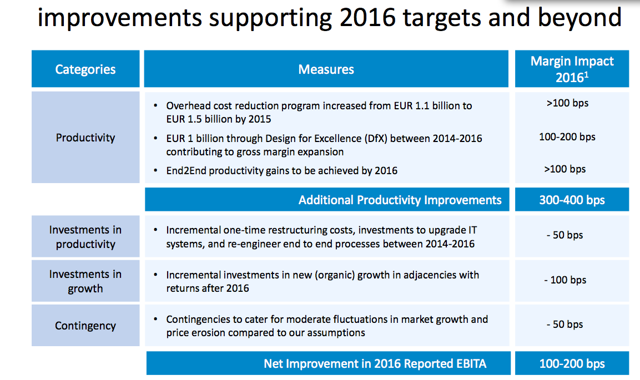 Click to enlarge
(Source: Company Presentation)
Lighting Business
Philips Lighting covers the entire spectrum of light sources, control gears, luminaries and external controls. The main strengths of Philips Lighting are brand royalty, a broad product range with thousands of SKUs and a strong retail and professional distribution network. PHG prepared for the shift to downstream early so that it is now well-positioned given its global market leadership in professional lighting solutions and lighting electronics and controls.
In addition, Philips Lighting has leading intellectual property in the industry. It invests heavily in LED luminaries and LED controls, so as to secure its leadership position. As shown below, PHG has outspent its competitors with regard to R&D expenses.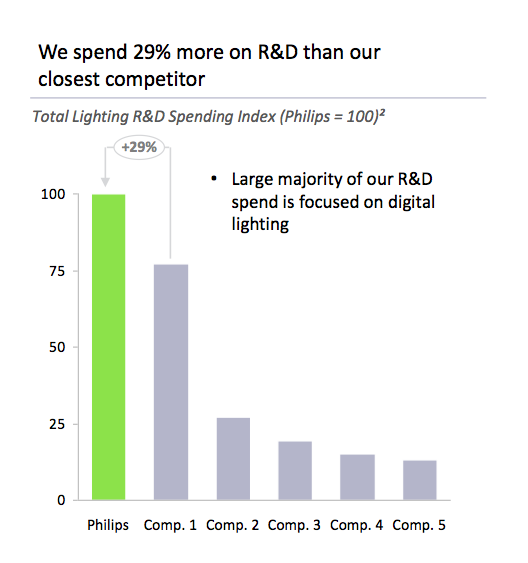 (Source: Company Presentation)
Based on the Q1 2014 release, Philip Lighting has 33% sales from LED-based products and services. That's a further increase from 24% in H1 2013. Philips Lighting is growing its LED-based products and services as fast as possible. With LED lighting being the future of the lighting business, Philips Lighting is on the right track to grow its LED-based products and services, so that it will become more than half of total sales within a year.
The Professional Lighting Solutions Division within Philip Lighting
Philips Lighting made a sound decision to spin off the Lumileds division (which consists of the LED components business) and the automotive business and combine them into one standalone business. But Philips Lighting retains all the other profitable and high-growth lighting business. For example, the Professional Lighting Solutions Division is as large as Acuity Brands. In 2013, Philips Lighting had €8.4 billion sales, with 28% coming from the Professional Lighting Solutions Division, which results in sales of about €2.3 billion. For AYI, one of the world's leading suppliers of lighting systems and controls, sales were $2.1 billion, which translated to €1.5 billion. Not to mention that PHG has a strong parent company with an A3/A- credit rating to provide inexpensive funding with the potential to further expand the ever-growing Professional Lighting Solutions Division. If we apply the 2.75x EV/Sales ratio of AYI to value the professional Lighting Solutions Division within PHG, the division will be worth about €6.3 billion in enterprise value.
The Spin-off in Early 2015
PHG announced that it will combine its Lumileds (LED Components) and Automotive lighting businesses into a standalone company. The spin-off has similar characteristics as Osram Licht AG (OTCPK:OSAGF), which was spun off from Siemens in July 5, 2013. I will use OSAGF as a comparable to estimate the future valuation of the spin-off. By applying a 0.63x EV/Sales multiple, the upcoming spin-off business will be worth approximately €0.85 billion.
The Remaining Two Units: Light Sources and Electronics and Consumer Luminaries
For both the Light Sources and Electronics and Consumer Luminaries divisions, their targeted EBITA margins are about 9%-11%. Although conventional lighting products will be a drag on the financial performance, the high-growth LED-based products and services should help to offset the decline in conventional products. What's more, PHG is vertically integrated, which provides a unique competitive advantage covering the entire spectrum of lighting solutions and services. All in all, I believe that valuing these two divisions at about 0.9x EV/Sales is reasonable, and thus, the remaining two units will be valued approximately €4.2 billion.
The Total Valuation of Philips Lighting
Adding up all the different divisions within Philips Lighting, together with the upcoming spin-off, the total valuation is €11.35 billion.
Healthcare
An aging population is a mega-trend benefiting the healthcare segment of PHG. As shown below, the healthcare segment of PHG consists of several leaders in their particular categories. More details about the imaging systems, patient care and clinical informatics and home healthcare solutions can be found in the Capital Market PDF link.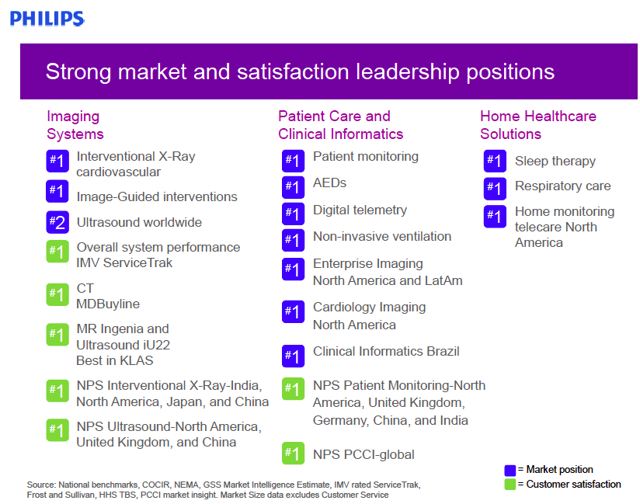 Click to enlarge
(Source: Company Presentation)
Furthermore, with the need for more healthcare as population ages, PHG has a global footprint and expects to have the emerging markets growth to offset the slow growth in the developed market. The global market for healthcare growth is forecasted to grow 3%-4% in the foreseeable future.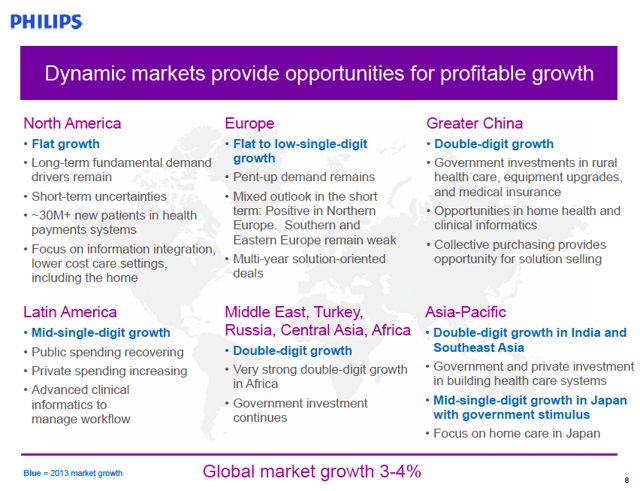 Click to enlarge
(Source: Company Presentation)
Healthcare Peers Comparison
| | | | | |
| --- | --- | --- | --- | --- |
| Name | Symbol | EV/EBIDTA | Price/Sales | Operating Margins |
| Hologic | HOLX | 12.59 | 2.86 | 13.89% |
| Mindray Medical | MR | 11.59 | 2.91 | 17.59% |
(Source: Yahoo Finance)
Since the healthcare business of PHG targets EBITA margins of 16%-17% in 2016, I excluded some healthcare comps with much higher EBITA margins. I end up with two comparable companies above. Given the 2% decline in the healthcare business in Q1 2014 compared to the previous year because of the voluntary suspension at the healthcare production facility in Cleveland, the current headwinds make me utilize the lowest of the two comparables' valuation for the healthcare business of PHG. As a result, I apply an 11.5x EV/EBITA multiple. Based on €1.5 billion ($2.04 billion US) EBITA in 2013, the healthcare business of PHG is valued at €17.25 billion ($23.46 billion US).
As a side note, if the healthcare business of PHG is valued based on 2.9x multiple of €9.5 billion sales in 2013, it will be worth about €27.5 billion. Although I personally would not apply close to 3x sales multiple to value a 15.8% EBITA margin business with 4% sales growth potential, a probable future spin-off of the healthcare division may demand a valuation much higher than €17.25 billion.
Consumer Lifestyle
PHG's consumer lifestyle division is a leader in various categories. For example, PHG is a global leader in mother and child care with the Avent brand, in the shaving business with the Philishave and Norelco brands, power toothbrushes with its Sonicare brand, and a regional leader in various kitchen appliances.
Key data
(in millions of euros, unless otherwise stated)
2011
2012
2013
Sales
3771
4319
4605
Sales growth
% increase (decrease), nominal
14
15
7
% increase (decrease), comparable
11
9
10
EBITA
153
456
483
As a % of sales
4.1
10.6
10.5
EBIT
109
400
429
(Source: Company Website)
The consumer lifestyle business is on-track to deliver its financial target of 11%-13% EBITA margins in 2016. With 9%-11% comparable sales growth in the last three years, the consumer lifestyle business generates much higher growth than the group's 4%-6% target.
| | | | | |
| --- | --- | --- | --- | --- |
| Name | Symbol | EV/EBIDTA | Price/Sales | Operating Margins |
| Spectrum Brands Holdings | SPB | 12.41 | 1.07 | 11.67% |
| Colgate-Palmolive | CL | 14.81 | 3.61 | 23.76% |
| Procter & Gamble | PG | 12.42 | 2.56 | 19.57% |
(Source: Yahoo Finance)
The above comp table shows similar businesses to the consumer lifestyle division of PHG. By applying 12.5x EV/EBITA, as well as my expected €4.8 billion in sales and €500 million in EBITA in 2014, the consumer lifestyle division could have a valuation of €6.25 billion.
Innovation, Group, Service Division
The Innovation, Group, Service Division feeds the innovation pipeline, which enables its business partners and the other PHG divisions to create new business options through new technologies, new business creation and intellectual property development. Further detail about this division can be found at this link. Since there was a deficit of €239 million EBITA for this division in 2013, I would treat the Innovation, Group, Service Division more like a cost center and give it a negative €2.2 billion valuation.
The Sum-of-the-Parts "SOTP" Valuation
| | |
| --- | --- |
| Euro in Million | |
| Healthcare | 17,250 |
| Lighting | 11,350 |
| Consumer Lifestyle | 6,250 |
| Innovation, Group, Service Division | (2,200) |
| Total Operating Enterprise Value | 32,650 |
| Add: Assets | |
| Cash | 1,738 |
| Less: Liabilities | |
| Debt | 3,311 |
| Pension Deficit | 1,617 |
| Enterprise Value | 29,460 |
| Conglomerate Discount (10%) | 2,946 |
| Enterprise Value after discount | 26,514 |
| Outstanding Shares | 956.66 |
| Per share price in Amsterdam Exchange | 27.72 |
For the SOTP analysis, I add up all four divisions together with cash, but deducting debts and pension liabilities. I come up with approximately €28 per share. This gives an 18% share price appreciation potential. In addition to the 3.4% dividend yield, the total return in PHG can approach 25% within 2 years.
In fact, the pension fund deficit calculation is not straightforward. The reason is the surpluses in the pension plans in the Netherlands and UK, together with some other countries that are not recognized. This makes the net balance sheet position (with more details in the 20-F below) of €1,617 million more suitable to illustrate the deficit of the pension fund.
The net balance sheet position presented in this note can be explained as follows:

| | | |
| --- | --- | --- |
| • | | The surpluses in our plans in The Netherlands, UK as well some other countries are not recognized as a net defined benefit asset because in The Netherlands the current surplus will not bring sufficient future economic benefits to the Company (asset ceiling restrictions) whereas the regulatory framework in the other countries involved explicitly prohibits refunds to the employer. |

| | | |
| --- | --- | --- |
| • | | The deficit of the US defined-benefit plan presented under other liabilities and the provisions of the unfunded plans therefore count for the largest part of the net balance sheet position. |

Click to enlarge
(Source: 20-F)
Additional 10% on top of the 25% upside potential is a possibility for PHG shareholders
I applied a 10% conglomerate discount for my SOTP valuation. If PHG does not perform according to its strategic plan, I will expect that there will be break-up discussions to unlock the individual division values. The break-up possibility will always help provide some support to the current share price and limit the downside potential. As the spin-off of the LED components and Automotive business is expected in early 2015, the successful spin-off may trigger the management team to consider the optionality of spinning off other valuable divisions within PHG. If breaking up the conglomerate can become a reality, I'm positive that there will be at least another 10% upside potential for prospective PHG shareholders, not to mention that there might be additional premium for various divisions in PHG given their market leader positions.
Financial Strengths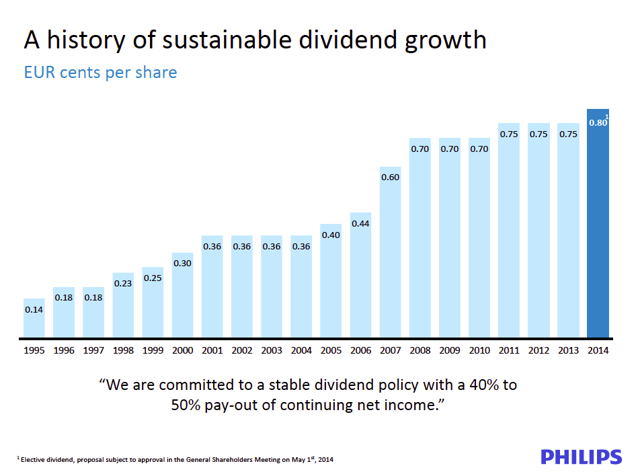 Click to enlarge
PHG has a good track record of consistently rising dividend payments (as shown in the chart above). In addition, PHG is committed to a stable dividend policy with a 40% to 50% payout of continuing net income. For the share price of €23 and €0.8 dividend per share, the current dividend yield of 3.4% is very attractive for long-term investors in a low rate environment.
With regard to dividends, prospective PHG shareholders should realize that they have a choice between cash dividends or stock dividends. All dividends are subject to 15% Dutch dividend withholding tax. The following is the proposed dividend distribution to shareholders, from the 20-F:
Shareholders will be given the opportunity to make their choice between cash and shares between May 8, 2014, and May 30, 2014. If no choice is made during this election period the dividend will be paid in shares. On May 30, 2014, after close of trading, the number of share dividend rights entitled to one new common share will be determined based on the volume weighted average price of all traded common shares Koninklijke Philips N.V. at NYSE Euronext Amsterdam on 28, 29 and 30 May 2014. The Company will calculate the number of share dividend rights entitled to one new common share (the ratio), such that the gross dividend in shares will be approximately equal to the gross dividend in cash. On June 3, 2014, the ratio and the number of shares to be issued will be announced. Payment of the dividend and delivery of new common shares, with settlement of fractions in cash, if required, will take place from June 4, 2014. The distribution of dividend in cash to holders of New York registry shares will be made in USD at the USD/EUR rate fixed by the European Central Bank on June 2, 2014.

Dividend in cash is in principle subject to 15% Dutch dividend withholding tax, which will be deducted from the dividend in cash paid to the shareholders. Dividend in shares paid out of net income is subject to 15% dividend withholding tax, but only in respect of the par value of the shares (EUR 0.20 per share).

In 2013, a dividend of EUR 0.75 per common share was paid in cash or shares, at the option of the shareholder. Approximately 59.8% elected for a share dividend resulting in the issue of 18,491,337 new common shares, leading to a 2.1% percent dilution. EUR 271,991,204 was paid in cash.
Share Buyback
PHG has a track record of repurchasing its shares. It spent €562 million in 2013, €768 million in 2012, and €671 million in 2011 to buy back shares. By the end of Q2 2013, PHG had completed a €2 billion share repurchase program, and shares outstanding have declined from 926 million in 2011 to 913 million in 2013. On September 17, 2013, PHG announced another €1.5 billion share repurchase program, which is expected to be completed over the next two to three years. As a PHG investor, I can see that PHG is disciplined to return capital to its shareholders.
Favorable Mega-Trends
Not only is PHG is attractive in regards to SOTP valuation, but the stock also has bright prospects, which enable decent organic growth for the foreseeable future. For lighting, as the developing market evolves with urbanization, more and more light- and energy-efficient lighting will be required. This mega-trend bodes well for PHG with its vertically integrated lighting solutions. A good example is the assistance Philips provided Barcelona to make the city more energy-efficient. For healthcare, the growing and aging population will provide increasing demand for integral value-based healthcare solutions offered by PHG. For consumer lifestyle, the growing middle class and rising health consciousness trends will generate more sales for the Philips household products. All of these mega-trends should insure rising organic growth for PHG.
Dodge & Cox's 5.7% Ownership
According to the latest filing, Dodge & Cox has 5.7% ownership in PHG. Dodge & Cox traces its roots back to 1930. It utilizes a bottom-up approach to seek out temporarily undervalued companies with favorable long-term outlooks. Investing alongside with Dodge & Cox, I have more confidence in PHG.
Risks
First, PHG has execution risk on realizing the cost reduction from the accelerating performance program. Second, PHG is a global business, and its operating costs and revenues are subject to FX risk. Third, there is uncertainty related to who will replace the recently departed Philips Healthcare CEO, Deborah DiSanzo. Currently, the Healthcare division will report directly to Frans Van Houten, the group's CEO.
The Bottom Line
Despite the headwinds reported in the latest earning release and the risks with investing in PHG, I believe that the businesses of PHG are intact, with long-term favorable mega-trends. For near-term catalysts, the upcoming spin-off can help to stir investors' interest in the lighting business for PHG. For investors looking further out to 2016, the self-help cost reduction program will most likely propel the share price of PHG upwards to €28. For long-term investors, PHG has many attractive businesses with market-leading positions. With the discount from SOTP valuation, the risk/reward profile is very favorable to prospective PHG shareholders. In today's elevated stock market, it is rare to find bargains, not to mention that Philip is a strong household brand with solid credit ratings, above-average dividend yields, and a sound share buyback history.
Disclosure: The author is long PHG. The author wrote this article themselves, and it expresses their own opinions. The author is not receiving compensation for it (other than from Seeking Alpha). The author has no business relationship with any company whose stock is mentioned in this article.