Shares of Gigamon (NYSE:GIMO) plummet after the company cut its revenue outlook for the second quarter. The networking-hardware provider announced preliminary results for its second quarter, saying it expects to earn $34.5 million to $35 million for the quarter. That's well below the previously stated guidance of $38 million to $42 million.
The official release date for Gigamon's second quarter is July 24, but shares are already reacting to the bad news and are down over 32%. Gigamon's CEO, Paul Hooper, gave his explanation for lower-than-expected sales, stating, "We experienced challenges with closing the deals in our pipeline during the later stages of the quarter, as we continued to see longer review and approval cycles." Whatever the excuses are for lower guidance, shares opened at $12.49 on Wednesday, their lowest price ever after going public in June of last year.
The contrarian investors out there might look at the massive price drop as an excellent opportunity to pick up shares at bargain prices. But before you jump headfirst into a falling stock, you should see how the company stacks up on fundamentals. Sounds like a perfect time to check out how Gigamon performs on our Investment U Fundamental Factor Test:
1.

Earnings-per-Share (EPS) Growth: EPS is an indicator of a company's profitability and is considered to be one of the most important variables in determining a company's share price. At Investment U and The Oxford Club, we look for companies that grow their earnings year over year. In the first quarter of 2014, Gigamon saw earnings drop 23.81%. This is not what we like to see.
2.

Price-to-Earnings (P/E): P/E is a valuation ratio of a company's EPS compared to its current share price. Generally speaking, a high P/E means the market is bullish on a stock, but it can also signal that a stock is overpriced. We look for a stock trading below its industry average. This means investors can get a better deal on a stock compared to its peers. When a company reports a loss on earnings (aka net income) you cannot valuate a trailing P/E (what it earned over the last 12 months vs. its current share price). If that's the case, you can look at a company's forward P/E (what it expects to earn over the next 12 months vs. its current share price). Gigamon is in this boat, currently clocking in with negative earnings. The good news is that the company expects to start turning a profit over the next three years. The bad news is that even with today's lower price, the forward P/E is 64.94, well above the industry average of 27.82.
3.

Debt-to-Equity: Debt-to-equity measures a company's liabilities compared to its stockholders' equity. The ratio measures a company's financial leverage. In general, a high debt-to-equity ratio means a company has been aggressively financing its growth with debt. As with P/E, we want to see where a company stands compared to its peers since some industries are more capital intensive than others. For debt to equity, we finally see some light at the end of the tunnel. Gigamon has no debt on its balance sheet and holds $142.67 million in cash. It has a debt-to-equity ratio of 0%; the industry average is 28.35%. A positive sign, but now we have to see if cash is growing or shrinking.
4.

Free Cash Flow per Share Growth: Free cash flow (FCF) per share growth helps determine a company's financial flexibility. It compares free cash flow to the total number of shares outstanding. At IU, we look for companies that are growing their cash flow year-over-year. In general, if a company is growing its FCF, it will be able to pay down debt, buy back stock, pay out more in dividends and/or invest money back into the business to help boost growth. In its most recent quarter, Gigamon saw a $500,000 decrease in FCF. Not taking the prize home on this metric either.
5.

Profit Margins: Profit margin is another metric that is very useful when comparing companies in the same industry. Profit margin is calculated by taking net income and dividing it by sales (revenue). While EPS is a crucial metric, it doesn't cover the whole picture. That's why we also like to look at profit margins. Sure, EPS could be growing, but profit margins could be decreasing. For example, sales could be up, but costs could have increased at a higher rate. This means costs need to be controlled better by management. Gigamon's peers are sporting profit margins of -2.66%. But even with negative margins as the industry standard, Gigamon is still trailing the competition with profit margins clocking in at -25.88%.
6.

Return on Equity: Return on equity (ROE) gives us a look at the amount of net income returned to shareholders. It tells us how much profit a company produces with the money shareholders invest. This is another metric that is useful in comparison to other companies in the same industry. As you know, Gigamon has negative earnings. And while the industry average ROE of 0.25% is laughable, Gigamon once again whiffs with a -24.47% ROE.
Fundamental Factor Test Score
F: Sell (One key metric or less)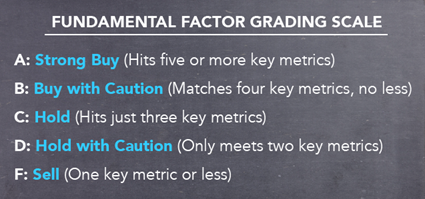 Please note that our fundamental factor checklist is just the first step in performing your own due diligence. There are many other factors you should consider before investing.
Disclosure: The author has no positions in any stocks mentioned, and no plans to initiate any positions within the next 72 hours. The author wrote this article themselves, and it expresses their own opinions. The author is not receiving compensation for it. The author has no business relationship with any company whose stock is mentioned in this article.