Zions Bancorp. (NASDAQ:ZION) reported third quarter 2010 loss per share of 47 cents, narrower than the Zacks Consensus Estimate of 51 cents per share loss. Results were a significant improvement over the prior and year-earlier quarters.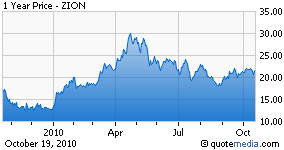 Zions ended the quarter with record high capital levels, and management attributed asset quality improvement across all major sectors a factor for the improved results. They expect the trend to continue into the fourth quarter.
Benefiting the results were relativey steady loan balances (excluding FDIC and construction supported loans) and an improved core net interest margin.
Quarter in Detail
Total net interest income decreased 7.9% year-over-year to $581.9 million, but was down only marginally from the preceding quarter. Net interest margin increased 0.26 percentage points on a sequential basis.
Non interest income decreased 59.3% from prior-year quarter, but increased 0.7% sequentially. Non interest expense increased 5.9% sequentially to $456 million, but decreased 4.9% year over year. One reason for the sequential increase in non interest expense was the $15 million reduction of the FDIC indemnification asset.
Net loans and leases as of September 30, 2010 were $37.5 billion compared to $38 billion at the end of the preceding quarter. Net loans and lease charge-offs decreased 7.6% sequentially to $235.7 million. Net charge offs recoverable from FDIC were $5.7 million and provision for loan losses declined 19.2% to $184.7 million.
Average total deposits decreased 1.3% to $41.7 billion sequentially as the company focused on reducing excess funding.
Nonperforming lending-related assets declined 10% to $2.29 billion sequentially. Additions to non-performing lending-related assets declined 27.9% from the preceding quarter's level to $426 million.
As on September 30, 2010, estimated Tier 1 common to risk-weighted asset ratio was 8.77%, compared to 7.91% as on June 30, 2010.
Estimates for the quarter had been rising in the run-up to the earnings release, with 5 analysts raising estimates in the last 30 days and 4 lowering estimates. The full-year estimate for next year has been trending down in recent days, with two negative revisions in the last seven days alone. The current Zacks Consensus Estimate for 2011 of 35 cents is down from 37 cents seven days ago.